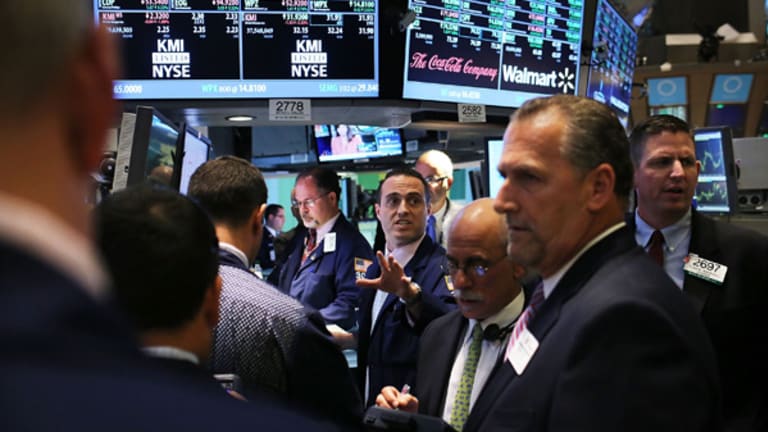 U.S. Premarket Futures Point to Higher Open
Futures rose as swift passage of a bill to bail out the U.S. financial system looked increasingly probable, and despite GE's announcement of an earnings shortfall.
Premarket futures were pointing to a higher open for stocks in New York Thursday as swift passage of a bill to bail out the U.S. financial system looked increasingly probable, and despite
General Electric's
(GE)
announcement Thursday that it expects lower third-quarter and full-year earnings.
Futures for the
were up 8 points at 1201 and were 14 ahead of fair value.
Nasdaq
futures were gaining 19 points at 1691 and were 21 above fair value.
On Wednesday, the three major indices finished narrowly mixed after a day of erratic trading. Investors were focused on Treasury Secretary Henry Paulson's $700 billion bailout plan for the financial sector.
Speaking Wednesday evening, President Bush called for a quick approval of the
Treasury
plan and said that the economy would face a recession if the package were not approved. Bush called an emergency meeting with presidential candidates John McCain and Barack Obama, as well as certain members of Congress, to work out a plan to pass the bill.
After Bush's speech, Barney Frank, chairman of the House Financial Services Committee, told
CNBC
that he believed the bill would pass.
Elsewhere, shareholders in
Delta
(DAL)
and
Northwest
undefined
are scheduled to vote on a merger between the two airlines, according to a report by the
Associated Press
.
Looking at the day's economic data, the Census Bureau's look at August durable-goods orders is due for release, as is the Department of Labor's weekly jobless claims report. The Census bureau also is slated to report on new-home sales for August.
The price of crude oil was down $1.19 to $104.54 a barrel. Gold was up 50 cents to $895.50 an ounce.
Longer-term U.S. Treasury securities were rising in price. The 10-year was up 2/32 to yield 3.8% and the 30-year was gaining 3/32, yielding 4.41%. The dollar was weakening vs. its major foreign competitors.
Overseas, European exchanges such as the FTSE in London and the DAX in Frankfurt were gaining. In Asia, Japan's Nikkei and Hong Kong's Hang Seng finished with losses.