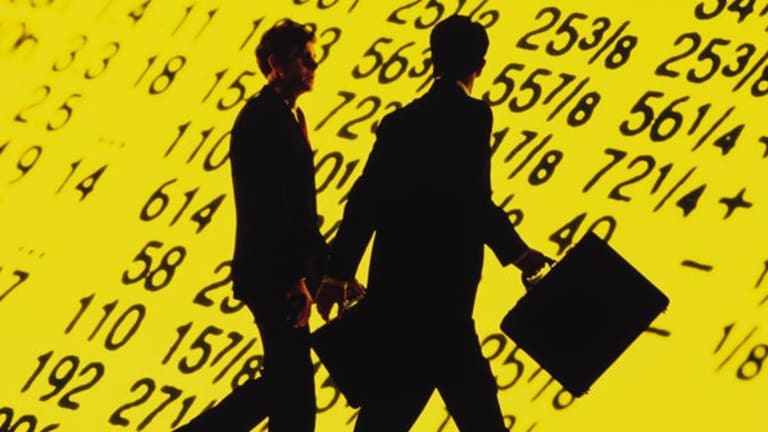 U.S. Markets' Six-Day Rally Ends Not With a Bang, but a Whimper
U.S. stock markets had a quiet beginning to the week, fresh off a multi-day rally to record highs heading into the weekend.
NEW YORK (TheStreet) -- U.S. stock markets had a quiet beginning to the week, fresh off a multi-day rally to record highs heading into the weekend. Major indices were slightly lower, little moved by corporate merger news and a second-straight month of gains in existing home sales.
While the Dow Jones Industrial Average slipped 0.06% to 16,937.26, the S&P 500 and Nasdaq closed flat at 1,962.61 and 4,368.68, respectively. The S&P 500 closed higher 1.38% higher last week and the Dow inched closer toward 17,000, driven by the Federal Reserve's reaffirmation of supportive monetary policy but restrained from further upside by the continue conflict in Iraq. 
Sales of previously owned homes in May rose 4.9% to a seasonally adjusted annual rate of 4.89 million homes. The monthly gain was the fastest since August 2011, but even with the increase, sales were still 5% below the pace in May 2013.
U.S. Secretary of State John Kerry arrived in Iraq on Monday to meet with Prime Minister Nuri al-Maliki as radical Sunni militants seized control of one city after another in their violent advance toward Baghdad. There have been calls for al-Maliki to resign from his post amid growing doubt that he'll be able to form a new, inclusive government to ease the crisis in Iraq.
Though markets have been constrained by bubbling tensions in the Middle East, they are yet to be knocked off course. In a report, Wells Fargo chief macro strategist Gary Thayer explained, "Oil prices have increased only modestly since the Iraqi turmoil returned to the headlines earlier this month. That is probably why investors focused more on the positive news from the Fed than the negative news out of Iraq."
He continued, "If oil prices continue to rise and eventually increase significantly, investors are likely to turn negative, and the stock market could give back some of its recent gains."
Brent crude oil fell 84 cents to $113.97 bbl on Monday, slightly higher than an intraday decline as low as $113.86 earlier in the day. 
Headlining corporate news, Oracle (ORCL) - Get Oracle Corporation Reportagreed to purchaseMicros Systems (MCRS) for $5.3 billion, or $68 a share, in cash. Micros shares added 3.4% to $67.98.
Wisconsin Energy (WEC) - Get WEC Energy Group Inc Report agreed to buy Integrys Energy Group (TEG) for $5.8 billion in cash and stock. Wisconsin Energy shares slid 3.5% to $45.27, while Integrys surged 12.1% to $68.35.
The final obstacle to General Electric's (GE) - Get General Electric Company Report $17 billion takeover of Alstom's power division has been overcome after the French government agreed to terms with the French engineering company's main shareholder. GE fell 1.1% to $26.68.
Reporting after the bell, Micron Technology (MU) - Get Micron Technology, Inc. Report earned 79 cents a share and generated sales of $3.98 billion in its third quarter. Analysts expected earnings of 70 cents a share and revenue of $3.89 billion.
--By Andrea Tse and Keris Alison Lahiff in New York
June 23 Premarket Briefing: 10 Things You Should Know
European Stocks Sink on Weak Eurozone Data