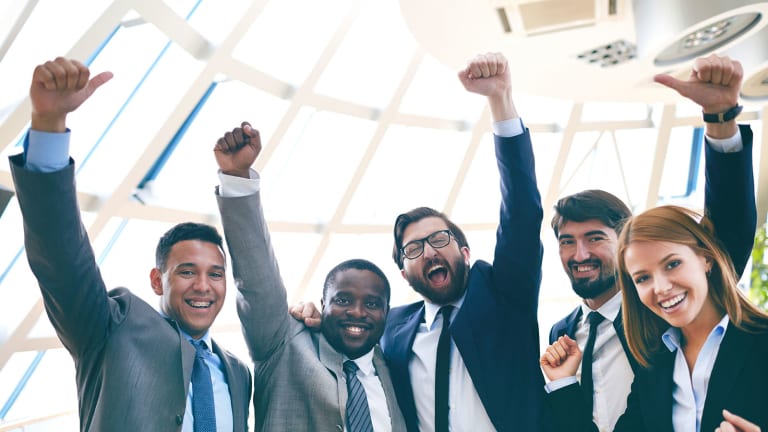 U.S. Jobs Increased by 275,000 in April, Most in Nine Months, ADP Says
Automatic Data Processing, the payrolls servicing company, says U.S. jobs increased by 275,000 in April, the most in nine months. That's up from about 129,000 in March, and economists had projected a March reading of 176,000.
U.S. private employers created new jobs in April at the fastest pace in nine months, according to payrolls processer Automatic Data Processing.
Nonfarm private-sector employment increased by 275,000 in April, the most since last July, ADP said. That's up from about 129,000 in March. Economists had projected an April reading of 176,000. 
It's the latest in a recent string of data showing that President Donald Trump's economy is strengthening.
A separate report on Tuesday revealed that U.S. consumer confidence rebounded faster than expected during April, and a Commerce Department report last week showed that the nation's gross domestic product surged by 3.2% in the first quarter, quicker than economists had predicted.
Activity resumed among households and businesses following December's 9.2% plunge in the S&P 500 and Trump's 35-day federal-government shutdown, the longest in history.
The ADP report offers economists an early glimpse at current labor-market conditions, just days ahead of the Labor Department's official jobs report due Friday.  
That report is expected to show that private-sector and government employers added a combined 180,500 jobs last month, down from 196,000 in March, based on a survey of economists by the data provider FactSet. 
The unemployment rate probably held steady at 3.8%, close to a half-century low, while average hourly earnings probably rose by 0.3%, accelerating from the 0.1% clip reported for the prior month.
Ian Shepherdson, chief economist at the forecasting firm Pantheon Macroeconomics, wrote in a report Wednesday that the ADP was a "big surprise" and that he now expects the Labor Department to report an increase of 240,000 in April payrolls. 
"That pace is not sustainable but it is a reminder, along with the very strong GDP numbers, that the economy has suffered no lasting ill-effects from the plunge in stock prices in the fourth quarter of last year," Shepherdson wrote. 
Watch Jim Cramer's Daily NYSE Show and Replays Below