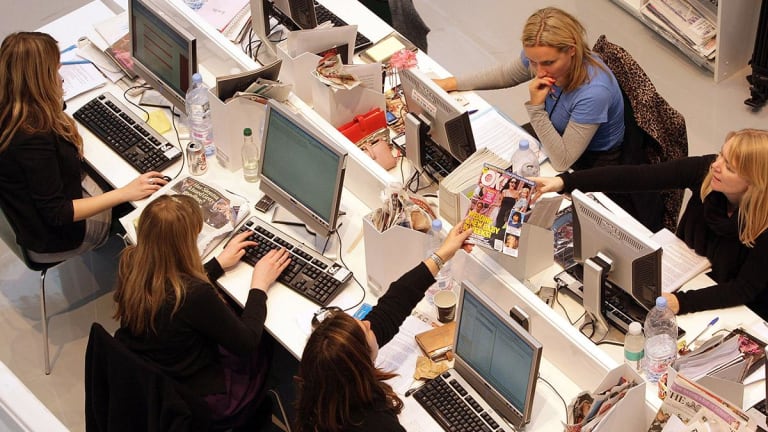 U.S. Jobs Growth Slows in August Despite Big Boost From 2020 Census Hiring
A report Friday from the Labor Department shows the U.S. economy added 130,000 jobs in August, down from 164,000 in July. Economists had forecast a gain of 160,000 jobs. The month's gains included 25,000 temporary workers hired by the U.S. government to prepare for the 2020 census.
U.S. hiring slowed more than expected last month, even as the U.S. government ramped up hiring of workers for the 2020 census.
Nonfarm payrolls rose by 130,000 in August, the Labor Department's Bureau of Labor Statistics said Friday in a press release. The jump represented a drop-off from July's jobs growth of 164,000. The payroll growth also was below economists' average forecast for a gain of about 160,000 new jobs. 
The slide came despite a surge in hiring by the U.S. Census Bureau for the 2020 count, leading to the employment of 25,000 temporary workers by the federal government, according to the press release. 
"Notable job gains also occurred in health care and financial activities," the Bureau of Labor Statistics said. Other hot areas included computer-systems design and business management. Building-material stores and garden-supply stores such as Home Depot (HD) - Get Home Depot, Inc. Report and Lowe's  (LOW) - Get Lowe's Companies, Inc. Report added a combined 9,000 jobs. 
The report could be a negative indicator for President Donald Trump's economy, as U.S. growth slips further below the 3% annual pace he promised when pushing for the $1.5 trillion of tax cuts in late 2017. The data also might help bolster the case for the Federal Reserve to cut interest rates later this month for the second time this year.  
Trump has promised to create "jobs, jobs, jobs," but economists have said that his trade war with China has created such anxiety among business executives and households that they're curbing expenses on investments and consumer purchases - potentially leading to a slowdown in jobs growth. 
So far this year, U.S. employment has climbed by an average 158,000 jobs per month, well below the average 2018 gain of 223,000.  
"The trend is softening, as firms scale back hiring plans alongside capital spending, in the face of prolonged and deep uncertainty," Ian Shepherdson, chief economist at the forecasting firm Pantheon, wrote Friday in a note to clients. 
Mining-sector employment declined by 6,000 in the month, while general-merchandise stores lost 15,000 jobs.  
The unemployment rate held steady at 3.7%, close to the lowest in a half century. 
Average hourly earnings rose by 11 cents during the month, or 0.4%, to $28.11, according to the department. That's an acceleration from July's increase of 0.3%, which was also what economists had been predicting for August.    
Over the past year, average wages were up 3.2% through August, matching July's pace.
Quincy Crosby, chief market strategist for the insurance giant Prudential Financial, said in an e-mail that the latest jobs report reflects a still-solid but slowing economy, partly thanks to steady wage gains for workers in an unusually tight labor market.   
"Higher wages support the all-important consumer," he said.  
Economists at Goldman Sachs and Moody's Analytics have said that hiring by the U.S. Census for the 2020 count is becoming a big factor in monthly government hiring. 
But the census hiring in August exceeded Goldman's estimate of a 15,000 to 20,000 contribution from the bureau's canvassing activities.   
David Berson, chief economist at the insurer Nationwide, said that the slower pace of jobs growth is likely to keep the Federal Reserve on track to cut interest rates at its Sept. 17-18 meeting. 
Trading in Chicago futures markets implies a 100% chance at that meeting of at least a 0.25 percentage point reduction to the Fed's main interest rate, from the current range of 2% to 2.25%.
Trump, who is running for reelection in 2020, has called for the Fed to cut rates steeply to "support" him as he ratchets up the trade war with China, even though he describes the economy as "too strong." Historically, the Fed has cut rates when the economy is flagging.  
"The job market may be slowly cooling," Berson said. "It is an important data element in the Fed's decision to cut rates again at the September meeting. We expect the Fed to respond to falling manufacturing activity and the softer job numbers."