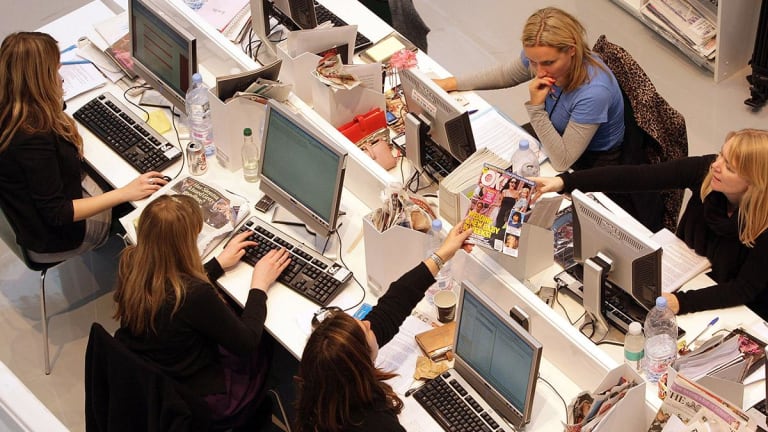 U.S. Jobs Growth Rebounded in June as Trump Economy Continues to Defy Old Age
A report Friday from the Labor Department shows the U.S. economy added 224,000 jobs in June, following a disappointing increase of 75,000 in May. Economists had forecast a gain of 160,000 jobs.
U.S. hiring rebounded in June, a government report showed Friday, as President Donald Trump's economy continued to create jobs at a robust pace despite recent signals that the record-long expansion, now more than a decade-old, might be slowing sharply.  
Nonfarm payrolls rose by 224,000 in June, the Labor Department reported Friday. The jump represented a sharp increase from May's jobs growth of 72,000, which was troublingly below the recent average of about 200,000 new jobs generated per month. 
The June increase exceeded economists' average forecast for about 160,000 new jobs, based on a survey by the data provider FactSet. 
"The employment picture remains strong," Michael Reynolds, investment strategy officer at Glenmede Trust, a Philadelphia-based money manager overseeing about $39 billion in client assets, said in e-mailed remarks. "It appears weakness observed in the manufacturing sector has not yet seeped over materially into the broader economy, allaying recessionary fears at least for now."
The monthly employment report represents one of the earliest and most reliable indicators of how the economy is performing, so the latest figures could reduce pressure on the Federal Reserve to cut interest rates at a meeting later this month to shore up growth.  
And in the topsy turvy logic of financial markets, the unexpectedly positive jobs growth weighed on stocks, since many traders were counting on Fed rate cuts later this month to prolong a rally that pushed the Standard & Poor's 500 Index and Dow Jones Industrial Average to record highs earlier this week. 
In morning trading on Friday, the S&P 500 was down 0.5% to 2,979.85, the Dow fell 0.5% to 26,841.79 and the Nasdaq was dipping 0.5% to 8128.93. 
The U.S. unemployment rate, which had fallen to a half-century low of 3.6% during the past two months, crept up to 3.7% in June, the Labor Department report showed. 
That sometimes happens despite robust jobs growth, since a strong labor market -- and higher wages -- can attract people who previously weren't even looking for positions. 
The so-called participation rate, or the share of the population that's either employed or looking for jobs, increased to 62.9% in June from 62.8% the prior month.
Average hourly earnings rose by 0.2% in June, slower than the 0.3% predicted by economists. 
Over the past year, wages have climbed about 3.1%, indicating that workers are getting ahead relative to the cost of living, which has increased by about 2% over the past year.     
Save 57% with our July 4th Sale. Join Jim Cramer's Action Alerts PLUS investment club to become a smarter investor! Click here to sign up!