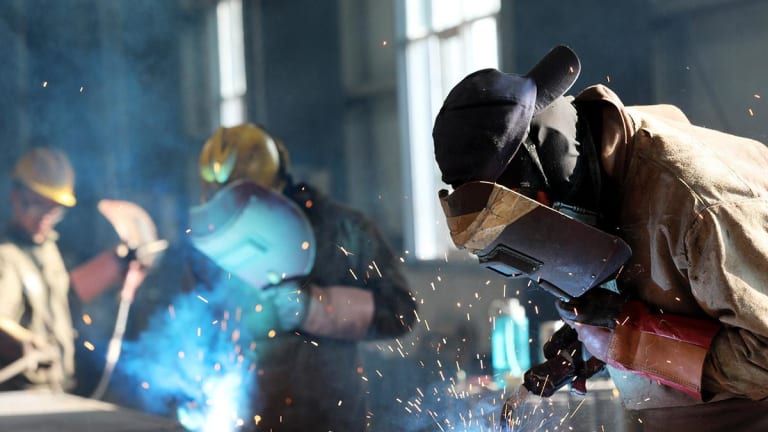 U.S. Unemployment Falls to Lowest in Half Century as Trump Job Machine Cranks
The Labor Department says U.S. employers added 263,000 jobs in April, well above economists' average estimates of 181,000. In a milestone, the U.S. unemployment rate fell to 3.6%, its lowest since December 1969.
U.S. employers hired at a faster-than-expected pace in April, pushing the unemployment rate to its lowest in a half century as the economy continued to strengthen, stimulated by President Donald Trump's tax cuts.
Nonfarm payrolls rose by 263,000, the Labor Department reported Friday. Economists surveyed by the data provider FactSet had estimated a gain of 181,000, on average. 
The U.S. unemployment rate declined to 3.6%, the lowest since December 1969, from 3.8% the prior month. 
"I'd call it a gangbuster number," said Tony Bedikian, head of global markets for Citizens Bank, a part of Citizens Financial Group. "The labor market continues to remain strong and potentially could be accelerating."
Trump promised "jobs, jobs, jobs" in 2017 when he campaigned for his $1.5 trillion tax-cut bill, and the economy has proven resilient despite a series of Federal Reserve interest-rate increases last year, the stock market's selloff in December and the 35-day federal-government shutdown, the longest in U.S. history. 
The cost, of course, is a surging federal budget deficit of about $1 trillion a year, and a projected ballooning in the national debt from its already-lofty $22 trillion. 
But for now, Trump's economy looks like a jobs-creating machine.
Despite forecasts for a slowing economy this year, Federal Reserve officials led by Chair Jerome Powell this week voted to keep interest rates steady at their current level of 2.25% to 2.5%, arguing they should remain "patient" while waiting for further data to emerge.
Recent reports have shown that while inflation is practically nonexistent at the moment, many economists worry that the tight labor market will force employers to boost wages, a move that should eventually spur higher inflation.
Consumer prices have climbed 1.6% over the past 12 months. But over roughly the same period, wages have climbed 3.2%, an indication that workers are getting ahead relative to the cost of living.
In a negative for stock markets, the strong jobs report could reduce speculation among some traders that the Fed might need to cut interest rates later this year to bolster the economy and keep it from sagging into a recession. The current U.S. expansion is already the second-longest in the nation's history, at nearly 10 years. 
"There's no reason to fire any bullets right now," said Doug Clark, chief portfolio strategist for the $18 billion money manager Prime Advisors.