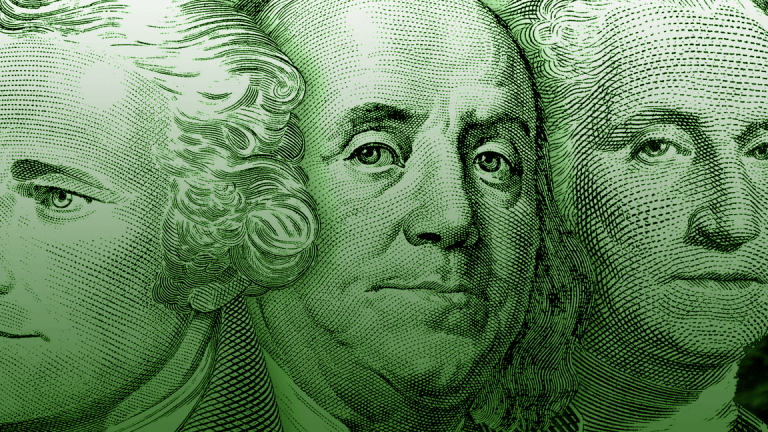 U.S. Economy Slowed Last Year More Than Previously Reported
The Commerce Department's Bureau of Economic Analysis says gross domestic product grew at a 2.2% clip in the fourth quarter of 2018, below the initially reported 2.6%.
The U.S. economy slowed late last year more than initially reported, an indication of how quickly the stimulus faded from President Donald Trump's $1.5 trillion of tax cuts in late 2017.
Gross domestic product grew at a seasonally adjusted 2.2% clip in the fourth quarter of 2018 compared with the third quarter, the Commerce Department's Bureau of Economic Analysis said Thursday in a statement. That was slower than the 2.6% pace that was initially reported last month, and also well below the 3.4% expansion rate of the third quarter.
Growth had shot as high as 4.2% in the second quarter of 2018 as the tax cuts took effect. But some economists said many companies simply used their tax windfall to pay out big dividends to shareholders or buy back stock -- allowing executives to claim a short-term boost to earnings per share -- rather than investing the money in new factories, equipment or technology that could have provided a longer-term boost to productivity. 
The slowdown is a "straightforward story about the end of the kick from tax cuts, which was never going to last long," said Ian Shepherdson, chief economist for the forecasting firm Pantheon Macroeconomics.
The downward revision to the fourth-quarter GDP level was mostly due to lower estimates of consumer spending, state and local government spending and business investment, according to the bureau's statement.   
Fourth-quarter output was 3% higher than a year earlier, lower than the previously reported 3.1%. 
On that basis, the revised level was still sufficient to satisfy -- for at least one year -- the Trump administration's promises that growth would reach 3% annual growth when officials including Treasury Secretary Steven Mnuchin campaigned for the tax cuts in 2017.  
The cost of the tax cuts has been fast-rising U.S. government budget deficits that have rapidly ballooned the national debt to about $22 trillion.   
According to the data provider FactSet, economists, on average, expect growth to average 2.4% during all of 2019, compared with an average 2.9% during the four quarters of 2018. 
Even so, the S&P 500 index of large U.S. stocks has rallied 12% this year on speculation that the Federal Reserve will keep monetary policy loose enough to allow the current cycle of economic expansion, already one of the longest in history at nearly a decade, to continue. 
Will You Have Enough Money to Retire?
Want to learn about retirement planning from some of the nation's top experts? Join TheStreet's Robert "Mr. Retirement" Powell live in New York on April 6 for our Retirement Strategies Symposium. For a limited time, tickets are available for $99 for this full-day event. Check out the agenda, learn about the speakers and sign up here.