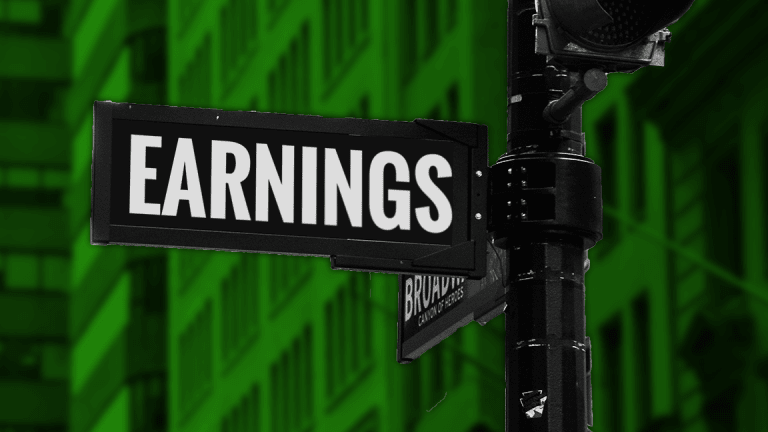 Earnings Season Could Bring the Strongest Corporate Profit Growth Since 2010
S&P 500 companies could see earnings growth of as much as 20%over the second quarter, according to FactSet estimates, marking the second best three-month stretch since late 2010.
Report card time
U.S. companies are set for one of the strongest quarterly earnings seasons in a decade, according to FactSet estimates, as surging economic growth, rising oil prices and Republican-led tax cuts continue to boost corporate America's collective bottom line.
With the Atlanta Federal Reserve's GDPNow forecast suggesting a 3.8% second quarter growth rate, a figure that falls largely in-line with the Wall Street consensus, U.S. earnings estimates have improved by 0.8% over the three months ending in June, FactSet predicts, with firms in the energy, telecoms, and IT sectors likely to lead the second quarter scorecard. That translates to an annual earnings growth rate of 20%, down from the 24.8% recorded in the first three months of the year but still the second best quarter since late 2010. 
"If 20.0% is the final growth rate for the quarter, it will mark the second highest earnings growth reported by the index since Q3 2010," FactSet noted. "It will also mark the third straight quarter in which the index has reported double-digit earnings growth."
"All eleven sectors are expected to report year-over-year growth in earnings," FactSet added. "Seven sectors are expected to report double-digit earnings growth, led by the Energy, Materials, Telecom Services, and Information Technology."
PepsiCo Inc. (PEP) - Get PepsiCo Inc. Report will publish its second quarter earnings this morning, followed by four of the biggest U.S bank on Friday -- Citigroup (C) - Get Citigroup Inc. Report , JPMorgan (JPM) - Get JP Morgan Chase & Co. Report , PNC Financial (PNC) - Get PNC Financial Services Group Inc. (The) Report and Wells Fargo (WFC) - Get Wells Fargo & Company Report -- that mark the start of the second quarter reporting season that is also set to see top-line revenue growth of 8.7%.
This is why Jim Cramer's Action Alerts PLUS is bullish on JPMorgan.
Market reaction could be limited, however, by any downward revision on third for fourth quarter estimates from companies citing the ongoing trade war between Washington and its various economic partners, but given that some of the tariffs weren't put in place until late in the quarter, with the bulking kicking in only last week, their impact isn't expected to be seen in the second quarter scorecard.  
Stocks in the energy sector, led by Chevron Corp. (CVC) , is set to see a staggering 145.2% increase in second quarter earnings, according to FactSet, as surging oil prices continue to lift profits. WTI crude gained more than 14% in the three months ending in June, ending the quarter at $74.15 per barrel thanks in part to supply disruptions in Libya and Venezuela and impending U.S. sanctions on Iran.
Overall, 22 of the 31 companies (71%) in the Energy sector have seen an increase in their mean EPS estimate during this time," FactSet noted. "However, the increase in the mean EPS estimate for Chevron (to $2.10 from $1.67) has been the largest contributor to the increase in expected earnings for this sector since March 31."
In the Information Technology sector, earnings are expected to grow by around 24.6%, according to FactSet estimates, with the biggest quarterly improvement forecast for chipmaker Advance Micro Devices Inc. (AMD) - Get Advanced Micro Devices Inc. Report , which is set to earn 13 cents a share, and Twitter (TWTR) - Get Twitter Inc. Report , which is forecast for 16 cents a share. The sector's biggest contributors, however, are likely to come from Intel Corporation (INTC) - Get Intel Corporation Report ($0.96 from $0.81) and Microsoft Inc. (MSFT) - Get Microsoft Corporation Report ($1.08 from $1.00).
Microsoft is a key holding in Action Alerts PLUS. 
Earnings growth rate estimates in the materials sector have improved from 48.5% from 45.0%, FactSet said, with DowDupont Inc's undefined improved earnings forecast, to $1.29 from $1.23 per share, making the biggest sector contribution. 
On the back end of the scorecard, however, FactSet is expecting to see only a small increase in earnings growth for the consumer staples sector, where the collective bottom line of the 32 companies in the group is set to rise by 8%, down from an 11% forecast at the end of March.
"Overall, 25 of the 32 companies (78%) in the Consumer Staples sector have seen a decrease in their mean EPS estimate during this time," FactSet noted. "Of these 25 companies, three have recorded a decrease in their mean EPS estimate of more than 10%, led by Campbell Soup (CPB) - Get Campbell Soup Company Report (to $0.25 from $0.58) ... Philip Morris International (PM) - Get Philip Morris International Inc Report (to $1.24 from $1.31), Kraft Heinz (KHC) - Get The Kraft Heinz Company Report (to $0.93 from $1.01), and Coca-Cola Company (KO) - Get Coca-Cola Company (The) Report (to $0.60 from $0.63)."