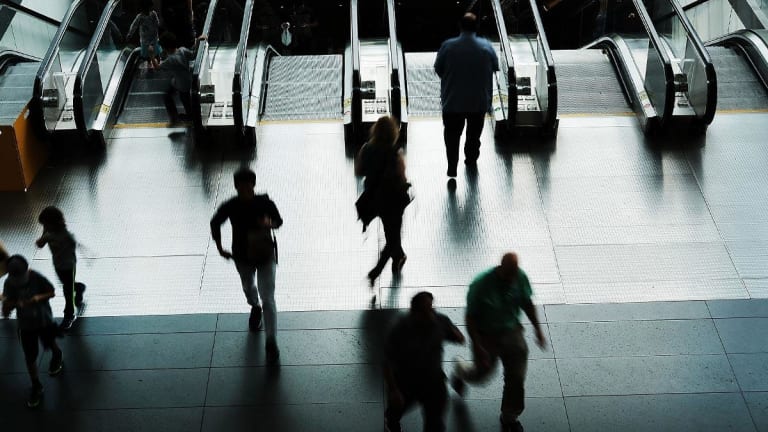 U.S. Consumer Confidence Drops Unexpectedly as Economy Slows
A monthly survey from the Conference Board shows that consumer confidence unexpectedly fell in March amid signs that the economy is poised to slow in 2019.
U.S. consumer confidence fell unexpectedly in March as a new survey showed decreasing satisfaction with current business conditions and a less upbeat assessment of the labor market. 
The Conference Board's Consumer Confidence Index fell to 124.1 in March from 131.4 the prior month. Economists surveyed by the data provider FactSet had expected an increase in the gauge, on average, to 131.9.
The absolute level of the index shows that consumers still believe that the economy will "continue expanding in the near term," according to a press release from the Conference Board. 
"Confidence has been somewhat volatile over the past few months, as consumers have had to weather volatility in the financial markets, a partial government shutdown and a very weak February jobs report," the organization said. "However, the overall trend in confidence has been softening since last summer, pointing to a moderation in economic growth."
U.S. growth is projected at 2.4% this year, down from the 2018 pace of 2.9%, according to FactSet. Even the Federal Reserve recently acknowledged the growing risks when it signaled plans to pause a three-year-long campaign to tighten monetary conditions -- until signs emerged that the economy was accelerating again.  
Consumer confidence is closely tracked given the dominant role of retail sales and services in the U.S. economy. 
"Declining confidence tends to be self-reinforcing, meaning when businesses and consumers become dour, they spend less, thus lowering activity, which then leads to ever-worsening confidence," Joe Lavorgna, chief Americas economist for the French bank Natixis, wrote last week in a report. 
"This slowdown in confidence bears watching because it could foretell a picture of much softer economic activity in the second half of the year," Lavorgna wrote. 
Ian Shepherdson, chief economist for the forecasting firm Pantheon, wrote Tuesday in a note to clients that he expects a rebound in April. Media reports on the economy's outlook may have played a role in this month's decline. 
Confidence remains "elevated by historical standards, despite this odd-looking drop," Shepherdson wrote. "We doubt this marks the start of a sustained downward trend." 
Will You Have Enough Money to Retire?
Want to learn about retirement planning from some of the nation's top experts? Join TheStreet's Robert "Mr. Retirement" Powell live in New York on April 6 for our Retirement Strategies Symposium. For a limited time, tickets are available for $99 for this full-day event. Check out the agenda, learn about the speakers and sign up here.