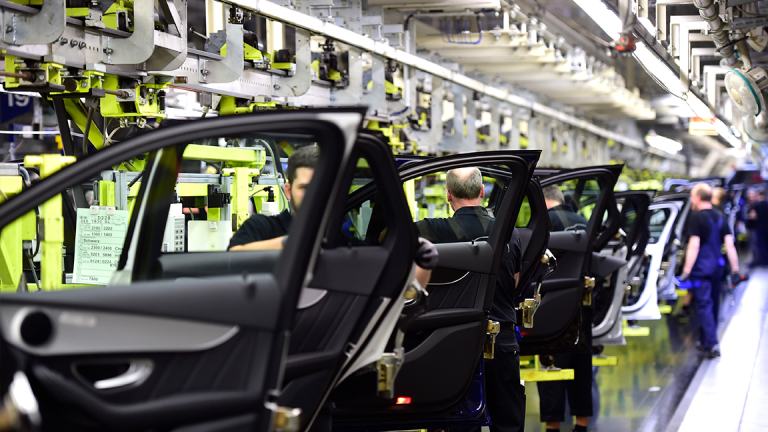 Ford and General Motors 'Notably Vulnerable' to Trade War: Moody's
President Donald Trump's plans to slap fresh tariffs on car imports would be " broadly credit negative for the global auto industry", a new Moody's report cautioned Monday.
Auto stocks could be poised to go up in flames.
President Donald Trump's threat to slap fresh tariffs on car imports into the United States could weaken credit ratings for the global auto industry, Moody's Investors Service cautioned Monday, with both Ford (F) and General Motors (GM) taking a hit as they scaled-backed production in Canada and Mexico.
Moody's said the new tariff threat, which was revealed Friday in a Tweet from the President, would be negative for "nearly every group in the industry", as well as its global supply chain, which is on track to produce around 96.7 million light vehicles this year. Moody's also said Ford and GM were notably vulnerable, given their non-U.S. manufacturing bases, and could be forced to take on increased costs as they moved production to domestic plants. U.S. dealerships, which also have a reliance on non-American imports, would also take a hit. 
"Both GM and Ford would need to absorb the cost of scaling back Mexican and Canadian production and shifting some back to the US," wrote Moody's senior vice president Bruce Clark. "They would also likely need to subsidize sales to offset the tariffs during the near term, and could eventually pass on the higher costs to consumers."
GM shares were marked 1.24% lower in pre-market trading Monday, indicating an opening bell price of $40.74 each, a move that would leave it essentially flat for the year-to-date. GM's pre-market move was more dramatic than Ford's, whose shares only slipped 0.43% to $11.60, owing to the fact that 30% of its U.S. unit sales come from cars assembled in NAFTA partners Mexico and Canada, compared to 20% for its Detroit rival.
Last week, Trump threatened to apply a 20% tariff on all cars coming into the United States from the European Union and Tweeted that if Europe's tariffs aren't removed, he would apply the added levy to auto imports, although he did not specify how and when the charge may be put in place. His comments come on the same day that the EU imposed its own retaliatory tariffs on $3.4 billion worth of U.S. goods in response to the Trump administration's charge in non-American steel and aluminium.
The report also noted that non-US auto manufacturers "would suffer even more from tariffs than their US counterparts. European automakers without US plants, for example, including Jaguar Land Rover and Volvo, would be hit particularly hard."
Germany's DAX performance index was marked 1.22% lower by mid-day in Frankfurt, with automakers such as Daimler AG (DMLRY) (-2.32%), BMW AG (BMWYY) (-1.61%) and Volkswagen (VLKAY) (-1.9%) leading the declines. The Stoxx 600 Automobiles and Parts index was marked 1.85% lower at 563 points, the lowest level since Sept. 11.