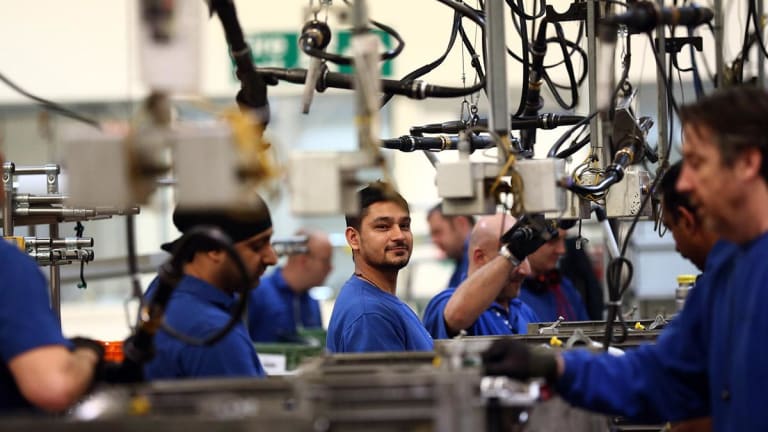 U.S. Added 196,000 Jobs in March in Rebound From Dismal February Report
U.S. employers added 196,000 jobs last month, the Labor Department says. Economists had estimated a gain of 175,000, based on a survey by FactSet.
U.S. employers hired at a faster-than-expected pace in March, rebounding from the prior month's unusually low level, which had raised alarms among investors over the magnitude of this year's economic slowdown.  
Nonfarm payrolls rose by 196,000, the Labor Department reported Friday. Economists surveyed by the data provider FactSet had estimated a gain of 175,000, on average.
The report for February had shown that the U.S. added just 20,000 jobs during that month, the fewest since September 2017, though the Labor Department on Friday revised the figure up to 33,000.
The U.S. unemployment rate held steady at 3.8%, close to the lowest in a half-century and consistent with economists' estimates.
The monthly employment report is one of the earliest indicators each month of how the economy is faring, so economists were scrutinizing the data for signs of how quickly activity is slowing as the stimulus fades from President Donald Trump's late-2017 tax cuts. 
The latest report showed that "the U.S. market continues to remain solid," said Doug Clark, chief portfolio strategist for the $17.7 billion money manager Prime Advisors. "If we would have had another weak number like February's, that would have added to the angst."
In 2018, as the windfall arrived, the U.S. created an average 223,000 new jobs a month. But this year signs have emerged that the economy is slowing, compounded by the recent 35-day government shutdown, the longest in U.S. history, as well as by nervousness among business executives that Trump's duties on Chinese imports might lead to a full-blown trade war between the world's two biggest economies. 
U.S. gross domestic product is projected to grow about 2.4% this year, down from 2.9% in 2018, according to FactSet. 
Average wages climbed by 4 cents to $27.70 an hour, compared with a 10-cent gain the prior month, according to the Labor Department's report. Over the past 12 months, the hourly earnings have climbed by 3.2%, representing a slowdown from the February pace.
Economists monitor wage gains as a precursor of inflation: When businesses have to pay more to employees, they often try to recoup those costs by charging more for their products and services, in turn pushing up consumer prices.
The Federal Reserve has paused its three-year campaign to raise interest rates -- the central bank's primary tool to keep inflation from spiking -- under a plan to provide respite to businesses and households from rising borrowing borrowing costs. 
With less upward pressure on inflation coming from higher wages, the Fed may be able to keep interest rates in their current range, of 2.25% to 2.5%, for longer.
"That gives us a little more flexibility," Clark said.
How Much Money Will I Need to Retire?
Want to learn about retirement planning from some of the nation's top experts? Join TheStreet's Robert "Mr. Retirement" Powell live in New York on April 6 for our Retirement Strategies Symposium. For a limited time, tickets are available for $99 for this full-day event. Check out the agenda, learn about the speakers and sign up here.
Investing Education Quick Clips | A Playlist for Your Portfolio