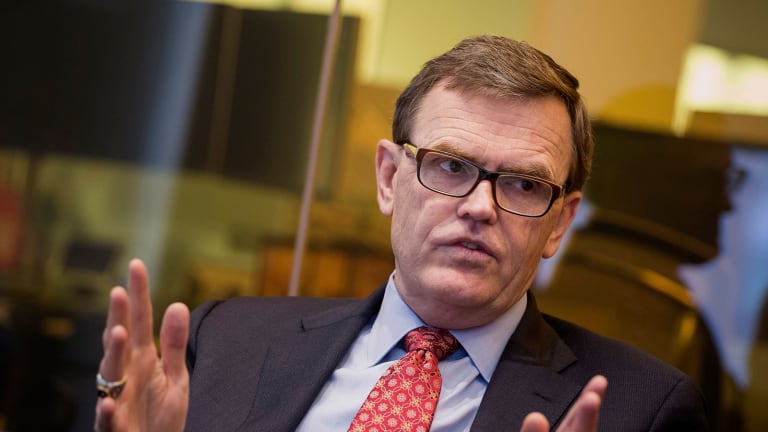 UPS CEO Abney: Develop These Habits to Become a Successful Business Leader
UPS CEO David Abney urges new college graduates to find a mentor, be confident, embrace failure, listen to others and do whatever it takes to give customers what they need.
NEW YORK (TheStreet) -- From his headquarters in Atlanta, UPS (UPS) - Get Free ReportCEO David Abney presides over a package delivery company that generates $58.4 billion in annual revenue, serves more than 220 countries and territories, employs over 444,000 people across the globe and delivers an average of 2.7 million items daily.
When the 60-year-old Abney took the reins of the massive UPS empire in September 2014, it was the culmination of a career-long climb to the top.
Along the way, he's learned many important lessons about the business world - such as the importance of gaining confidence, embracing failure and listening to others you work with - that can help young people just starting out. He graciously shares them with TheStreet.
You'll want to hear his advice: Since the bespectacled Abney took over at the company nearly two years ago, UPS stock has climbed 12.91%, which is a direct testament to his passion and drive.
Abney has had many successes, but he is the first to admit that he didn't get to where he is alone. He had a mentor along the way, and he recommends finding one for yourself.
"Early in my career, I had a mentor who believed in me more than I believed in myself," Abney says. "His feedback - sometimes positive, sometimes tough - taught me to have confidence while remaining humble."
With or without a mentor, Abney cites his confidence as key to advancing in the company. One of the greatest lessons he wishes to impart to young people is to believe in their own capabilities. That way "you're always ready to accept new challenges that take you outside your comfort zone," he says.
Looking at his long career at UPS, it's obvious he followed his own advice.
He began working nights for the company in 1974 as a part-time package loader while attending college at Delta State University in Mississippi, where he later earned a bachelor's degree in business administration.
He was the first in his family to attend college and paid for school with scholarships and his UPS pay.
Abney's journey to the corner office from the loading dock wasn't without a fair share of bumps and bruises. He admits that he fails a little bit each day, and that is part of what has helped his growth. "I have often been asked if I ever failed," he says: "My response, 'daily.'"
But he didn't always fall with grace.
"Failure was extremely frustrating to me early in my career," Abney says of his early days at UPS. "I always worried that I was letting someone down when I didn't produce the results I wanted or the results that were expected."
Instead, he urges young people to embrace their mistakes. "Everyone fears failure, especially young people just starting out in a job and hoping to impress their bosses," he continues, "but we shouldn't fear failure because breakthroughs depend on it."
Over his 42 years at the company he has enjoyed his fair share of breakthroughs.
The company has flourished under his leadership. UPS last reported results on July 29, posting earnings of $1.43 per share for the 2016 second quarter, up 6% year-over-year, while revenue was up 3.8% to $14.6 billion. Domestic operating profit grew 2.7% to $1.2 billion while international operating profit jumped over 11% to $613 million.
UPS reaffirmed its earnings guidance for the year in the range of $5.70 to $5.90 per share. Abney said the company expanded its global network, implemented new technologies and captured revenue in high-growth markets in the quarter.
Abney himself has held 20 positions at the company: as a package deliverer in Pascagoula, MI, as senior VP of global transportation services, president of UPS International, COO and most recently, as Chairman of the Board and CEO.
"It is the American dream," he told the Wall Street Journal in 2014 about his rise to the top. "But it's not only about me."
He learned over the years that focusing on others and listening to what they say is key, and he urges new grads to learn that lesson quickly.
"Too many people today are too busy talking to hear the wisdom of others," he tells TheStreet. "As a result, they waste valuable opportunities to learn and grow."
The key to success might just be closing our mouths and our phones to focus on those around us. "We have become a society enamored with ourselves," he notes. "We take more than one million selfies a day."
"Listening is our most underrated skill," Abney adds, but he also considers it one of the most important.
Even as the highest-ranking executive at UPS, Abney still puts in the effort to listen to others. Every day he gets to the office early to eat breakfast in the employee cafeteria, making himself accessible to anyone at the organization.
Even Abney's business philosophy is other-centric.
He describes his philosophy at UPS to be "understand[ing] what your customers want and mov[ing] heaven and earth to give it to them consistently and at a fair price."
He told the Journal that he learned this early on as a driver for UPS. He said if he interacts with 200 customers daily, that gives him 200 chances to take care of them properly. If he fails to do that, that's 200 chances to make people "not so happy."
Giving customers what they need is "the definition of value," Abney tells TheStreet. "And if you give them a little more than they expected, something they call lagniappe in the area not far from where I grew up in Mississippi, you've probably found a customer for life."
Lately he's been listening to customers when they call for sustainable practices. Earlier this month, UPS met its own goal of driving one billion cleaner miles with alternative fuel in more than 7,200 vehicles and a year ahead of schedule.
When Abney leaves UPS, he hopes to leave behind a little something extra - a lagniappe - for those who'll come after him.
"I would like to look back on my time here and be remembered as someone who moved the company forward and left it in an even stronger position than it was when I was given the honor of leading this great company," Abney notes.
His focus on learning from his own mistakes, listening to others and giving customers what they need may one day get him there - and his advice could one day get new graduates there, too.
Even following Abney's advice, there will be times when you feel as if you can't succeed. One of the greatest keys to Abney's success, it seems, is just doing the very best he can and knowing that it will be enough.
His predecessor at UPS, Oz Nelson, once told him something that sticks with him today: "You'll never be as prepared as you want to be. Just do the best you can, then move on to the next thing on your agenda."
Although many of our agendas are sure to be less hectic than Abney's, it's sound advice to follow.