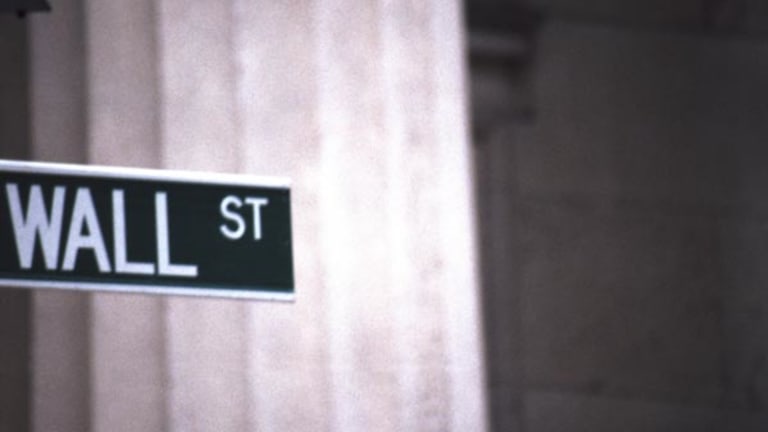 Upbeat Finish for Stocks
The market has another volatile day before ending higher.
Updated from 4:17 p.m. EST
The major averages made another sharp move late in the session Friday, but this time, it was to the upside.
After enduring a back-and-forth day, the
Dow Jones Industrial Average
closed up 66.74 points, or 0.51%, at 13,176.79. The
S&P 500
was similarly erratic, but went out ahead by 7.59 points, or 0.52%, to 1458.74. The
Nasdaq Composite
advanced 18.73 points, or 0.72%, to 2637.24.
"The broad market is still having problems, but we held up today, and that is a positive," said Edgar Peters, chief market strategist with Pan Agora. "It appears things are calming down a little bit, and it's very possible that what happened this week was overdone. There was some bargain-hunting, which people don't like to do on a Friday."
Peters added that if any news comes out during the next week, "it will be very volatile and exaggerated due to the low volume because of the Thanksgiving holiday. Otherwise, we'll probably meander all over the map like we did this week."
During the past two sessions, heavy selling has occurred in final minutes and the indices ended lower both times.
The last hour hit stocks last time out, when the Dow slid to close down more than 100 points to 13,110.05. The S&P 500 fell 19.43 points, or 1.32%, at 1451.15. The tech-heavy Nasdaq declined 25.81 points, or 0.98%, to 2618.51.
For the week, the major averages broke a two-week losing streak, sneaking by with narrow gains after volatile trading over the five sessions. The Dow climbed 1%, and the S&P 500 closed up 0.3%. The Nasdaq gained 0.3%.
Despite a win for the major averages, breadth was weak heading into the weekend. On the
New York Stock Exchange
4.06 billion shares changed hands, as decliners toppled advancers by a 10-to-7 margin. Volume on the Nasdaq reached 2.41 billion shares, with losers beating winners nearly 8 to 7.
"When you look at the whole week, the major averages finished up slightly despite being all over the place," said Paul Nolte, director of investments with Hinsdale Associates. "Plus, there were more decliners than advancers for the week, which means strength was consolidated among large-cap names. Investors are still concerned about subprime and housing as well as the implications for what it will all mean for the rest of the economy."
Rhetoric from
Federal Reserve
bankers was in the spotlight early. Central bank Governor Randall Kroszner offered his views on the economy and monetary policy before a conference at the Institute of International Finance in New York, saying the Fed's approach is the correct one.
"The current stance of monetary policy should help the economy get through the rough patch during the next year, with growth then likely to return to its longer-run sustainable rate," said Kroszner. "A sequence of data releases consistent with the rough patch for economic activity that I expect in coming months would not, by themselves, suggest to me that the current stance of monetary policy is inappropriate."
Elsewhere, St. Louis Fed President William Poole was out with remarks of his own, telling
Dow Jones
that inflation isn't a major risk to the U.S. economy. However, Poole forecasted that the economy should rebound after the fourth quarter, which cast doubt over whether the Fed would again cut the fed funds rate.
Though many market participants hope to see further easing, those sets of comments would suggest that additional reductions in the near term are hardly a given.
U.S. Treasury bonds were slightly lower after the Fed comments. At 4 p.m. EST, the 10-year note was off 7/32 in price, bumping the yield higher to 4.17%, and the 30-year bond was down 7/32, yielding 4.53%.
With no major earnings releases set and data slim, investors were poring over analyst notes and gearing up for options expiration.
Robert W. Baird downgraded
Starbucks
(SBUX) - Get Starbucks Corporation Report
to neutral from outperform after the coffee chain's fiscal fourth-quarter results and forecast, released after the closing bell.
Starbucks posted a 35% jump in year-over-year earnings, matching Wall Street's estimates, but the company cut its outlook for fiscal 2008. Starbucks also said it will open 100 fewer U.S. stores than originally planned as same-store sales growth came in at the low end of expectations. Shares were off 93 cents, or 3.9%, to close at $23.17.
Baird also cut its rating for
FedEx
(FDX) - Get FedEx Corporation Report
to neutral from outperform. Before the opening bell, FedEx cut its fiscal second-quarter and full-year outlook as fuel costs have skyrocketed. FedEx shed $4.57, or 4.5%, to $96.80.
The Dow Jones Transportation Average slipped 1.6 and the Nasdaq Transportation Index was down 1.5% after FedEx's guidance cut. Rival
UPS
(UPS) - Get United Parcel Service Inc. Report
finished 1.5% lower in sympathy.
Also on the negative side, UBS downgraded retail giant
Target
(TGT) - Get Target Corporation Report
to neutral from buy. Shares slid 98 cents, or 1.8%, to end the day at $53.88.
On the other hand, Deutsche Securities raised its ratings on several oil companies. The firm upgraded
Chevron
(CVX) - Get Chevron Corporation Report
and
ConocoPhillips
(COP) - Get ConocoPhillips Report
to hold from sell, and
Marathon Oil
(MRO) - Get Marathon Oil Corporation Report
to buy from hold. All three names closed higher on the day.
Among other upgrades, Credit Suisse upped its rating for
J.C. Penney
(JCP) - Get J. C. Penney Company, Inc. Report
to neutral from underperform, and Citigroup raised
Tyco
(TYC)
to hold from sell. J.C. Penney lost 2.6% to close at $43.19, while Tyco advanced 2.2% to $38.73.
Hewlett-Packard
closed 3.8% higher after being upgraded by Morgan Stanley. The stock added $1.85 to $50.75.
On the economic front, the Federal Reserve said industrial production fell 0.5% in October, the largest decline since January. Capacity utilization fell to 81.7% from 82.2% in September.
Commodities were mixed. Crude jumped $1.67 to $95.10 a barrel. Gold eased 30 cents to $787 an ounce. Silver futures were 3 cents higher to close at $14.51 an ounce.
Overseas markets were uniformly lower. In Asia, Hong Kong's Hang Seng dropped 4%, and Japan's Nikkei 225 declined 1.6%. Among European bourses, London's FTSE 100 eased 1.1%, while Germany's Xetra Dax was down 0.7%.