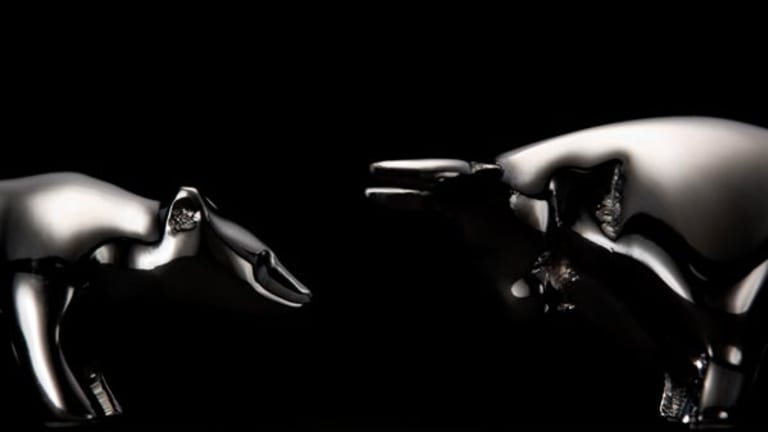 Upbeat Finish for Stocks
Wall Street ends a two-day selloff by closing higher Friday.
Updated from 4:17 p.m. EDT
Wall Street finished the week on a high note Friday as investors found enough buying opportunities to bring an end to a two-day selloff.
The
Dow Jones Industrial Average
was up 60.67 points, or 0.54%, at 11,392.11, and the
S&P 500
gained 4.90 points, or 0.38%, to 1298.92. The
Nasdaq Composite
added 10.50 points, or 0.49%, to 2165.79.
McDonald's
(MCD) - Get McDonald's Corporation Report
and
Wal-Mart
(WMT) - Get Walmart Inc. Report
were the Dow's best gainers, up 2.6%.
The Nasdaq was supported by gains of 6% or more in
Autodesk
(ADSK) - Get Autodesk, Inc. Report
and
Fiserv
(FISV) - Get Fiserv, Inc. Report
.
"If the bulls are unable to hold those levels, it will cast doubt on the viability of the rally," said Ken Tower, chief market strategist with CyberTrader. "This is September -- a bad neighborhood for your portfolio -- and bulls should be hypersensitive."
Volume was light to end the week, with about 1.31 billion shares changing hands on the
New York Stock Exchange
. Advancers beat decliners by a 3-to-2 margin. Volume on the Nasdaq was 1.49 billion shares, and winners and losers essentially tied.
During the last two trading days, the Dow lost nearly 140 points, the S&P dropped 19, and the Nasdaq slumped 50. For the week, the Dow surrendered 72 points, or 0.6%, and the S&P 500 fell by 12 points, or 0.9%. The Nasdaq fell 27 points, or 1.2%, over the four sessions.
Contributing to the prior session's decline were hawkish comments from San Francisco
Federal Reserve
President Janet Yellen, who reminded already jittery investors to stay on central-bank watch. During a speech, Yellen said that "with inflation too high, policy must have a bias toward further firming."
Stocks were coming off their lows before she spoke, but once her comments became known, sellers took over.
"When a dove like Yellen says that the Fed must retain a bias toward rate increases, that hurts," said Marc Pado, U.S. market strategist with Cantor Fitzgerald. "She also expressed concerns about future economic growth and housing. Investors haven't seen enough data to determine the extent of slowing yet. However, that uncertainty is enough to keep the market on its heels here."
The benchmark 10-year note was up 4/32 in price, yielding 4.77%. The dollar advanced against the euro and the Japanese yen.
Early Friday, another homebuilder lowered its guidance, this time
Lennar
(LEN) - Get Lennar Corporation Class A Report
. Already this week,
Beazer Homes
(BZH) - Get Beazer Homes USA, Inc. Report
and
KB Homes
have issued warnings. Lennar was off 54 cents, or 1.3%, to finish at $42.71.
Elsewhere,
Broadcom
undefined
said it found more stock option irregularities, and the wireless chip company now expects its planned restatement to total at least $1.5 billion. Broadcom fell by 34 cents, or 1.3%, to $26.09.
Hewlett-Packard
could face charges as California Attorney General Bill Lockyer said his office is investigating whether the company broke any laws during its probe to find its boardroom media leak. H-P admitted to hiring private investigators who are believed to have sought out phone records of journalists using false identities.
Additionally, a published report said that Chairman Patricia Dunn wasn't aware of the program's tactics and that though she doesn't plan to resign, she would if the other directors asked her to step down. H-P ended higher by 75 cents, or 2.1%, to $36.17.
After the close Thursday,
National Semiconductor
(NSM)
said sluggish sales were the reason it missed its first-quarter financial goals and indicated that the weakness is continuing in the current quarter. National Semiconductor rose 5 cents, or 0.2%, to $24.44.
Shareholders of both
Lucent
(LU)
and
Alcatel
(ALA)
have voted in favor of the merger of the telecom-equipment providers. However, Lucent's holders weren't very enthusiastic, as just more than half gave their support.
Lucent finished unchanged at $2.25. Alcatel gained 10 cents, or 0.9%, to close at $11.87.
The economic calendar was almost bare. The only piece of data was a report on consumer credit from the Fed that showed an increase of 2.8% in July to $5.5 billion.
Crude prices fell after
BP
(BP) - Get BP Plc Report
said its Prudhoe Bay pipeline in Alaska may reach full capacity by the end of October. In Nymex floor trading, oil finished down $1.07 to $66.25 a barrel, a loss of 4.2% for the week.
Meanwhile, precious metals were again weaker. Gold futures dropped $7.60 to close at $617.30 an ounce, and silver was giving back 40 cents to $12.29 an ounce.
Overseas, Europe's equities were moving higher. London's FTSE 100 rose 0.4% to 5879, and Frankfurt's Xetra DAX was up 0.4% to 5795. In Asia, Tokyo's Nikkei 225 gained 0.4% to 16,080, and Hong Kong's Hang Seng climbed by 0.3% to 17,145.