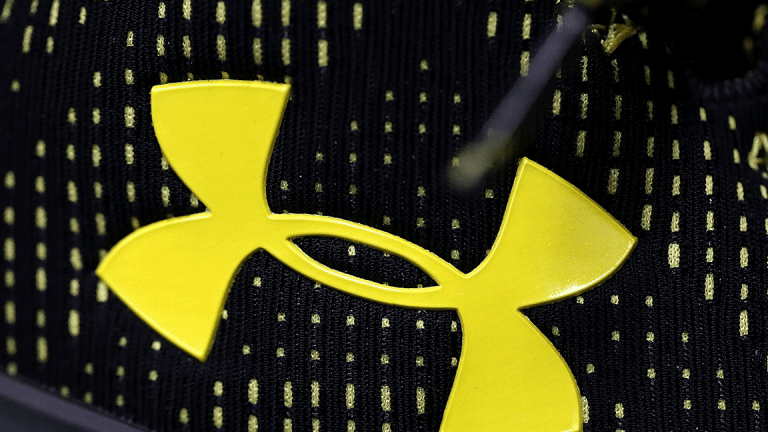 Under Armour Shares Rise as Revenue Beats Estimates
Under Armour shares rise as second-quarter revenue of $1.17 billion tops estimates.
Shares of Under Armour Inc. (UAA) - Get Free Report were rising 1.5% in morning trading after the loss in the quarter met estimates and revenue of $1.17 billion topped forecasts of $1.15 billion.
Under Armour posted an adjusted loss of 8 cents a share in the quarter. The net loss was $95.5 million, or 21 cents a share.
The sportswear maker said apparel revenue increased 10% to $747 million, attributed the strength to training and running gear. Footwear was up 15% to $271 million, also driven by running. Accessories revenue fell 14% to $106 million.
"The company's operating results in the first half of 2018 are largely in line with our expectations, while positive free cash flow has led to increased cash and a reduction in debt year-over-year," stated Moody's Assistant Vice President Mike Zuccaro.
In a press release Thursday, July 26, the company reiterated its plans on restructuring throughout 2018. The plans were initially announced in February.
"Under Armour is making progress on its plans to cut costs and reduce inventory growth. We expected 2018 to be a challenging year and that it would take some time to improve profitability, cash flow and credit metrics, with profit margins negatively impacted by inventory management initiatives and continued investment in future growth, particularly in key areas such as international and direct-to-consumer," said Zuccaro.
"After further review, the company has identified approximately $80 million of additional restructuring initiatives and now expects to incur approximately $190 million to $210 million of pretax restructuring and related charges in 2018," Under Armour said.