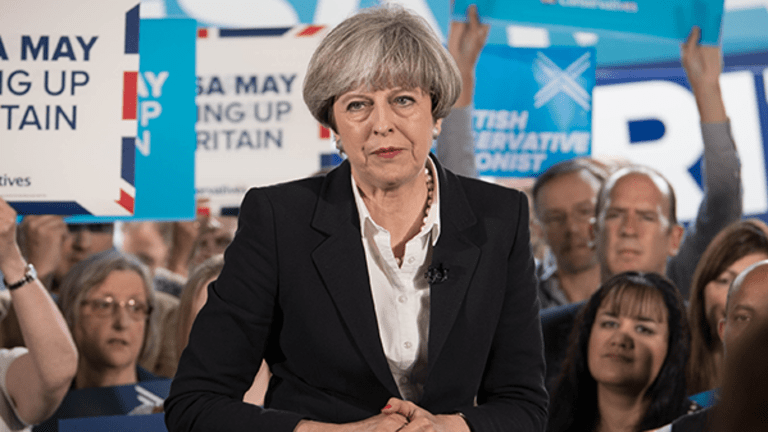 UK Prime Minister 'Bitterly Disappointed' By U.S Ruling on Bombardier
Commerce Department's subsidy ruling on Bombardier could threaten 4,000 jobs in Northern Ireland and tremble May's fragile coalition with the DUP.
U.K. Prime Minister Theresa May said Wednesday she was "bitterly disappointed" by a ruling from the U.S. Commerce Department that will impose duties on Bombardier Inc's undefined C-Series jets after a complaint from rival Boeing Co. (BA)  that the Canadian group receives unfair government support. 
The ruling could put as many as 4,000 jobs in Belfast, where parts of the C-Series are made, at risk and potentially threaten the fragile coalition government she brokered earlier this year with members of Northern Ireland's Democratic Unionist Party (DUP).
The 219.63% duty on new commercial jets made by Bombardier and sold in the United States would effectively triple the $80 million base cost of the C-Series and likely lead to its scrapping. Montreal-based Bombardier called the ruling "absurd" and vowed to challenge it through the International Trade Commission.
However, the ruling also creates an immediate electoral problem May given that she raised the issue directly with President Donald Trump during a telephone call earlier this month, with the Times newspaper reporting it came after direct pressure from DUP lawmakers.  
Jeffrey Donaldson, a DUP member of parliament, told the BBC Wednesday that the Belfast plant is "critical" to the North Irish capital and that closing it would have "devastating consequences on our economy", given that it's the province's largest industrial employer.
"We're going to do everything we can to ensure that doesn't happen," he vowed.
May's government relies on the support of 10 DUP members after she cut a deal in June that allowed her Conservative Party to remain in power after a national election that saw her majority erode from 331 to 318 seats as voters hit back at the slow progress in Brexit negotiations and her perceived weakness in controlling warring factions inside her own party.
More of What's Trending on TheStreet: