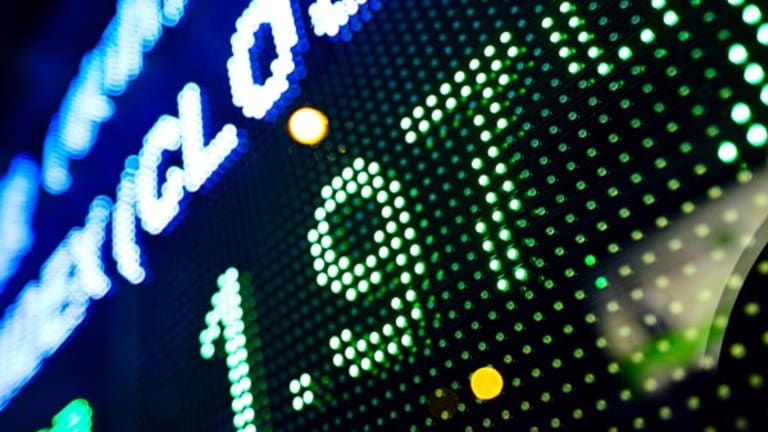 Ugly April Ends With a Bang
Crude's price slips, clearing the way for stocks to move markedly higher Friday afternoon.
Updated from 3:02 p.m. EDT
A sharp decline in crude prices powered stocks higher Friday afternoon, breaking an earlier tug-of-war between mixed economic data and solid earnings from
Microsoft
(MSFT) - Get Report
.
The
Dow Jones Industrial Average
finished up 122.14 points, or 1.21%, to 10,192.51, after bouncing around the break-even line for most of Friday's session. The
S&P 500
rose 13.61 points, or 1.19%, to 1156.83, while the
Nasdaq Composite
gained 17.47 points, or 0.92%, to 1921.65, having touched a seven-month low earlier in the session. The 10-year Treasury note was down 13/32 in price to yield 4.20%.
Trading volume on the
New York Stock Exchange
was 2.31 billion shares, with advancers beating decliners by a 2-to-1 margin. Volume on the Nasdaq was 2.04 billion shares, with advancers outpacing decliners 9 to 7.
For the week, the Dow was higher by 0.3%, the S&P 500 was up 0.3%, while the Nasdaq fell 0.5%. For the month of April, the Dow fell 2.9%, the S&P 500 was off 2%, and the Nasdaq dropped 3.9%.
"Stocks were meandering listlessly, but since oil broke lower the market roared," said Jay Suskind, head of institutional equity trading at Ryan Beck & Co. "But until Tuesday afternoon you probably won't see much action, with the
Fed
meeting that day. You'll have days now where we'll be waiting for data."
On Tuesday, the Fed's rate-setting body is slated to meet and is widely expected to raise rates another 25 basis points. Tentative trading has preceded it, as investors wonder whether the Fed's attempts to rein in nascent inflation pressures will squash economic growth.
Crude oil, whose rise yesterday afternoon helped send stocks tumbling, fell sharply Friday, closing lower by $2.05 to $49.72 a barrel in Nymex floor trading. Oil prices fell 11.4% for the week.
In economic news Friday, the Commerce Department said Friday that both U.S. spending and income increased more than expected in March. Personal income rose 0.5%, higher than economists' expectations of a 0.3% increase. Personal spending was up 0.6% compared with expectations of a 0.4% increase. For March, the personal consumption expenditures index rose 0.5%, the largest increase in 15 years. Excluding food and energy prices, the core PCE rose 0.3%, bringing its year-over-year rate of increase to 1.7%.
"The GDP data yesterday showed spending a bit stronger than many analysts expected in the first quarter; these data fill in the monthly details," said Ian Shepardson, chief economist with High Frequency Economics. "Overall, not too bad, especially given unfavorable Easter seasonals. April should be a bit better."
Meanwhile, the Labor Department said Friday that U.S. employment costs rose 0.7% in the first quarter of 2005, lower than the previous quarter's 0.8% gain and economists' expectations of a 1% increase. The rise in the employment cost index was the smallest since the first quarter of 1999.
Also, the University of Michigan's consumer sentiment index was revised down for late April to 87.7 from 88.7. Economists had anticipated no change from the previous reading. The dip in the index now makes April the fourth straight month of declines. Separately, the Chicago purchasing managers' index for April fell to 65.6 from the previous month's 69.2 reading. Economists had expected a decline in the Chicago PMI to 62.5.
"Market participants are weary of stagflation and economic slowdown," said Robert Pavlik, portfolio manager with Oaktree Asset Management. "There's a lot of concern in the market, and I believe most investors are probably questioning their commitment to owning stocks ahead of the
FOMC
meeting next Tuesday."
The dollar fell against the yen and rose against the euro, as currency traders seized on an article in a Chinese state newspaper hinting that the nation may allow its currency to float more freely. The article in the
China Securities Journal
said China has established the conditions under which the yuan's 10-year-old peg of 8.3 to the dollar would lapse,
Bloomberg
reported. The U.S. has encouraged China to allow free trading in the yuan in an effort to narrow the countries' massive trade imbalance.
Stronger sectors Friday included energy, health care, homebuilding, and industrials. Weaker ones included semiconductors, retail, and telecom services.
In earnings news, Microsoft said it had fiscal third-quarter earnings of $2.56 billion, or 23 cents a share, compared with $1.32 billion, or 12 cents a share, a year ago. The company said results included legal charges of 5 cents a share. Revenue for the quarter was $9.6 billion. Analysts expected 32 cents a share on revenue of $9.8 billion, according to Thomson First Call.
The company expects fourth-quarter revenue in the range of $10.1 billion to $10.2 billion, compared with analysts' expectations of $10.1 billion. Microsoft gained 85 cents, or 3.5%, to $25.30.
KLA-Tencor
(KLAC) - Get Report
reported fiscal third-quarter income of $123 million, or 61 cents a share, vs. $66 million, or 33 cents a share, a year ago. Revenue for the quarter was $541.6 million. The Thomson First Call consensus called for profit of 56 cents a share on revenue of $528 million.
For the fourth quarter, the company expects a profit of 46 cents to 48 cents a share on revenue in the range of $480 million to $500 million. Analysts are expecting earnings of 53 cents a share on revenue of $514 million. KLA-Tencor was down $1.07, or 2.7%, to close $38.95. The Philadelphia Semiconductor sector index rose 0.3% despite KLA-Tencor's loss.
Also,
ChevronTexaco
(CVX) - Get Report
became the second supermajor in as many days to post impressive earnings growth that failed to meet Wall Street's approval. For its first quarter ended March 31, Chevron made $2.68 billion, or $1.28 a share. That's up from the year-ago $2.56 billion, or $1.20 a share. Revenue rose to $41.6 billion from $33.6 billion a year earlier. Analysts surveyed by Thomson First Call had forecast a first-quarter profit of $1.38 a share.
Exxon Mobil
(XOM) - Get Report
dropped 4% Thursday after posting a first-quarter bottom line of $7.86 billion. Chevron gained 85 cents, or 1.7%, to $52.
Cardinal Health
(CAH) - Get Report
on Friday posted net income for the fiscal third quarter of $365.7 million, or 84 cents a share, down from $430 million, or 98 cents a share, a year ago. The Thomson First Call average estimate was for earnings of 89 cents a share. The drug company's lower quarterly earnings were blamed on its sterile manufacturing business, which weighed down results. Cardinal Health rose 56 cents, or 1%, to $55.57.
In corporate news,
American International Group
(AIG) - Get Report
will again delay filing its 2004 financial results as the company attempts to sort out accounting errors. According to
The Wall Street Journal
, AIG's accounting errors may cost net worth between $2.5 billion and $2.8 billion, which would be more than $1 billion more than the company's previous estimates. AIG fell 29 cents, or 0.6%, to $50.85.
According to a report in the
Daily Deal
newspaper,
Oracle
(ORCL) - Get Report
was in possible takeover talks with
Siebel Systems
( SEBL). Word of the possible takeover sent Siebel shares up 41 cents, or 4.8%, to $9, while Oracle fell 6 cents, or 0.5%, to $11.56.
Biogen Idec
(BIIB) - Get Report
said in a filing on Friday that it received a notice on April 21 from U.S. securities regulators who are now formally investigating whether the company violated any securities laws in connection with the suspension of its new multiple sclerosis drug Tysabri. Biogen, which withdrew the drug after several patients developed a rare fatal brain infection, said it is cooperating with the investigation. The stock added 26 cents, or 0.7%, to $36.24.
Sun Microsystems
(SUNW) - Get Report
was higher after a report in
Business Week
said that chief executive Scott McNealy and Silver Lake Partners are considering taking the company private. Sun jumped 18 cents, or 5.2%, to $3.62.
In brokerage action, Banc of America upgraded
IBM
(IBM) - Get Report
to buy from neutral, citing an attractive reward-vs.-risk profile for the company. Shares of IBM gained 47 cents, or 0.6%, to $76.38.
The retail sector received a boost from
Best Buy
(BBY) - Get Report
, which was upgraded Friday by brokerage Prudential to overweight on valuation. Best Buy rose 79 cents, or 1.6%, to $50.34.
Overseas markets were higher, with London's FTSE 100 up 0.2% to 4801 and Germany's Xetra DAX up 0.1% to 4184.