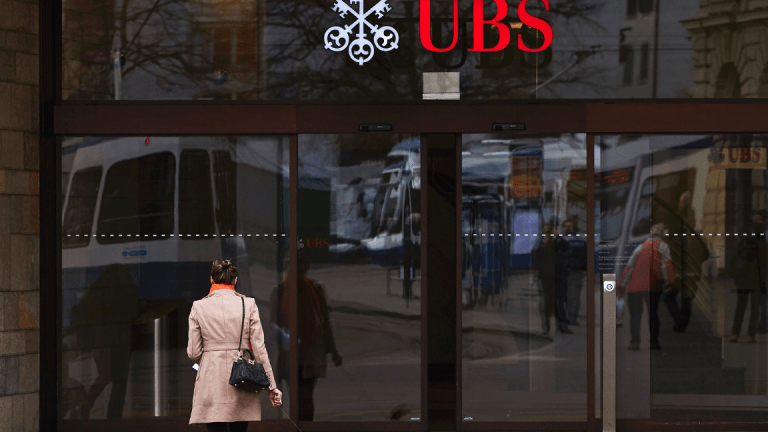 UBS Smashed by $3 Billion Tax Law Hit, Plans Big Wealth Management Push
UBS will combine its wealth management divisions, increase its dividend and buyback $2 billion in shares after taking a $3 billion Q4 earnings hit linked to last year's U.S. corporate tax overhaul.
UBS AG (UBS) - Get Report , Switzerland's biggest bank, took a near $3 billion hit to its fourth quarter earnings Monday as it wrote down the value of U.S. tax credits in a move that overshadowed solid underlying performance and an increase in shareholder returns.
UBS booked an Sfr2.9 billion ($3.01 billion) writedown linked to last year's overhaul of the U.S. corporate tax code and reported an Sfr2.2 billion loss for the three months ending in December, a figure that was higher than Street estimates, and said it would scrap a previous target of returning 50% of its net profits to shareholders and would instead commit to growing its annual dividend "at mid-to-high single digit percent per annum". The bank also said low market volatility would likely persist over the short term and that new Basel III capital standards will increase it capital requirements and costs.
"2017 was an excellent year for us. We delivered stronger financial results and met our net cost reduction target," said CEO Sergio Ermotti. "Greater regulatory clarity means we can open a new chapter for UBS, allowing us to sharpen our focus on growth across our businesses, make further investments in technology and deliver attractive returns to shareholders."
Shares in the bank slumped more than 3% in the opening half hour of trading in Zurich before paring declines to around 2.48%, with the stock changing hands at €18.83 each and trimming its three-month gain to just under 10%.
UBS will pay a Sfr0.65 per share dividend for the full year 2017, the bank said, up 8.3% from the previous year, and said it would buyback Sfr2 billion in shares over the next three years, starting in March, in an effort to boost returns.
The group also said it will unify its wealth management units, creating a single global division that will be co-headed by Martin Blessing and Tom Naratil, the current president UBS Americas and Wealth Management Americas.
"UBS believes the combined business division will enable the bank to more effectively leverage the purchasing power of its Sfr2.3 trillion invested asset base and realize greater synergies across technology, innovation and other areas of investment," the bank said. "Regional variations in the client service model will be maintained, while middle- and back-office functions will be more closely aligned and integrated."
UBS strategists are still bullish on the S&P 500, however. 
More of What's Trending on TheStreet: