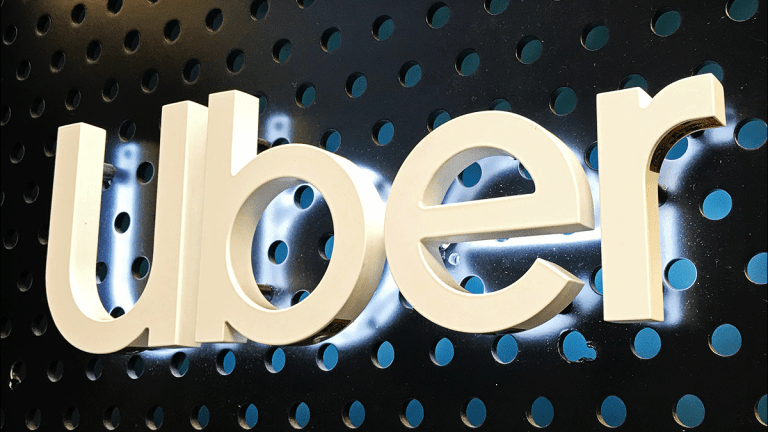 Uber Shares Fall Despite Company Beating Earnings Estimates, Raising Guidance
Uber lost less money than expected in its third quarter of 2019, but disappointed on several key metrics.
Shares of Uber (UBER)  fell on Monday after hours, despite the company posting a narrower net loss and higher revenues than expected. The company also raised full year 2019 earnings guidance. But a number of other key indicators came in below expectations.
The stock was falling 6.4% to $29.10 a share in postmarket trading, after having fallen 0.92% in regular hours. 
The ride-hailing giant reported an adjusted net loss of 68 cents per share, narrower than Wall Street's expected loss of 70 cents. Revenue grew 30% to $3.813 billion, beating analysts estimates of $3.628 billion. However, gross bookings, an indication of how much Uber took in on its platform before paying driver and other fees, came in at $16.5 billion, missing estimates of $16.7 billion. And the number of monthly active users on the platform came in at 103 million vs. 107 million expected. Negative free cash flow was $1.007 billion, a wider loss than the expected $713 million. 
The company's average ride-hailing take-rate, or the cut of the total ride fee Uber keeps, was 22.8%, above estimates of 20.9%. Uber Eats gross bookings, a segment many analysts expected to drive significant growth, rose 73% to $3.658 million, but missed estimates of $3.964 million. 
Management raised guidance for the full year of 2019, saying it now expects an adjusted EBITDA loss of between $2.8 billion and $2.9 billion. That's better than its previous guidance for a loss of $3 billion to $3.2 billion.
"Our results this quarter decisively demonstrate the growing profitability of our Rides segment," said CEO Dara Khosrowshahi. "Rides Adjusted EBITDA is up 52% year-over-year and now more than covers our corporate overhead. Revenue growth and take rates in our Eats business also accelerated nicely. We're pleased to see the impact that continued category leadership, greater financial discipline, and an industry-wide shift towards healthier growth are already having on our financial performance."
One "possible reason for the sell-off [post-earnings] is that the lockup period from the IPO ends this month, and you can see why people want to get out of the stock ahead of that," said Anthony Denier, CEO of trading platform Webull. Uber stock insiders may sell shares starting Wednesday, an event expected to add supply to the market, pressuring shares.  
The stock is up 2.3% in the past month.