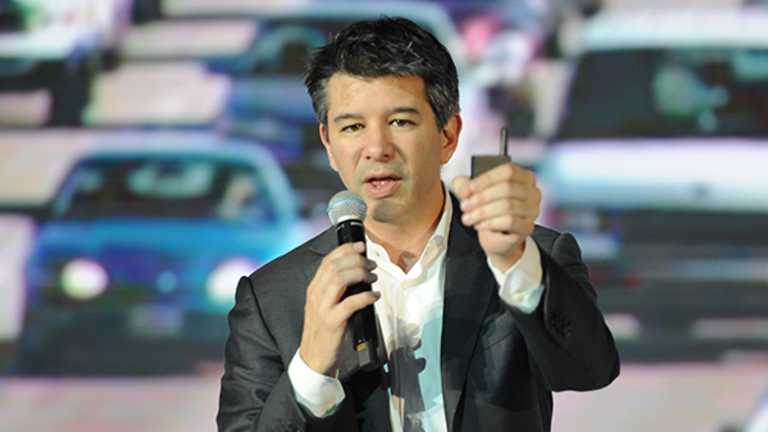 Uber Founder and CEO Travis Kalanick Resigns From Scandal-Hit Ride Sharing Group
Uber Technologies founder and CEO Travis Kalanick has resigned from the ride-sharing company just days after he was asked to take a leave of absence.
Uber Technologies Inc. founder and CEO Travis Kalanick has resigned from the ride-sharing company just days after he was asked to take a leave of absence in the wake of a report into allegations of discrimination and bullying at the world's startup.
"I love Uber more than anything in the world and at this difficult moment in my personal life I have accepted the investors request to step aside so that Uber can go back to building rather than be distracted with another fight," Kalanick said in a statement given to the New York Times, which originally reported his departure. 
Uber is currently valued at around $70 billion, making it the highest-valued private technology company in the U.S, putting it well-ahead of the $7.5 billion price associated with rival ride-sharing firm Lyft.
However, the group has been beset by controversy both at home and abroad, partly as a result of the aggressive corporate culture that allowed it to win more than 20% of the global taxi and limousine market in only a few years of operation. That culture, however, has drawn the ire of regulators and investigators, who have challenged the company's expansion amid allegations that its ignored local laws and skirted environmental regulations.
Uber's internal culture was also in focus this year after a February blog post from one of its former engineers, Susan Fowler, detailed troubling allegations of sexism, discrimination and a toxic working environment.
The collective effect of the company's bad PR has led to slump in its U.S. market share by the end of last month, according to e-commerce research company PYMNTS, falling to 77% from the 84% it held at the beginning of 2016. Lyft, meanwhile, has seen its bookings increase 135% year-over-year.
Earlier this week, co-founder Garrett Camp says the embattled ride-hailing startup's broken company culture may be a result of some "serious" growing pains that quickly got out of hand. 
In a blog post on Tuesday, Camp detailed how he believes Uber can survive the recent string of controversies that have forced CEO and cofounder Travis Kalanick to take a leave of absence, spurred two separate investigations into harassment claims and resulted in a steady stream of executive departures over the last several months. Camp isn't involved in the day-to-day operations at Uber, but Kalanick credits Camp with forming Uber's main purpose of a high-end ride-sharing service.
More of What's Trending on TheStreet:
Travis Kalanick Has Resigned As CEO of Uber: A Timeline of Uber's Recent Struggles