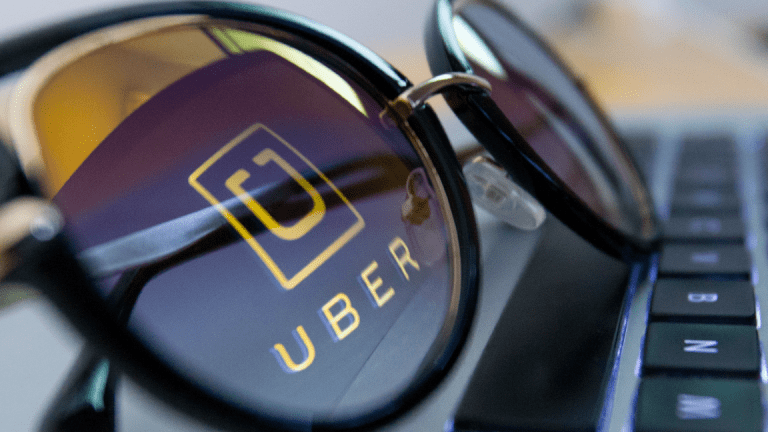 Biggest Uber Bull Says Ride-Hailing Giant Can Offer Investors More Than Lyft
An Uber bull explains why Uber has a more dynamic business than Lyft.
Uber Technologies's biggest bull said the ride-sharing service has a much more dynamic business than rival Lyft (LYFT) . 
Uber's first trade was at $42 a share, below its offer price of $45. 
Wedbush Securities' Dan Ives, who has a Wall-Street-high $65 price target and outperform rating on the stock, said Uber's multitude of businesses beyond ride-sharing, all leveraging Uber's transportation capabilities, pushes his valuation of $109 billion. The $65 price target represents 44% upside from the initial public offering price of $45, which was set Thursday. The stock will debt Friday on the New York Stock Exchange. 
"A core tenet of our bull thesis on Uber is around the company's ability to morph its unrivaled ride-sharing platform into a broader consumer engine with Uber Eats, Uber Freight, and autonomous initiatives 'just scratching the surface' of the full monetization potential of this platform over the next decade," Ives wrote in a note.  "We continue to view Lyft as a one-trick pony domestic ride-sharing player and believe Uber has clearly established itself as the clear No. 1 player in the ride-sharing industry."
"From a valuation basis, we arrive at our $65 price target on Uber using Sum of the Parts valuation on 1) Ridesharing, 2) Uber Eats, 3) ATG/ Autonomous, and 4) Other Bets," Ives said. He added that Uber could one day deliver services not only for food but also for logistics and healthcare. He sees the total market for all transportation services globally getting to $5.7 trillion in the long-run, which could "swell" to $7 trillion or $8 trillion, when accounting for freight and logistics. 
Both Uber and Lyft are still unprofitable, betting on a massive market expansion and the potential to move their cost structures down to normal levels. Ives' valuation on Uber is 9.7 times its 2018 sales, roughly where he had valued Lyft before its IPO. Lyft initially rose 20% above its IPO price of $72 a share but has turned sharply lower, falling below $60.