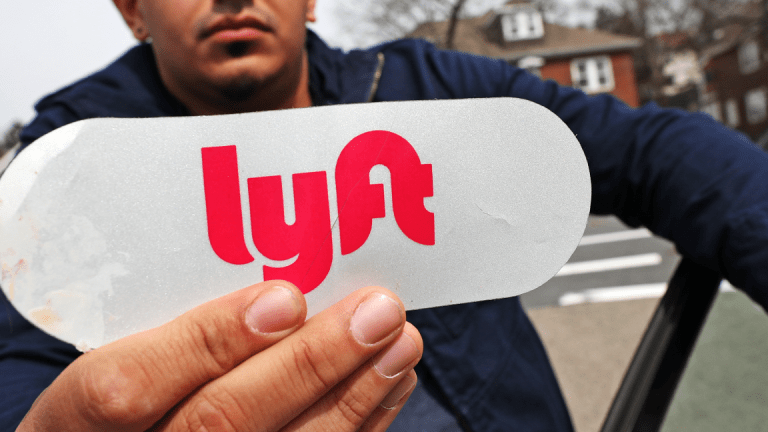 Uber and Lyft Drivers Plan Strike Ahead of Uber's Much-Awaited IPO
Drivers for ride-share companies Uber and Lyft are expected to strike in a few major cities Wednesday, a day before Uber's initial public offering will be priced.
Drivers for ride-share companies Uber, Lyft (LYFT) - Get Lyft Inc. Report  and others are expected strike Wednesday from 7 a.m. and 9 a.m. ET, according to a New York Post report, a day before Uber's initial public offering will be priced.
The drivers, part of the New York Taxi Workers Association, are demanding higher wages, better job security, and an 80% cut of ride fees, a driver told the New York Post. Drivers will strike in New York, London, Los Angeles and other major cities around the globe. 
"Wall Street investors are telling Uber and Lyft to cut down on driver income, stop incentives, and go faster to driverless cars," NYTWA Executive Director Bhairavi Desai said. "With the IPO, Uber's corporate owners are set to make billions, all while drivers are left in poverty and go bankrupt." 
Shares of Uber are expected to be priced on Thursday with trading to begin Friday. It is expected to price shares at a range between $44 and $50 apiece, valuing the entire company at between $73.79 billion and $83.85 billion. The company plans to issue roughly 180 million shares, raising between $7.92 billion and $9 billion. 
Meanwhile, Lyft's take-rate has steadily expanded to 21.7% in 2018, according to WedBush Securities analyst Dan Ives, leaving Lyft's drivers with 78.3% of the passenger fee. Plus, Ives said, "we're expecting a minor increase in 2019 to 22.3% but overall expect limited upside to take rates."
Lyft and Uber both would ideally like to increase their take-rates, as profitability is proving a challenge, but competition for drivers in an increasingly crowded ride-sharing business is making it difficult for companies to increase their take-rates. 
Uber's take-rate is currently 20%, leaving 80% for drivers, but "the more Uber pushes here, the more drivers will fight back and protest, increasing the likelihood of regulations (particularly at the state level in the U.S. and in Europe) of minimum wage guarantees," Ives said. Uber, Ives said, would like to boost its take-rate to 30%.