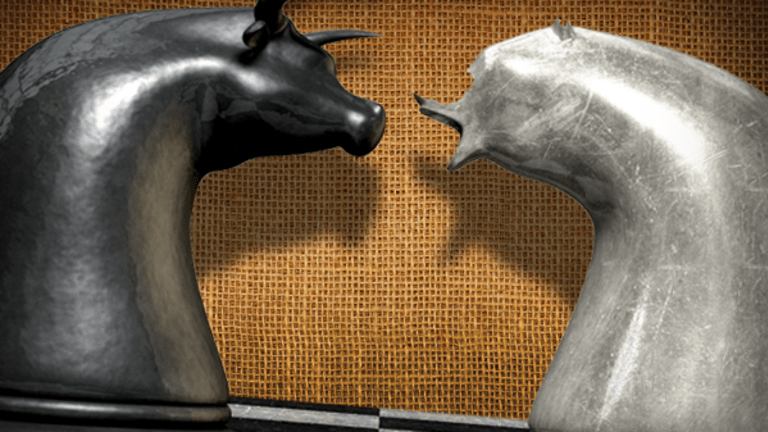 U.S. Tech Stocks Pass Dot-Com Peak -- But Now People Managing More Than $580 Billion Are Worried
The world's biggest funds say tech is the most crowded trade
U.S. tech stocks are poised to extended gains past their dot-com era peak Thursday just as the world's biggest fund managers are starting to pare back holdings in the hottest trade of the year. 
The tech-focused Nasdaq index is expected to rise past Wednesday's record close of 6385.04 points at the opening bell, according to U.S. futures prices, after the broadest measure of sector shares, the S&P 500 Information Technology subindex, topped its March 2000 high to end the session at a fresh record of 992.29 points. The IT index has outperformed all of the S&P's subsets so far this year with a 23% gain driven by Activision Blizzard Inc. (ATVI) - Get Activision Blizzard, Inc. Report , Adobe Systems (ADBE) - Get Adobe Inc. Report , Red Hat (RHT) - Get Red Hat, Inc. Report , Micron Technology and Pay Pal Inc. (PYPL) - Get PayPal Holdings, Inc. Report
The IT index gains, however followed data from a well-watched survey of global fund managers published each month by Bank of America Merrill Lynch, which indicated that 38% of the investors polled -- who control more than $580 billion in global assets -- said "long Nasdaq" was the most crowded trade in the market for the third consecutive month. 
In fact, the survey revealed that 68% of respondents said U.S. and global internet socks were "expensive" as investors rolled out of the sector into Japanese equities, healthcare stocks and commodities. The global allocation for tech stocks fell to a net 28% from a net 38% in June, the survey said. That said, tech remains the second-most significant sector overweight, the survey revealed, behind bank stocks but just ahead of pharmaceuticals. 
And while technology stocks get a lot of the credit for the market's surge this year, TheStreet's Jim Cramer argues they're not the only ones pacing gains.
Cramer went 'Off the Charts' with Bob Moreno, the publisher of RightViewTrading.com and a contributor to RealMoney.com during his Mad Money program to get a better sense of which other stocks are doing well.
Financial stocks are now the biggest overweight for global fund managers and Moreno focused on one of the stronger names in the space: Blackstone (BX) - Get Blackstone Inc. Report , the asset manager. Shares have been on fire. At the end of 2016, the stock's short-term 50-day moving average crossed above its long-term 200-day moving average, what technicians call a golden cross because it's such a reliably positive sign.
Moreno notes that Blackstone just broke out above its recent consolidation channel, and if history's any guide that could mean it's now ready for another leg up. Meanwhile, the Moving Average Convergence Divergence or MACD indicator is making a bullish crossover. In addition, the Chaikin Money flow oscillator is moving higher and it's out of negative territory. Moreno says Blackstone's got a strong trend with a lot of technical indicators suggesting that the stock can keep gaining.
More of What's Trending on TheStreet:
Amazon Faces a Potential Existential Threat That Could Hammer Its Shares, Doug Kass Reveals
What's the Fallout From Chipotle's Latest Food Safety Concern? Who Knows?!
Honda Finally Makes a Cool-Looking Accord Sedan Because Everyone in America Is Buying SUVs
Facebook Exec Campbell Brown: We Are Launching a News Subscription Product
Stock Market Bulls Are Wrong and It Could End Badly