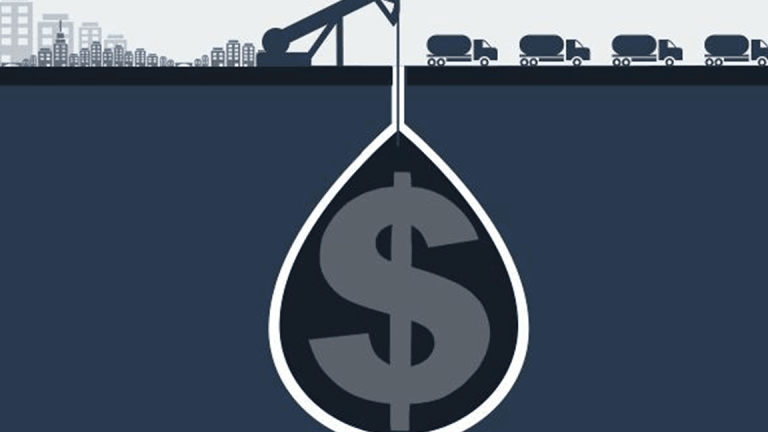 U.S. Crude Oil Hits Fresh 3-Year Highs as Gasoline Heads to $3 a Gallon
Global oil prices pushed higher Tuesday, sending U.S. crude to fresh three-and-a-half year highs, as a softer U.S. dollar and the threat of sanctions on Iran and Venezuela continued to boost bets on further supply restrictions.
The oil price gusher continues.
U.S. crude futures hit the highest levels in more than three-and-a-half years Tuesday, while global prices touched $80 a barrel for the second time in as many weeks, sending U.S. gasoline prices on a faster pace towards $3 a gallon just days before the start of the traditional summer driving season.
Crude prices extended gains after President Trump issued new economic sanctions against Venezuela, stoking concerns about its oil production. The president said the executive order would restrict Venezuela's government from conducting "fire sales" of its assets and also prohibits the purchases of debt owed to Venezuela including Petroleos de Venezuela SA, the country's state-owned oil company.
In response, Venezuela's Foreign Minister Jorge Arreaza said the new U.S. sanctions "are madness, barbaric, and in absolute contradiction to international law." The nation, which is a founding member of the Organization of Petroleum Exporting Countries, relies on its oil and gas sector for about 25% of the nation's gross domestic product, or GDP. 
Global oil prices have risen more than 20%, or about $15 a barrel, far this year as investors re-set expectations for supply from key producers amid the threat of U.S. sanctions linked to Iran's alleged violations of a previous nuclear treaty. The sanctions could take a further 250,000 to 500,000 barrels of crude from the market each day, pushing prices even high amid a broader OPEC agreement, first signed in December 2016, that has trimmed output by 1.8 million barrels each day until at least the end of the year.
West Texas Intermediate crude futures for June delivery were marked 11 cents higher from their Monday closing levels in New York and changing hands at $72.35 per barrel, the highest since November 2014, extending its year-to-date gain to 20.35%. U.S. gasoline prices have reacted in kind, rising from $2.50 a gallon in late February to a national average of $2.94 a gallon, according to gasbuddy.com, also the highest since November 2014. WTI crude traded at $56.96 a barrel on Jan. 3.
Brent crude prices for July delivery, the global benchmark, were seen 57 cents higher at $79.79 per barrel at 1 p.m. New York time.