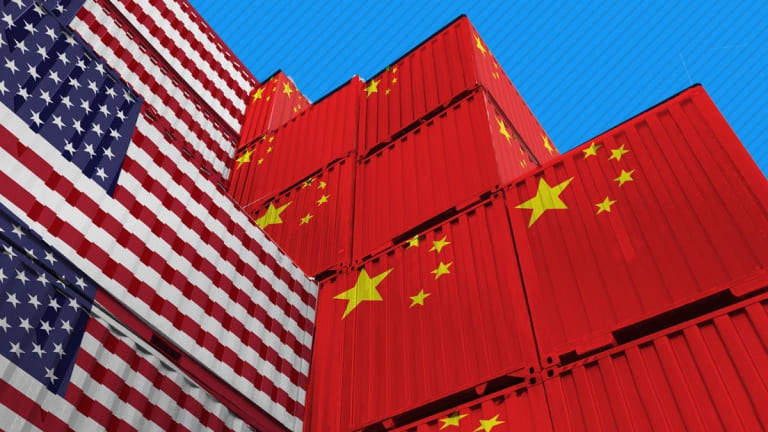 The Only Options for Ford and GM in a Trade War? Expand Production in China
Automakers should "expand capacity in China," according to GM's former Chief Accounting Officer Peter Bible.
After a lot of talk, it's finally tariff time.
U.S. automaker shares were mixed in midday trading on Friday, July 6, after the U.S. and China implemented trade tariffs.
The U.S. moved first, imposing a 25% tariff on $34 billion worth of Chinese goods, and China immediately responded in kind, with about $34 billion of tariffs on imported U.S. goods, including autos and agricultural products. China called it "the largest-scale trade war in economic history." Still, President Donald Trump has threatened to implement even greater tariffs, possibly as high as $500 billion.
"Any government intervention in the market is not good," Peter Bible, chief risk officer of accounting firm EisnerAmper and the former chief accounting officer of GM, told TheStreet in a phone interview. One of the most concerning aspects about this tit-for-tat trade war is that "prices just keep going up and up," Bible said.
Part of the Chinese tariffs on U.S. goods specifically targets the auto industry, as China slapped an additional 25% tariff on U.S. auto imports on top of an established 10% tariff. Bible suggested that automakers should "expand capacity in China, but I'm afraid if you want to expand that China won't let you."
Two legacy U.S. automakers are already in China, but the tariffs may increase their presence there.
"U.S. companies, such as GM and Ford, built production capacity in China to match in country demand," said Dec Mullarkey, managing director of investment strategies at Sun Life Investment Management, which manages $50 billion in assets. "However, hefty tariffs will encourage them to relocate some production and jobs to China."
For Ford Motor Co. (F) - Get Ford Motor Company Report and General Motors Co. (GM) - Get General Motors Company Report , China has become an increasingly important market. For the latter, mainland China represents 5% of total revenue, second only to the U.S, according to FactSet.
"China is very important to our global strategy for an all-electric future," Chief Executive Mary Barra said during an April 26 conference call. "Regarding U.S.-China trade, we have more than two decades of positive experience with our joint venture partners, and we believe both countries value and understand the interdependence between the world's two largest automotive markets."
The Detroit-based company earlier this week said vehicle sales in China increased 0.7% between April and June to 858,344 vehicles. The company no longer reports auto sales on a monthly basis as it does not accurately reflect the markets, according to GM, and it is now issuing quarterly sales reports.
"At this time we are still assessing the potential impact of all of the recent and proposed trade and tariff actions, including China tariffs," GM said in a statement. "Virtually all the vehicles GM sells in China are built in China, and virtually all parts are sourced locally. We only import a few hundred Chevrolet Camaros to China from the U.S. We currently have no plan to adjust the price of the Camaro."
Ford, meanwhile, said it "has no current plans to increase the manufacturer's suggested retail price (MSRP) on its import line-up in China," indicating that the automaker will absorb the cost of the tariffs that would likely hurt margins. The company also noted that Lincoln China has no intention to increase the MSRP on its line-up.
The Dearborn, Mich.-based automaker imported more than 18,800 vehicles into China in 2017, the Wall Street Journal reported, citing the China Automobile Dealers Association. Ford reported sales in China last month of 62,057 vehicles, a decline of 38% from a year earlier. 
The company sees about 3.8% of its total revenue from China, fourth behind the U.S., Canada, the U.K. and Germany, according to FactSet. 
"The companies encourage both governments to continue to work together through negotiation to resolve issues between these two important economies," Ford said in an email to TheStreet. "We remain committed to our Chinese customers and will continue to monitor the situation as it evolves."
Shares of Ford rose 0.1% to $11.06 at 1:00 p.m. New York time, while General Motors fell 0.5% to $39.26.
Bible did not pick a "winner" of this trade war, noting that the U.S. automakers operate very similarly and are largely on equal footing.
"The issue is you can't control the politicians," said Bible.