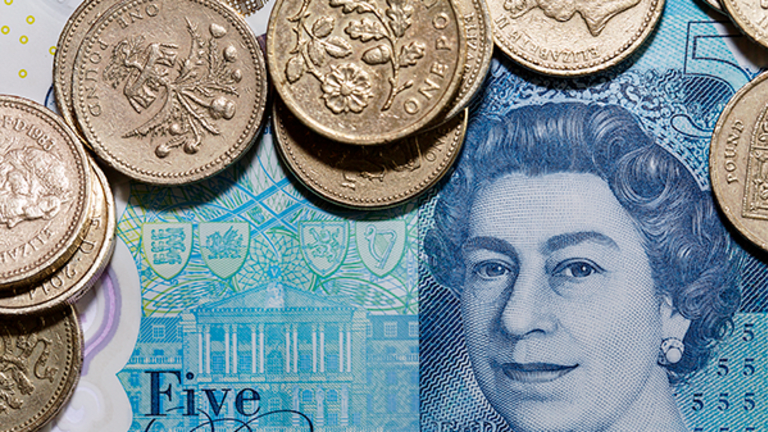 U.K. Retail Sales Gain Lifts Pound as Bank of England Rate Hikes Loom
The Bank of England could be ready to raise interest rates after stronger-than-expected August retail sales.
The U.K. pound spiked higher against the dollar Wednesday after the country's official statistics office said August retail sales rose much faster than anticipated, possibly cementing the case for a rate increase from the Bank of England as early as November.
U.K. retail sales grew by 1% last month when compared to July, the Office for National Statistics said, topping the consensus forecast of a 0.2% gain. Over a three-month span ending in August, the ONS said, the growth rate is 1.2%, that's up from the 0.7% pace recorded over the three months ending in July.
"Within this month's retail sales we are seeing strong price increases across all store types compared with a year ago, reflecting wider inflationary pressures," the ONS said. "However, we are still seeing underlying growth in sales volumes, and with strong growth in non-essential purchases as consumers continued to buy more from non-food stores." 
The pound, which had traded at around 1.3507 prior to the data release, spiked nearly 0.7% to 1.3603 as traders increased bets that the faster pace of sales could close the case for BoE rate hikes.
BoE Governor Mark Carney cautioned earlier this week that Britain's decision to leave the European Union would, "on balance", lead to faster inflation, "At present, the main question concerns the extent to which this adjustment has been brought forward," he said during speech to the International Monetary Fund in Washington.
U.K. inflation also rose more than forecast last month, and the BoE continues to warn that businesses and consumers have become too complacent over record-low interest rates.
Consumer prices accelerated at a 2.9% clip in August, the Office for National Statistics said, topping the 2.8% consensus forecast and matching May's four-year high. So-called core inflation, which strips out volatile prices for food and energy, rose to 2.7%, the ONS said, the highest since 2011.
"All else being equal, the depreciation of sterling seen in 2016 and particularly following the outcome of the EU referendum would increase the prices producers pay for imported goods," the ONS said at the time. "Whilst depreciation is likely to increase the cost of imports, other factors determine whether these are passed on to consumers."
More of What's Trending on TheStreet: