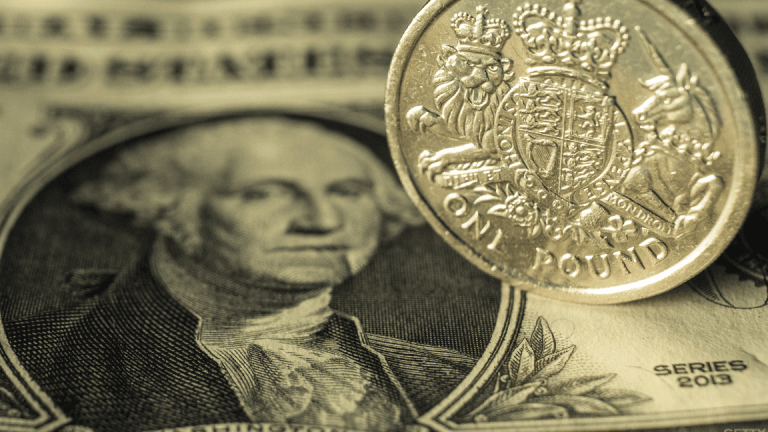 U.K. Q4 GDP Surprises, Pound Extends Gains Against Weaker U.S. Dollar
Britain's economy is starting to show signs of life as it drives towards an EU exit in 2019, with trade promises from President Donald Trump and stronger-than-expected GDP growth.
Britain's economy grew at a stronger-than-expected pace over the final three months of last year, according to official data published Friday, as manufacturing activity surged even as investors remain uneasy about the country's future when it leaves the European Union next year.
U.K. GDP grew at a 0.5% clip in the three months ending in December, the Office for National Statistics said Friday, the fastest of the year, topping analysts' forecasts of a 0.4% advance and besting the 0.4% gain tallied in the third quarter. Full year growth, however, was 1.8%, the slowest since 2012.
"Despite a slight uptick in the latest quarter, the underyling picture is of slower and uneven growth across the economy," said ONS statistician Darren Morgan.
Still, the better-than-expected Q4 reading helped lift the pound, which has gained more than 1% against the dollar in Friday's session and has advanced more than 5.5% so far this year, to a session high of 1.4260.
The upbeat assessment was also reflected in comments earlier Friday by Bank of England Governor Mark Carney, who told BBC radio that "there is the prospect this year, as there is greater clarity about the relationship with Europe and subsequently with the rest of the word, for a re-coupling - if I can use that term borrowed from Gwyneth Paltrow - a conscious re-coupling of the UK economy with the global economy."
A further bit of support was offered late Thursday by U.S. President Donald Trump, who told reporters following a meeting with U.K. Prime Minister Theresa May at the World Economic Forum in Davos that trade between the two countries "is going to increase many times" when Britain leaves the EU.
"I look forward to that... the discussions... that will be taking place are going to lead to tremendous increases in trade between our two countries which is great for both in terms of jobs," Trump said. "We look forward to that and we are starting that process, pretty much as we speak."
Britain's broader economy, meanwhile, is showing both incredible signs of resilience and worry suggestions of decline in equal measure. Earlier this week, the Confederation of British Industry's closely-watched barometer of manufacturing orders slowed from a 30-year high last month, but still topped economists' forecasts.
Last week, however, retail sales over the month of December plunged 1.5% from the same period in 2016 as shoppers declined to extend their holiday spending amid the fastest pace of consumer inflation in five years and flat-lining wage growth.
The International Monetary Fund, which lifted its forecasts for global economic growth to 3.9% for this year and next, said Britain will likely expand at less than half that pace -- 1.5% -- over the next two years.