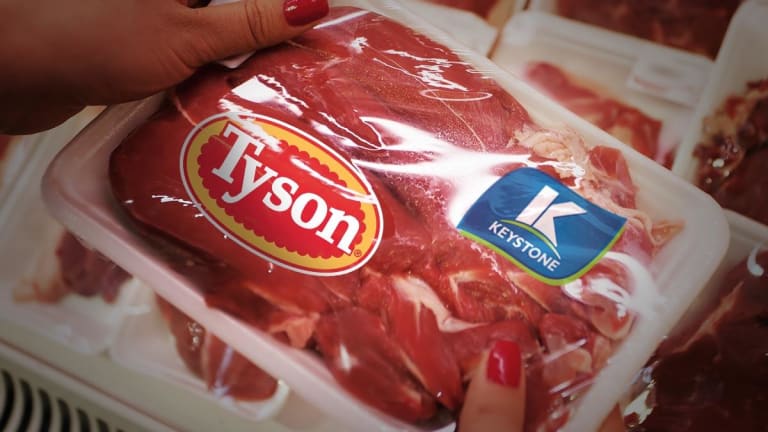 Tyson Foods Shares Rise on Analyst Upgrade to Outperform
Tyson Foods shares edge higher following an upgrade by Credit Suisse analysts who believe recent livestock disease outbreaks will fuel increased demand for U.S. meat.
Tyson Foods (TSN) shares edged up around 2% Tuesday following an upgrade by analysts at Credit Suisse who believe recent livestock disease outbreaks will fuel increased demand for U.S. meat.
Shares of Tyson were trading around $81.06 on the New York Stock Exchange following Credit Suisse's upgrade to outperform from neutral.
The firm also raised Tyson's target price to $96 and its fiscal year 2020 earnings per share estimate by 18 cents to $6.80, said analysts Robert Moskow and Jacob Nivasch in their note released Tuesday. 
"Consensus estimates already factor in stronger chicken margins based on a rebound in the U.S. supply-demand cycle domestically," said Moskow and Nivasch in their note. "However, we do not think they fully account for the upside to chicken, beef, and pork prices from the outbreak of African Swine Fever."
The team said they believe the African swine fever crisis "will have a profound impact" on global meat supplies for the next two years, if not beyond. African swine fever is a virus that can kill pigs and wild boars. While it has no known cure, it cannot harm humans.
Because of the outbreak, the global supply of meat has dropped, said the team, especially following the outbreaks in China starting last year that have hit pork hard and cut the nation's massive pig herds by nearly a third.
"No supply-shock event in recent history can compare to this one in terms of magnitude," said the team.
"To keep domestic meat prices from getting out of control, China will need to import more meat from around the world. Even if the U.S. trade dispute with China continues to restrict U.S. access directly, other countries exporting to China will need to import more U.S. meat to back fill their supplies."
The analysts are also betting that Tyson's chicken and beef prices will rise on global demand, as consumers in China and elsewhere seek out alternatives to pork.