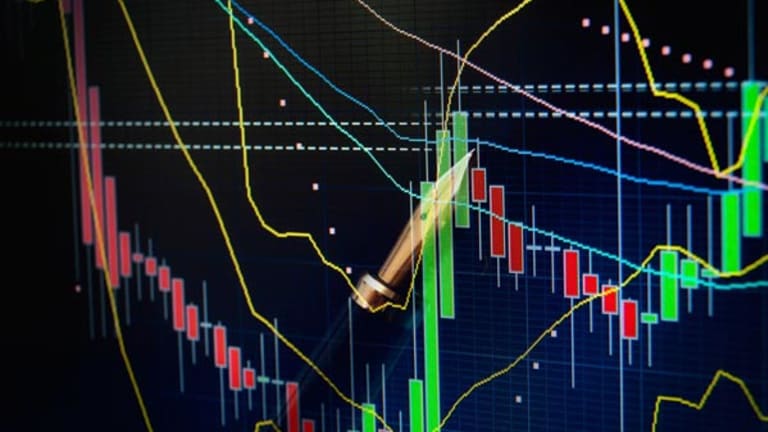 Two to Own as Metals Become More Precious
These stocks should weather a short-term correction and reward the long-term holder.
This column was originally published on RealMoney on April 6 at 10:33 a.m. EDT. It's being republished as a bonus for TheStreet.com readers.
With gold and silver at levels not seen for a quarter-century, and an exchange-traded fund (ETF) on the way to make it easier for the average Joe who's already hooked on GLD to daytrade silver, contrarians have one question on their minds: Is a top at hand for gold and silver?
Ultimately, the answer depends on your timeframe.
In the short-term, at least, you should expect gold and silver prices to lose their luster, cautions Ryan Detrick, who follows the metals at Schaeffer's Investment Research.
His reasoning: Gold and silver have recently outpaced the shares of companies that mine these metals. When this happens, the metals usually pull back, he says. Secondly, for the past two years April has been a bad month for gold and silver, but a good month to buy ahead of the rebound in May.
What about the medium-term? For help with that, it pays to consult a fund manager who has the golden touch. So I recently checked in with Thomas Winmill, who manages the Midas Fund (MIDSX) in New York. Shareholders are up over 86% in the last year, as Winmill's fund is in a dead heat for top honors among 60 precious metals funds, based on trailing 12-month returns, according to Morningstar.
So what's his take? The rally is far from over. And if you agree, there are two stocks to consider.
He believes gold will be at $625 to $650 an ounce in a year, compared to prices of around $585 recently. And while Winmill agrees that silver -- given the recent parabolic rise -- could back off of recent levels of $11.70 an ounce, he predicts it will be at $13 to $14 an ounce a year from now. The following factors are what he says will drive the price gains in the medium-term.
Currency concerns
: Winmill believes investors will keep buying gold as a hedge against weakness in major global currencies. He expects the dollar to weaken, in part because of the huge twin deficits in foreign trade and federal spending. With its large position in dollar-denominated debt, China in particular will buy gold to hedge away dollar exposure. He also thinks the euro may "come undone" at some point over the next few years, because several European governments are basically cheating on rules that set caps on national debt and deficit levels.
"It is one of these things that can float along, and suddenly it happens," says Winmill. "Gold is attractive as an alternative currency that you know is going to be there."
Demand from India and China
: Winmill believes buyers for manufacturers in these countries typically wait for gold to plateau after a sharp rise like the one we've seen recently. Then they come back in the market. He believes that will happen in the second and third quarters. Demand from India and China will stay strong because of healthy economic growth in those countries.
Recycled petrodollars
: Oil magnates in the Middle East need some place to stash all their wealth, and they are turning to gold. "They are basically taking it out of oil, and putting it into another resource above ground," says Winmill.
Buying for the new silver ETF
: Before Barclays Global Investors can launch its iShares Silver Trust -- perhaps sometime this year -- it will have to buy lots of silver to back it. That should spur silver prices because there is such a limited stock of the stuff above ground -- around 630 million ounces, or roughly $7 billion worth. "Silver is a pretty small world," says Winmill.
Calming the germ phobes
: Many consumer products companies are now exploiting the bacteria-killing qualities of silver.
Motorola
(MOT)
has a camera phone coated with silver to fight bacteria. Silver is also being marketed as a germ killer in bandages and active wear, and, not surprisingly, it is showing up on hospital door knobs. None of this will create a huge demand for silver, but it might help the metal capture the imagination of the public as an investment, says Winmill.
To play the continued strength in gold and silver, I'll go with
Yamana Gold
(AUY) - Get Yamana Gold Inc. (Canada) Report
, a gold mining company that still looks cheap despite its recent strength, and
Silvercorp Metals
(SVM.TO), a silver mining company that's about to begin commercial mining of one of the richest silver deposits in the world.
Based in Toronto, Yamana Gold has four mines in Brazil, where it is the nation's biggest gold producer. It also has a gold mine in Nicaragua and one in Honduras. The company is poised for exceptional growth. Production should more than double by the end of 2008 to a million ounces of gold a year, from an expected 450,000 ounces this year.
The company will achieve that growth with another mine coming on line later this year in Brazil, called Chapada. Over the next two years, Yamana will also expand its recently purchased Jacobina mine in Brazil. And it should have two or three new mines coming on line in Brazil by the end of 2008.
Meanwhile, the company has projected production costs that are well below the industry average. Factoring in the revenue it will get selling the copper it produces while mining gold, Yamana expects to produce gold for $135 an ounce in 2007 and $115 an ounce in 2008. The industry average is around $280 to $290 an ounce. "We will have one of the lowest cost structures," says Yamana chief executive Peter Marrone. He expects average production costs to run around $150 an ounce of gold over the next ten years.
Despite these prospects, Yamana Gold stock trades for a valuation well below other "intermediate" gold mining companies (those with a market cap of about $800 million to $4 billion). Yamana sells for less than 10 times projected 2007 cash flow, compared to an average of about twice that for peers in the intermediate group. This suggests Yamana stock could double in a year or two, despite the recent advance above $10 from $4 last fall.
Why is the stock undervalued? "With mining companies, the market underprices growth because until a mine is in production, there is still some risk," says David Stein, who follows Yamana for Sprott Securities in Toronto.
At least one money manager with a solid track record is making a big bet that the growth will pan out. David Nierenberg, of Nierenberg Investment Management, owned 4% of the company, or 7.7 million shares, as of the end of last year. For the five years through the end of last year, Nierenberg's stock picks were up an annualized 20.5% a year after fees, compared to 0.5% for the
S&P 500
and 8.2% for the Russell 2000, a small-cap index.
Silvercorp Orders Chinese
Based in Vancouver, B.C., Silvercorp Metals recently got permission to mine silver from extremely high-grade deposits in what's known as the Ying Silver Project in the Henan Province of eastern China.
"The project has the potential to produce silver at a very low cost because of high grades and significant by-product revenue," Sprott's Stein wrote in a March 27 note on the company. Besides silver, the mine will produce lead and zinc. Silvercorp is also buying a 60% stake in a smaller mine near this one, and more acquisitions are likely.
Silvercorp has an edge because top managers know the ropes in China. They are natives of China who have attended college in Canada. The company also benefits from lower labor costs in China.
Silvercorp shares have advanced above $19.50 from $5 at the end of last year -- in part because the market anticipated approval of mining operations in China, announced last week. The next catalyst may come within a few weeks when Silvercorp gives an update on estimated reserves in China -- based on exploration carried out since its last update a year ago. "Extensive exploration work done since should increase that number dramatically," writes Stein. "We anticipate the resources could more than double."
P.S. from TheStreet.com Editor-in-Chief, Dave Morrow:
It's always been my opinion that it pays to have more -- not fewer -- expert market views and analyses when you're making investing or trading decisions. That's why I recommend you take advantage of our
to TheStreet.com's
RealMoney
premium Web site, where you'll get in-depth commentary
and
money-making strategies from over 50 Wall Street pros, including Jim Cramer. Take my advice --
At the time of publication, Brush was long Yamana Gold, although positions may change at any time.
Brush is an award-winning New York-based financial writer. In addition to writing for
RealMoney
, he has a weekly market column on
MSN Money
called Company Focus, and a column called Insiders Corner at InvestorIdeas.com. Brush has covered business and investing for
The New York Times
,
Money
magazine and the Economist Group. He studied at Columbia Business School in the Knight-Bagehot Fellowship program and the Johns Hopkins School of Advanced International Studies. He is the author of
Lessons From the Front Line
, a book that offers insights on investing and the markets based on the experiences of professional money managers.
Under no circumstances does the information in this column represent a recommendation to buy or sell stocks. Brush appreciates your feedback;
to send him an email.