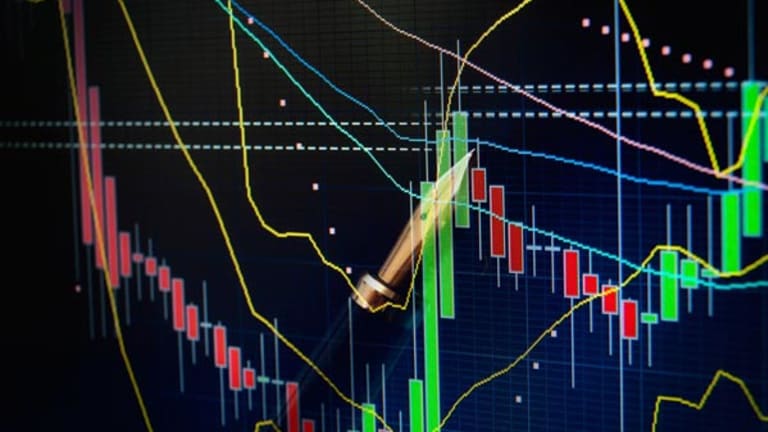 Two Stocks to Cure the Bernanke Blues
Look at a Hi-Tech long and a Bed, Bath & Beyond short.
This column was originally published on RealMoney on Jan. 30 at 10:56 a.m. EST. It's being republished as a bonus for TheStreet.com readers. For more information about subscribing to RealMoney, please click here.
This market has the Bernanke blues.
What was he doing telling us the truth?
representatives aren't supposed to make us feel this bad about our behavior.
Fed Chairman Ben Bernanke actually said before a Senate budget panel last week that the U.S. economy might be in serious trouble if we continue running massive budget and trade deficits. Negative consumer savings rates might be a problem when people draw closer to retirement. The health care system is a major drag, and privatization of many elements has led to the most bloated and expensive health care system in the world.
The housing debacle and investors' general malaise toward the implications have me interested in checking out CNBC again. People are still more worried about calling a bottom in housing than wondering why banks are proactively trying to avert foreclosures and even forgiving debt in some cases. Have you ever heard of a U.S. corporation forgiving debt on its own volition?
I saw a report on
CNBC
that said banks were in some cases selling houses and forgiving debt. Makes me believe these banks feel some culpability for the creative loans they have saddled customers with. Perhaps these products were not appropriate, given some customers' financial profiles, and banks may fear some scrutiny.
Our current financial predicament sounds pretty depressing, so it's no wonder the market is a bit unhappy. If it continues this way, investors are going to be pretty unhappy as well, especially now that every analyst on earth is predicting good things for the market five years into a bull run. I am not too worried that things will go as bad as I believe they can; I have a boatload of short positions to protect my portfolio. But I am worried about you folks.
The Disgruntled Investor
Whenever I feel down, I throw on some tunes and spend some money. In this article, I will suggest some music and one stock to buy and one to short, just in case running an economy on debt financed by paper assets doesn't work out as well as some promised.
As people continue to gorge themselves and become diabetic and depressed,
Hi-Tech Pharma
(HITK)
is a cheap stock that should prosper, and
Bed Bath & Beyond
(BBBY) - Get Free Report
is an expensive consumer-sensitive stock that should give your portfolio a little protection if the economy really is on the rocks.
The Scorned Little Pharma
Hi-Tech manufactures and sells prescription and over-the-counter generic drugs. This is my kind of company: Everybody hates it. If the economy slows significantly, drugs will continue to do well, so these are the kind of stocks you want to own. The company has been guiding down lately and the market is unhappy, as demonstrated by the stock's retreat from near $30 to $10 over the past 52 weeks.
At this price, I believe risk is diminished. If we step back and take a broader examination of the company's performance, it is rather impressive. From 2002 to 2006, the company grew revenue from $33 million to $78 million and grew profit from 31 cents a share to 85 cents a share, for a healthy annual growth rate of close to 20%. The trouble is, 2007 isn't looking so rosy with revenue and profit declining by that rate or higher.
The recent declines in revenue and profit come as some of the company's products in its generic division are experiencing slowing demand and pricing pressures. So what's to like?
I like Hi-Tech's risk-reward dynamic. The company continues to aggressively pursue growth by developing and acquiring rights to new generic products. According to Hi-Tech's most recent 10-K, the company has 12 ANDA applications pending at the Food and Drug Administration that address more than $2 billion in annual product sales in the U.S. in 2005, according to IMS Health, a leading provider of market information to the pharmaceutical and health care industries.
Hi-Tech's subsidiary -- Health Care Products -- markets over-the-counter products primarily for diabetics. The Health Care Products division, led by Zostrix, a pain reliever for arthritis, and Diabetic Tussin, a top-selling sugar-free cough-and-cold remedy, performed well in the first half of fiscal 2006, showing 28% year-over-year revenue growth in the second quarter ended October 2006. Demographics also seem to favor generic drug providers like Hi-Tech as the population ages and Democrats push for lower health care costs.
Given the company's market cap of about $125 million and a strong balance sheet with more than $38 million in cash and marketable securities, I am a buyer of Hi-Tech's shares at today's prices. Analysts expect the company to resume growth in 2008, with revenue increasing 27% to almost $90 million and profit of 70 cents a share.
If we ignore the cash and securities, the company is trading at close to 1 times revenue and 10 times forward earnings. Granted, only two analysts cover the company, so we need to be cautious, but you are certainly paying a discount to the group. If we look at larger generic companies -- like
Teva Pharmaceutical
(TEVA) - Get Free Report
or
Mylan Labs
(MYL) - Get Free Report
-- the average price-to-sales multiple is closer to 3.5 and price-to-earnings closer to 15 times. These companies are growing in the single digits, not the 20% clip analysts believe Hi-Tech is on track for in 2008. If Hi-Tech is back on track, risk is fairly low at this share price, and the stock could easily see the high teens in 12 months.
The Aberrant Retailer
Bed, Bath and Beyond is a momentum darling with little momentum left. The stock looks like a great short, especially because its share price is now around $41. I don't care that the company is extremely well managed; it is. The fact is this company is expensive and leveraged to an industry that could be in for some hard times.
Bed, Bath and Beyond is a great hedge in your portfolio against a precipitous decline in housing. If housing prices were to decline 10%, you would see a marked slowdown in consumer spending on home-related purchases, and likely all purchases. Recent statistics suggest 10% of homeowners are in negative equity situations, meaning if they were to sell their homes, they would receive less than they owe. Some 30% of homeowners have less than 20% equity.
A negative trend in retail spending that comes from a housing decline doesn't seem like much of a stretch to me when you consider home price declines, the 6% commission you have to pay a real estate agent to sell, rising mortgage rates and large numbers of adjustable-rate mortgages outstanding.
Even if housing doesn't collapse, I don't believe there is much risk in being short Bed Bath & Beyond. The company is only expected to grow revenue at a 10% rate next year to $7.3 billion. Yet the company trades at almost 2 times sales and 20 times earnings, which doesn't leave much room for a misstep. If we look at other home-furnishing retailers, you are pretty hard-pressed to find one with a revenue multiple anywhere near 2 times.
Is Bed Bath & Beyond the aberrant retailer that can achieve what others cannot? I really doubt it.
Pier One
(PIR) - Get Free Report
is a lousy company, and
Linens and Things
is now private, but these companies could never even trade at 1 times sales, let alone 2. It only gets tougher for Bed Bath & Beyond to keep up this performance spread as the market slows and competition intensifies. Look for Bed Bath & Beyond's shares to revisit the low $30s, more in line with industry multiples. The 15% annual revenue growth days are over here.
And now that music selection to accompany you as you make your trades. I am going to throw on some Lamb of God. The new record
Sacrament
is just about the heaviest thing I have ever heard, but
Ashes of the Wake
or
As the Palaces Burn
are awesome as well. Try drumming along with Lamb of God's Chris Adler. This should keep you more than occupied while the market digests some potentially unsettling news.
Please note that due to factors including low market capitalization and/or insufficient public float, we consider Hi-Tech Pharma to be a small-cap stock. You should be aware that such stocks are subject to more risk than stocks of larger companies, including greater volatility, lower liquidity and less publicly available information, and that postings such as this one can have an effect on their stock prices.
At the time of publication, Bulwa was long Hi-Tech and short Bed Bath & Beyond, although holdings can change at any time.
Steven Bulwa is an independent portfolio manager based in Toronto. Under no circumstances does the information in this column represent a recommendation to buy or sell stocks. Bulwa appreciates your feedback;
to send him an email.