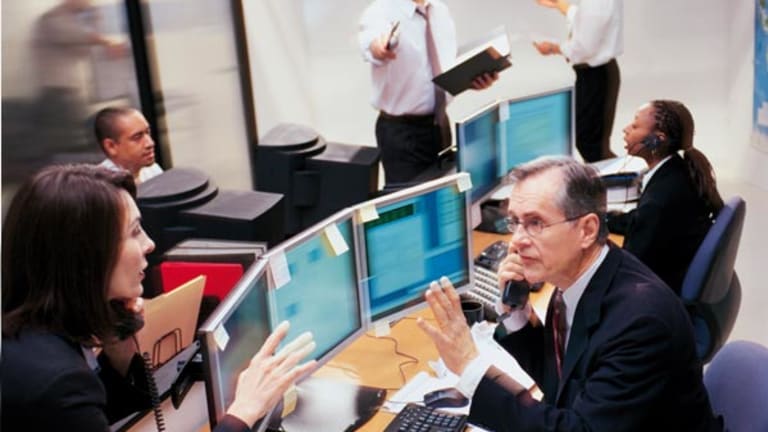 Two Plays on Precision Castparts
It benefits from strength in aerospace and power generation.
This column was originally published on
RealMoney
on April 16 at 2:57 p.m. EDT. It's being republished as a bonus for TheStreet.com readers. For more information about subscribing to
RealMoney,
please click here.
"Luck plays an enormous role in trading success. Some people were lucky enough to be born smart, while others were even smarter and got born lucky."
-- Ed Seykota,
Market Wizards
Any investment track record reflects both luck and skill.
Disciplined traders hone their skills by reviewing decisions, and they don't always assume that a winning trade is necessarily a good trade.
That's outcome bias: judging a decision based on its outcome instead of on the information available at the time it was made.
For instance, you might get away with eating last week's pizza, but that doesn't mean consuming it is a good decision.
Long-term holders of
Precision Castparts
(PCP)
certainly must feel lucky.
The stock has gained 60% over the course of one year, while its five-year chart shows a steady rise from $10 to over $100.
A Steady Rise
Here's a five-year look at Precision Castparts
Source: BigCharts.com
As the chart shows, this stock has been in a stable uptrend, which makes it an ideal candidate for a trend-following strategy. The next step is to look for signs that Precision Castparts' luck is about to run out.
This stock screens exceptionally well for growth in sales, margins, earnings and cash flow, according to data from
TheStreet.com Ratings
. Sales grew 60% in the latest quarter and have grown at a nearly 40% pace over the past three years. Margins have been expanding, fueling EPS growth of 70% last quarter and almost 50% over the past three years. Looking ahead, consensus estimates assume EPS growth of about 70% for the March quarter and for fiscal 2007, which ended March 31.
Another bullish signal is a rise in earnings-estimate revisions. Results for the March quarter are due May 9, and EPS estimates have increased from $1.12 three months ago to $1.26 now. For fiscal year 2008, EPS estimates rose to $5.49 vs. $4.83 three months ago.
Precision Castparts' shares now sell at 18.6 times expected 2008 earnings. This is a high P/E ratio compared with its peers', because the company has an expected long-term growth rate of 20%, the highest among publicly traded metal fabricators. So a more relevant measure for the stock is the price-to-earnings-growth ratio. For Precision Castparts, this metric is about 1.0, which is right in the middle of its peers. That's an attractive level, given the company's strong track record and bright earnings outlook.
What's behind the company's growth? Precision Castparts has benefited from global growth and accretive acquisitions. It makes metal forgings and components for the aerospace industry as well as gas turbines for power generation. Both industries have been booming over the past few years. Commercial aviation has been rebounding after 9/11, and rising defense spending has been driving steady demand for military aircraft. Power generation has been in a cyclical boom, too, as rising energy consumption boosts demand for turbines.
As for acquisitions, Precision Castparts has been funding them from internal cash flow. It generates annual cash flow of about $1 billion, or $7.25 a share. Its free cash flow (after dividends and capital spending) has allowed it to make numerous acquisitions without adding debt or issuing stock. In fact, the company has been reducing debt, and its net debt/total capital is now 29% vs. 39% one year ago.
Two Ways to Play
For traders with a time horizon of two months or less, I believe the May 9 earnings report will be the key catalyst. Rising estimates and a history of earnings surprises suggest that the company will meet or beat expectations. This could push the stock up to $110 when earnings come out May 9. A logical stop-loss would be $98, which is less than 5% below the current price and also serves as resistance. The stock hit that level in late February, so it should now provide support.
Investors with a time horizon of a year or more should give the stock more room if they want to ride the trend as long as the earnings outlook remains bright. Aerospace and power generation continue to benefit from strong global growth, and these industries are not heavily exposed to such domestic headwinds as the subprime contagion, rising gas prices and a housing downturn. For longer-term investors, a logical stop-loss would be $90, where the stock found support in early March.
Granted, Precision Castparts fell as much as 20% intraday on March 27, but its closing price that day was down only 9%. This is one reason why I prefer to use closing prices for my stop-loss levels: You don't get whipsawed by intraday volatility. And if your time horizon is one year or more, you really shouldn't be focused on intraday moves anyway. Instead, concentrate on trends in sales and margins and on the outlook for the aerospace and power generation markets.
Robert Martorana is the director of content, TSC Professional Products. In keeping with TSC's editorial policy, he doesn't own or short individual stocks, although he owns stock in TheStreet.com. He also doesn't invest in hedge funds or other private investment partnerships. Martorana focuses on creating and delivering trading idea products and services based on TheStreet.com Ratings. He has more than 20 years of Wall Street experience and was most recently a portfolio manager and head of U.S. equity research at Barclays. Prior to 1996, he managed small-cap stocks at Schroder Capital Management International, with a focus on energy, basic materials, and capital goods. He was also an equity analyst at Vontobel USA and was an editor and senior industry analyst for The Value Line Investment Survey.
to send him an email.