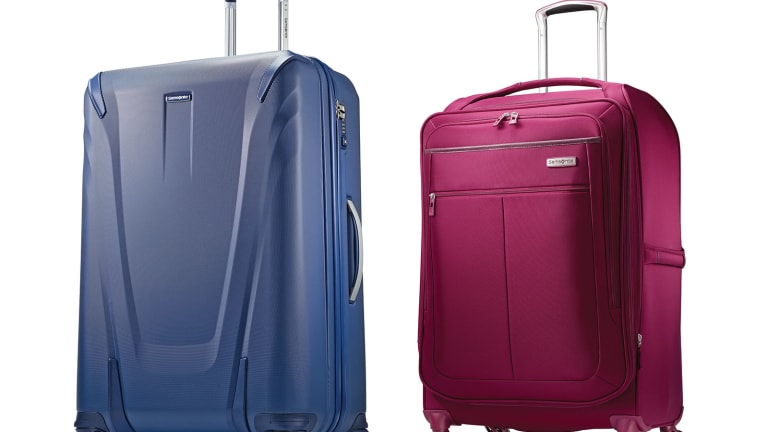 Tumi Parent Samsonite Sees Second-Half Upturn
The Hong Kong-listed luggage maker has high hopes for newly acquired Tumi.
Tumi parent Samsonite International (SMSOF) said it expects an improvement in its performance in the second half after it closed the $1.8 billion purchase of premium U.S. luggage maker Tumi on Aug. 1.
CEO Ramesh Tainwala delivered a bullish outlook as the group announced a 1.1% increase in sales in the six months to June 30 to almost $1.21 billion. Adjusted net profit fell 1.7% to $100.3 million amid "headwinds" including currency volatility in many of its markets.
Tainwala declared the results to be "satisfying" in "an otherwise difficult trading environment."
"The closing of the Tumi acquisition on August 1 is truly a watershed moment. The addition of Tumi to our family of brands will be transformative for the business, and will create great opportunities, " he said in a statement. "Looking ahead, the group will continue to focus on implementing its multi-brand, multi-category and multi-channel strategy, as well as leveraging its decentralized management structure and investment in marketing in the second half of 2016."
Samsonite said it will continue its development into a "well-diversified multi-brand, multi-category and multi-channel luggage, bag and accessories business, and tactfully deploy multiple brands to operate at wider price points and broader consumer demographics in each category."
Tainwala told Bloomberg he wants to double Tumi's sales to $1 billion within three years. He also said the second half "looks to be much more hopeful."
He said the company expects mid- to high-single digit growth in North America, similar growth in Europe and Asia, and high single-digit growth in China in the second half.
"Most markets seem to be showing strong growth," he said in a Bloomberg TV interview, of the second half so far.
Samsonite's shares in Hong Kong closed up 8.7% at HK$25.00, giving the group a market value of HK$36.3 billion ($4.7 billion).
In the first half, sales in Europe, Samsonite's third-largest region after Asia and North America, grew by 5.4% to $268.8 million, Asian sales fell 0.2% to $470.6 million, while North American sales rose 0.2% to $403.6 million.
Within Asia, Japan and Australia performed well but Samsonite said Chinese sales fell by 0.4% on a constant currency basis. Hong Kong sales plummeted by 15.6% on the same basis as fewer Chinese tourists visited from the mainland. South Korean sales stagnated.
While expanding the Tumi brand into new markets "the group will continue to execute on market opportunities for newly acquired brands to further diversify the group's product offerings into non-travel categories," Samsonite added in its statement.
Samsonite was referring to recent purchases including High Sierra, a mass-market American back-to-school and outdoor backpack and casual bag brand, that it bought in 2012; Speck, an American brand specializing in slim protective cases for smartphones, tablets and laptops, which it acquired in 2014; and Gregory, a premium American technical outdoor backpack brand.
Spokesman William Yue said: "We will continue to look at brand acquisition opportunities, but given the fact that we will be focusing our attention integrating and growing the Tumi business, it's unlikely that we'll be acquiring additional non-travel brands in the next few years."
 "That being said, we may make distribution-related acquisitions whereby we take over retail chains in markets where we want to expand our presence," he added.
Any such purchases would be small, along the line of last year's purchase of the U.K.'s Rolling Luggage chain, which allowed Samsonite to expand into airport retailing and of the Chic Accent chain in Italy, Yue said.
The company derived $817 million of its first-half revenue of $1.21 billion from the travel category.
Samsonite's brands also American Tourister, Hartmann,  Lipault and Kamiliant.