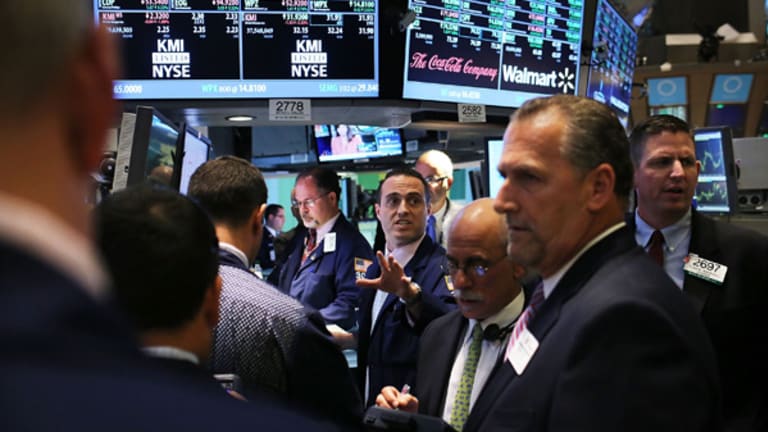 Tuesday's Market: Volume Thin Ahead of Cisco's Earnings
The Dow ended today's session a bit lower and the Nasdaq posted a slight gain before Cisco announced its miss.
Last night's snowfall turned into nasty sludge here on Wall Street and it was reflected in the market today.
The
Dow Jones Industrial Average, which was above 11,000 for a spot today, fell enough to finish on the downside. The index hasn't been able to stick a landing above 11,000 since Sept. 14. The
Nasdaq Composite Index ended the day well off session highs, but was able to pull off a modest rally.
Volume was exceptionally light with not much news to trade on today.
Paul Cherney, market analyst at
S&P MarketScope
, said the market is groping for some headlines to move it, so we saw the same kind of seesaw action that we've seen for the past two months.
Cherney said trends develop when short-term traders and long-term investors are of a like mind. Short-term traders, he said, having been jumping into defensives, running them up, grabbing their profits and then, getting back into tech.
Investors, on the other hand, have been sitting out, "poised on the sidelines patiently waiting for better fundamentals."
He said long-term money will sit on the sidelines until investors see the promise of better earnings.
Still,
Cisco
(CSCO)
got a nice bounce
ahead of its second-quarter earnings report which was posted after the closing bell.
The stock was the most actively traded stock on the Nasdaq and was up 3.4% to $35.75. The networking company's known for beating estimates by a penny, but some concern was raised last week after CEO John Chambers
made comments about business in January being "a little bit slow." (Guess people should have listened to Chambers -- Cisco missed estimates. Check out
TSC's
coverage in a
separate story.)
At the
World Economic Forum
in Davos, Switzerland, Chambers said, "The business momentum of most of my customers was very tough in December, and equally tough in January." Still, the company hasn't changed guidance and the
First Call/Thomson Financial
32-analyst estimate is expecting earnings of 19 cents a share.
Also attracting some attention on the Comp was
Applied Micro Circuits
(AMCC)
, which fell 14.5% to $55.06, after the chipmaker said it had some order
cancellations in the past week. However, the company said it was not altering its earnings or revenue targets for its March or June quarters.
And e-tailer
Amazon.com
(AMZN)
was up a bit after spending much of the day on the downside. The company was hit by a note this morning from
Lehman Brothers
, saying Amazon could face a creditor squeeze in the second half of 2001 because of its low levels of working capital. A spokesman for Amazon called the note "silly." Amazon shares ended the day up 9.5% to $15.81.
Fiber-optic components maker
JDS Uniphase
(JDSU)
got a boost from news that U.S. regulators approved of its deal to take over
SDL
undefined
. The company was granted the clearance after it agreed to sell a laser manufacturing plant to
Nortel Networks
(NT)
for $3 billion.
Mickey was dancing and singing today after
Disney
(DIS)
managed to beat first-quarter estimates by a penny. It said it was helped by improvements in its theme park and from Regis and his magic with Disney's ABC networks
"Who Wants To Be A Millionaire."
Last week, the company announced that it was abandoning its Web portal Go.com. It was up 3.9% to $31.61.
Other blue-chips weren't so lucky, with financials
J.P. Morgan Chase
(JPM)
and
American Express
(AXP)
contributing the greatest drag on the index. The hearty positive contributions from
3M
(MMM)
and
IBM
(IBM)
weren't enough to counter the negative pull from 18 of its blue-chip brethren.
Market Internals
Back to top
Most Active Stocks
Back to top
Sector Watch
Biotechs and boxmakers bounded upward.
The
Nasdaq Biotechnology Index
was 2.9% higher. The sector had plenty of reason to celebrate. Yesterday,
Affymetrix
(AFFX)
reported a loss narrower than expected and was being duly rewarded. Also,
Immunomedics
(IMMU)
was up 11.3% to $16.69 after it received a patent extending its patent protection over cancer-fighting antibodies.
The
Philadelphia Stock Exchange Computer Box Maker Index
rose 3.2%. PC-maker
Dell
(DELL)
was a big gainer today after getting beaten down in yesterday's session. The stock was 10% higher to $36.88.
Financials were flattened, with the
American Stock Exchange Brokers/Dealers Index
off 1.6% and the
Philadelphia Stock Exchange/KBW Bank Index
down 2.3%.
Back to top
Bonds/Economy
Treasury notes were trading slightly lower -- though near unchanged -- as the market awaits the auction of $32 billion worth of new and reopened Treasury debt. Dealers are selling to create space in their portfolios for the latest available issues due on the market later this afternoon. The long bond has slid further in reaction to the advice of a
Bond Market Association
committee that its issue be continued.
Last week the Treasury Borrowing Advisory Committee, composed of investors, had suggested that the 30-year bond be removed after its August sale, due to continued Federal budget surpluses. However, yesterday the Primary Dealer Committee of the BMA, composed of dealers that trade directly with the
Federal Reserve in the Treasury market, advised against it. They want to lessen the cost of buying back older debt. The committee also said that the 30-year remained the most suitable security for long-term bond investors.
The benchmark 10-year
Treasury note lately was down 4/32 to 104 5/32, raising its yield to 5.189%.
In economic news, the
BTM-UBSW Weekly Chain Store Sales Index
(
definition |
chart ) was down 0.1% for the week ended Feb.3 after having advanced 0.6% the previous week. The slight fall was due to a decrease in consumer spending, with no retailer exceeding the weekly sales target. The yearly moving average rose 3.7% from its reading 12 months earlier, although it was down from the 3.9% rise recorded in the end of January. Analysts believe that consumer spending is unlikely to fall further. They expect spending to revive, thanks to the cash freed up through mortgage refinancing, lower tax rates and the Fed's easing of interest rates.
The
Redbook Retail Average
(
definition |
chart ) rose for the fifth week of January. It is up 2.2% from its value in the closing week of December. Sales for the month rose 3.2% from the same period a year ago. Sales are expected to rise 3.1% in February. Heavy promotions and heavy discounts sent merchandise moving off shelves, keeping sales numbers healthy.
Back to top
International
European markets brightened as the day wore on. Britain's
FTSE
rose 24 to 6293. Banks were hottest, with merger rumors keeping the sector on trading screens for much of the day.
Meanwhile, Germany's
Xetra Dax
was up 65 to 6693, driving home some decent gains thanks to
DaimlerChrysler
(DCX)
, which had a 2% gain on the NYSE. Paris'
CAC
rose 29 to 5852.
The euro last traded at $0.9310, which means it's worth more than a can of soda, but less than a bottle of soda. The yen traded at 114.73.
Across the Pacific, Japan's
Nikkei
continued to struggle as high-tech stocks take it on the chin again. The Nikkei dropped 115.7 to 13,269.9, hitting a four-week low.
Toshiba
was a major drag on the index, helping fuel the tech sell-off. Hong Kong's
Hang Seng
traded in the opposite direction, gaining 82.4 to 15,913.2.
Back to top