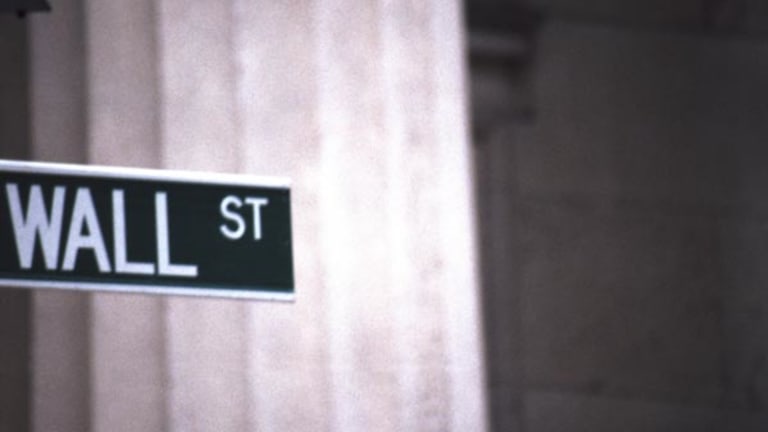 Tuesday's Market: Stocks Take a Beating as Investors Respond to Rate Cut
The Fed cut rates by 50 basis points today, but investors wanted 75; stocks bore the brunt of their disappointment.
The Fed cut rates by 50 basis points today, but investors wanted 75; stocks bore the brunt of their disappointment.
"We wanted 75!"
Disappointed by the
Federal Reserve's decision to cut the
fed funds rate by a half percentage point instead of a more aggressive 75 basis points, investors slammed on the brakes, bringing today's early rally to a precipitous halt.
The
Dow Jones Industrial Average, which rose above the key 10,000 benchmark at 2:20 p.m. EST, plunged 238 points to finish at 9721, its lowest close since March 24, 1999. Meantime, the
Nasdaq Composite Index ended at its worst level since Nov. 13, 1998, off 94 points to 1857. The tech measure is now more than 63% off its all-time high.
"There was a lot of pent-up selling among investors looking for a bigger rate cut," said Tony Crescenzi, chief bond market strategist at
Miller Tabak
. Ahead of the decision, many on Wall Street were hoping for a 75 basis-point cut to bring the market back to life. But the Fed opted for the smaller move, probably because recent economic reports have indicated a slowdown, rather than a recession, in the economy.
The Fed complemented today's action with a hawkish statement, leaving open the possibility of an intermeeting cut. "The possibility that this excess could continue for some time and the potential for weakness in global economic conditions suggest substantial risks that demand and production could remain soft. In these circumstances, when the economic situation could be evolving rapidly, the Federal Reserve will need to monitor developments closely," the Fed said in a statement.
"The Fed attempted to be soothing with its words," added Crescenzi. "But it just created uncertainty about whether or not there will be an intermeeting cut." According to the strategist, investors were left wondering why the Fed didn't move now, if there is a likelihood of an intermeeting cut. The next time the Federal Reserve meets is on May 15.
Since the beginning of the year, the Fed has moved drastically to cut interest rates, in order to spur borrowing and demand in the economy, which fell sharply in the fourth quarter of last year. The Fed has now lowered the fed funds target by 1.5%, to 5% from 6.5%, where it stood before the committee undertook a surprise rate cut on Jan. 3.
Today's move attempts to balance the signals being given in economic reports, which show continuing demand in the real estate and automobile markets at the same time that business investment has slowed sharply and the stock market has dropped steeply. According to Crescenzi, today's rate cut has practical value. "We'll see an improvement in liquidity, which should drive stocks higher," he said.
Still, the catalyst for a real market rebound, market experts say, will be an improvement in corporate earnings -- which, at this rate, may be harder to come by than interest rate cuts.
To wit: Chipmaker
KLA-Tencor
(KLAC) - Get Report
, which ended off 8.5% to $38.38,
warned after the closing bell yesterday that third quarter earnings and revenue would fall short of Wall Street's forecasts. The semiconductor manufacturer cited the usual suspects -- high inventories and sluggish demand.
Today's news comes on the heels of some very negative news in the sector. Just yesterday, Ashok Kumar at
U.S. Bancorp Piper Jaffray
said that
Intel
(INTC) - Get Report
could test its lows of 1998 in the second half of 2001. That would drop Intel, which closed down 9% to $24.63, into the high teens.
According to Joseph Kalinowski, equity strategist for earnings tracker
First Call/Thomson Financial
, the Nasdaq may be headed for still
more
trouble ahead. "Given the price swings and adjustments in earnings expectations, the index currently trades 48.6 times earnings, still overvalued if you use the historic norm of the 90s," Kalinowski wrote in his most recent report. "Keeping earnings constant, this multiple suggests a composite trading near 1200." Ouch!
Separately, contract electronics manufacturer
Solectron
(SLR)
was getting hit after it
warned that sales for 2001 would fall short of projections and announced that it would cut 8,200 jobs, or 10% of its workforce, amid an uncertain outlook. Solectron finished off by 11.2% to $19.09. This morning,
Credit Suisse First Boston
lowered its earnings estimates on Solectron, rival
Flextronics
(FLEX) - Get Report
-- down 20% to $`9 -- and a
host of other contract manufacturers .
Oracle
(ORCL) - Get Report
shed 6.9% to $14.38, after the company said that it would cut up to 866 jobs, or 1% to 2% of its workforce, as it attempts to cut costs.
Market Internals
Back to top
Most Active Stocks
Back to top
International
Overseas markets finished up. Europe galloped higher in anticipation of the Fed's rate cut. London's
FTSE 100
closed up 1.7% to 5647. The story was the same across the channel. The Paris
CAC 40
ended higher 1.8% to 5138, and Frankfurt's
Xetra Dax
-- still trading -- was stirring up a 125 point gain, or 2.2%, putting it at 5782.
The euro was lately trading at $0.9027.
Hong Kong stocks fell overnight, while Tokyo was closed for a holiday. Hong Kong's
Hang Seng
slipped 1.74% to 13,223.86 on weakness in
China Mobile
and property stocks.
The dollar was trading at 122.6 yen.
For more on the world stock markets, check out
TheStreet.com's
global indices information.
Back to top