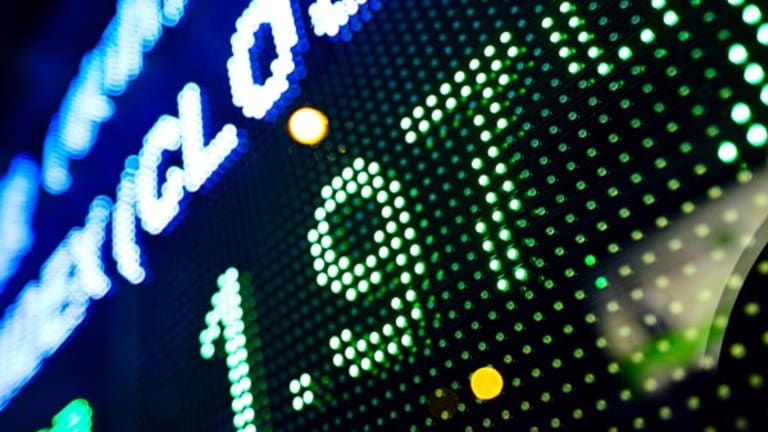 Tuesday's Market: Rally Takes a Holiday
Shares end lower, as investors shrug off encouraging numbers on GDP and corporate profits.
Updated from 4:07 p.m. EST
Stocks ended lower on Tuesday, as traders took profits despite some encouraging growth in both third-quarter gross domestic product and corporate profits.
The
Dow Jones Industrial Average
dropped 172.98 points, or 2.0%, to 8676.42, while the
Nasdaq
fell 37.49 points, or 2.5%, to 1444.41. The
S&P 500
dropped 19.57 points, or 2.1%, to 913.31.
In its first revision of an estimate published last month, the Commerce Department said third-quarter U.S. gross domestic product rose at a 4% rate, up from its original estimate of 3.1% and topping economists' 3.8% forecast. Corporate profits rose at an upwardly revised 2.1% in the quarter -- their third straight quarterly increase.
Consumer confidence is also on the mend, with the Conference Board's reading for November coming in at 84.6, better than October's 79.6, breaking five straight months of declines in the number.
October new-home sales slipped 4.5% from September's record-setting pace, but continued to be relatively strong, thanks to mortgage rates at 40-year lows. New-home sales came in at an annualized pace of 1.007 million units this year, off from the previous month's 1.054 million, but still good enough to be the third-best showing ever. And it easily topped that 992,000 annual rate expected by economists.
"Today's drop seems puzzling because the economic numbers were strong. I'm not so sure the economy is going to slow anymore. And GDP was strong and the expectation is for stronger numbers going forward," said Giri Cherukuri, head trader at OakBrook Investments. "I just think we've got slow trading this week."
Still, volume on both the
New York Stock Exchange
and
Nasdaq
Stock Market was reasonably strong, with the NYSE trading 1.5 billion shares and the Nasdaq trading 1.8 billion. With decent volume, today's moves could be a sign investors were taking profits after the market's seven-week run.
Additionally, Cherukuri said that some investors may be consolidating their positions heading into the holiday, because of increased terrorism fears. "There could be some of that -- people not wanting to take big positions either way this week," he said. "But they'll get back to it next week. If we get these large moves next week, we'd pay more attention."
Indeed, next week will give the market another look into the economic recovery, with the release of construction spending data, non-farm productivity information and then the employment report.
Contributing to the weakness was Monday night's report from
Tech Data
(TECD) - Get Tech Data Corporation Report
, in which the company warned of weakening technology demand. The computer wholesaler matched the consensus estimate for its third-quarter earnings but lowered fourth-quarter sales guidance. For the fourth quarter, the company expects to post sales of $3.8 billion to $3.95 billion, down from previous guidance of $4.01 billion to $4.48 billion. Tech Data dropped 9.8% to $30 on the news.
Intel
(INTC) - Get Intel Corporation Report
dropped 1.4% to $20.20, despite the fact that Morgan Stanley upped the chipmaker's earnings estimates and raised its price target to $25 from $22. In Morgan's eyes, demand is increasing for personal computers, which could boost revenue going forward -- something that Intel might discuss when it gives its midquarter update on Dec. 5.
Over the past two months, networking stocks have nearly doubled, especially beleaguered names like
Lucent
(LU)
and
Nortel
(NT)
, but a negative research note from J.P. Morgan derailed that momentum a bit. The brokerage initiated coverage of the communications equipment sector, starting Lucent and
Ciena
(CIEN) - Get Ciena Corporation Report
with underweight ratings.
Tellabs
(TLAB)
, Nortel and
Juniper
(JNPR) - Get Juniper Networks, Inc. Report
received neutral ratings, while
Cisco
(CSCO) - Get Cisco Systems, Inc. Report
was the lone recipient of an overweight rating.
As the ratings indicate, J.P. Morgan wasn't exactly bullish on the sector, telling investors that it doesn't expect to see much value in the stocks until demand picks back up. A day after making big gains, Lucent coughed up 2.7%, while Nortel slid 4.9%. The others were also weaker. Ciena dropped 2.7%, Tellabs fell 5.4% and Juniper dropped 6.9%. Cisco was 3% lower.
(
Real Money.com
columnist Jim Cramer discussed the momentum driving the moves in Lucent and Nortel in a column Tuesday, entitled "
Use the Froth to Scrub Your Portfolio.")
Similarly,
Qualcomm
(QCOM) - Get Qualcomm Inc Report
was cut to hold from buy by Legg Mason, which told investors the stock was too pricey at 32.5 times 2003 earnings. Also, Legg expressed concerns that the company faced downside risk if the holiday season is not as strong as the company expects. Qualcomm dropped 3.5% to $40.45 on the news.
News from
Vodafone
(VOD) - Get Vodafone Group Plc Report
helped pressure all the wireless carriers on Tuesday. First, Deutsche Bank cut the company to hold based on valuation concerns after the company rallied nearly 50% in eight weeks. Then, Vodafone announced that it was not interested in buying Vivendi Universal to get at Cegetel, its French telecom business. Vodafone shares fell 6.1% to $18.32.
Competitors, which have also rallied significantly in recent months, were lower on valuation concerns.
AT&T Wireless
(AWE)
lost 6.5% to $7.22 and
Nextel
(NXTL)
was off 7.9% to $12.75.
Emulex
(ELX)
was downgraded to buy from hold by Deutsche Securities, while
QLogic
(QLGC)
was kept at hold, because the brokerage said the stocks were fully valued. Deutsche set a price target of $24 on Emulex, which was off 6.6% to $23.86. QLogic received a new price target of $42 and was off 4.1% to $42.26.
Piper Jaffray expressed caution on
Veritas Software's
(VRTS) - Get Virtus Investment Partners, Inc. Report
stock on Tuesday morning, warning investors that the company faces significant competition, an eroding customer base and lack of growth going forward. Veritas was down 8.7% to $18.30 on the news.
E*Trade
(ET) - Get Energy Transfer, L.P. Report
announced an agreement to buy Ganis Credit, the consumer finance unit of Deutsche Bank, for $101 million in stock. The move continues the company's push into the consumer space, with the Ganis purchase pushing E*Trade into loans for recreational vehicles and boats. E*Trade dropped 3% to $5.59 on the deal.
Halliburton
(HAL) - Get Halliburton Company Report
got a decent pop, gaining 1.6% to $18.61 on an upgrade from CSFB, which told investors that the company had a decent shot of resolving its ongoing asbestos litigation in a positive manner. CSFB upgraded the company to neutral from underweight.
After Monday's trading session, chipmaker
Semtech
(SMTC) - Get Semtech Corporation Report
posted third-quarter earnings of 17 cents a share on revenue of $47.2 million, both topping estimates, but lowered its guidance for fourth-quarter earnings to 9 cents to 11 cents a share, compared with the consensus estimate of 14 cents. Shares were down 19.7% to $14.55 on the news.
Late-session buying lifted the Dow to a higher close Monday. The blue-chip average added 0.5% to 8849, while the Nasdaq rose about 1% to 1482.
Overseas markets were lower across the board, with London's FTSE 100 down 1.2% at 4071 and Germany's Xetra DAX down 3.3% at 3192. In Asia, Japan's Nikkei fell 1.4% to 8824, while Hong Kong's Hang Seng lost 1% to 9996.
Treasuries gained steam as equities slid, with the 10-year note up 26/32 to yield 4.07%.