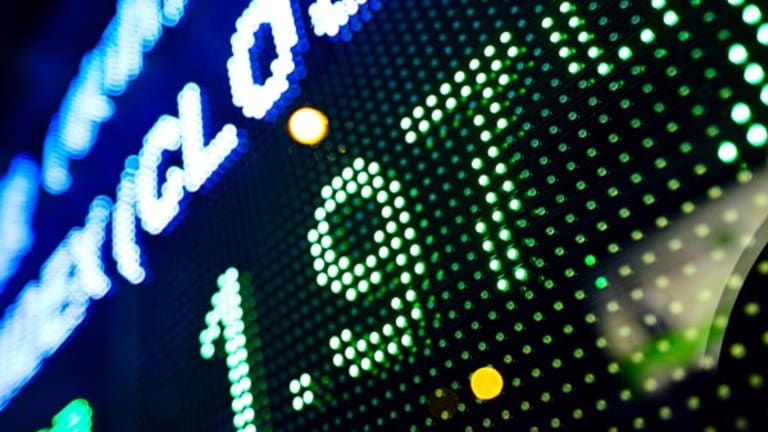 Tuesday's Market: Nasdaq, Down 4.4%, Nears Its 2001 Closing Low
The tech selloff was widespread and severe -- Cisco and Sun were among the 113 stocks that touched new 52-week lows on the Nasdaq today.
Ugh! No post-President's Day rally here.
Instead, the major indices got kicked when they were already down.
Unhappily, the
Dow Jones Industrial Average and the
Nasdaq Composite Index finished at session lows after both started on the upside at the opening bell. The Nasdaq's closing number also had the distinction of being its second-lowest of the year. (Its lowest close for 2001, hit on the first trading day of the year, was 2291.9.)
The tech-heavy Nasdaq steadily dropped fired by a number of sparks, including several negative analyst notes.
Chipmakers haven't been getting much positive attention lately and today, the sector got a spanking from
Lehman Brothers
, which cut earnings outlooks because of worsening conditions in the communications industry.
JDS Uniphase
(JDSU)
,
PMC-Sierra
(PMCS)
,
Applied Micro Circuits
(AMCC)
and
Broadcom
undefined
were singled out; they bled as a result. JDS was down 4.4% to $34.31, PMC fell 11.8% to $44.63, Applied Micro dropped 12% to $38.06, and Broadcom was 12.9% lower to $64.38. All hit 52-week lows, with the exception of Applied Micro.
Networking giant
Cisco
(CSCO) - Get Cisco Systems Inc. Report
was the most actively traded stock on the Comp, down 7.5% to $26.06. It, too, hit a 52-week low (theme of the day, perhaps?). Its tumble was helped along by comments from CEO John Chambers, who told a Swedish newspaper over the weekend that much of the U.S. economy is already in a recession and the downturn threatens to spread. He went on to say that he thought the
Fed should continue to cut interest rates and that he supported
President Bush's
proposed tax cuts.
Technology stocks just can't seem to find their footing. In January, the Nasdaq made steady gains, seemingly making a comeback from the losses it racked up in the last two months of 2000. But the rally was premature, and the Comp spent this month undoing those gains.
The who's who of Nasdaq issues at 52-week lows today include
Sun Microsystems
(SUNW) - Get Sunworks Inc. Report
,
Ariba
(ARBA)
,
Ericsson
undefined
and
Amazon.com
(AMZN) - Get Amazon.com Inc. Report
. None of this was helping to clear up the negative sentiment in the tech sector.
Also on that list was wireless telephone company
Nextel Communications
undefined
, which was chopped 12.3% to $22.31, after
Salomon Smith Barney
cut Nextel's
rating to outperform from buy. The firm also lowered its 12-month price target to $35 from $48 a share.
The
Big Board's tech components weren't left out of the 52-week-low fun. Fiber-optic network equipment supplier
Nortel
(NT)
, fiber optics king
Corning
(GLW) - Get Corning Incorporated Report
and data storage giant
EMC
(EMC)
were just a few of the well-known names at those levels.
And if you hadn't noticed, telecom-related stocks were among the hardest hit, including such foreign-based mobile phone stocks as
Nokia
(NOK) - Get Nokia Corporation Sponsored American Depositary Shares Report
,
Vodafone
(VOD) - Get Vodafone Group Plc Report
and
Deutsche Telekom
(DT) - Get Dynatrace Inc. Report
.
The Dow had few positive supporters. Retailers
Wal-Mart
(WMT) - Get Walmart Inc. Report
and
The Home Depot
(HD) - Get Home Depot Inc. (The) Report
helped out. Wal-Mart, the world's largest retail chain,
beat lowered estimates, while Home Depot
met lowered estimates.
Money fled to defensives, with pharmaceuticals
Johnson & Johnson
(JNJ) - Get Johnson & Johnson Report
and
Merck
(MRK) - Get Merck & Company Inc. Report
on the upside. Johnson & Johnson rose 1.6% to $96.03, and Merck jumped 0.8% to $77.90.
Chipmaking giant
Intel
(INTC) - Get Intel Corporation Report
was taken down 0.7% to $31.44 after it said that it was instituting cost cuts in an effort to save money. The company said it would cut discretionary spending, limit hiring and defer performance pay raises for senior management.
Back to top
Market Internals
Back to top
Most Active Stocks
Back to top
Sector Watch
The aforementioned news from the retailers were helping
soothe investors' fears concerning retail. The
S&P Retail Index
was 1.9% higher. Not all was great in the sector, however. Drugstore chain
Duane Reade
(DRD) - Get DRDGOLD Limited American Depositary Shares Report
was falling 17.4% to $32.45, despite meeting estimates, because it forecast 2001's first-quarter and full-year results below estimates.
Financials took a beating today, with the
American Stock Exchange Broker/Dealer Index
5.4% lower, the
S&P Insurance Index
off 2.25% and the
Philadelphia Stock Exchange/KBW Bank Index
down 3.6%. The sector got smacked with negativity from two sources.
CIBC World Markets
said in a note from analyst Ken Worthington that "continued weakness in the equity markets and advisory environments" continue to cause concern among financial firms. And
Keefe Bruyette & Woods
issued a number of ratings changes, saying in a research note that "market volatility and economic uncertainty appear to be taking their toll on the retail segment of the brokerage business.''
Back to top
Bonds/Economy
Treasury prices finished higher.
The benchmark 10-year
Treasury note closed up 2/32 to 99 7/32, lowering its yield to 5.101%.
The
Standard & Poor's
speculative grade credit index, which measures the difference between the yields of government Treasuries and those of bonds rated below BBB+, was at 894.5 basis points, or 8.945%, on Friday. The difference has steadily decreased from a high of 10.74% on Jan. 2, just before the
Federal Reserve began cutting rates. Expectation that the economy will recover with help from the Fed has sent U.S. Treasury prices lower on weakening demand, preventing yields from falling further. (Prices and yields move inversely.) This has contributed to the narrowing of the index.
A recent survey by the
Federal Reserve Bank of Philadelphia
estimates that the U.S.
gross domestic product
(
definition |
chart |
) should grow by about 2.2% in 2001, down from the 3.3% annual growth that was forecast two months ago. However, that's not likely to jolt the market, as most economists and regional Fed presidents lately have been pegging the growth rate at 2% to 2.5%.
There is no economic news due out today.
Back to top
International
Over in Europe, markets took a swandive into their trading day swansong. After once having gains all three of Europe's major bourses were deep in the red. London tried clinging to midday gains like a cat on a lampshade, before dropping into the deep abyss of a tech sell off. The
FTSE 100
fell 114 to 5980 -- that's a drop of 130 points in just under four hours. Germany's
Xetra Dax
was off 21 to 6452, while Paris'
CAC
lost 36 to 5549.
On the currency front, the euro continued to slump, moving further and further away from the 94-cent level it traded at just weeks ago. It last traded at $0.9097, lower than the 91 cents or so it traded around during Friday's session. The yen traded at 115.54, relatively unchanged.
Tokyo's markets were up, something of a rarity lately. The beleaguered
Nikkei
knocked home a gain of 128.8 to 13,248.4 after traders shrugged off a not-so-good earnings forecast from
NEC
. Chipmakers, which have been destroyed in recent weeks, managed to actually make some gains, something that many said was a sign of a tech bottom. Then again, American markets took a day off yesterday and hopeful traders operated without the specter of another American sell off on the horizon. Hong Kong's
Hang Seng
gained 36.4 to 15,527.4.
Back to top