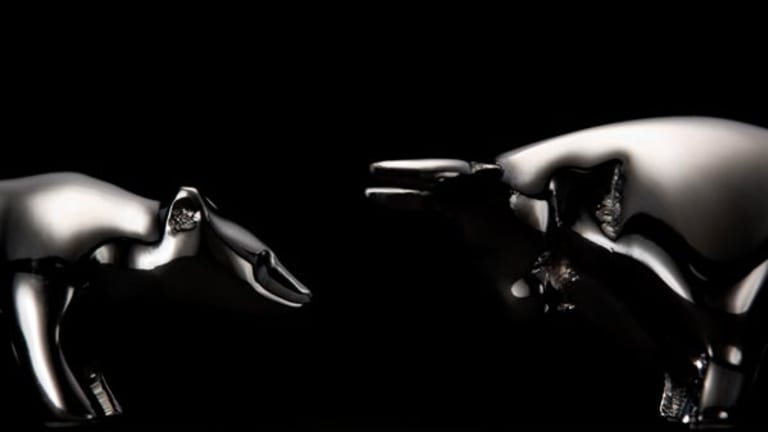 Tuesday's Market: Nasdaq Can't Keep a Good Thing Going, Yesterday's Gains a Mere Memory
Traders want a rate cut, but Fed boss Greenspan is more likely than not to wait until the March FOMC meeting.
Investors and traders were begging for doubloons and beads, but there was fat chance of the market giving up anything so festive on this Fat Tuesday.
Nope, instead
Mardi Gras was tainted by economic spoiled sports -- February's
Consumer Confidence Index
from the Conference Board which sunk to its lowest level in four years,
along with a weaker-than-expected durable goods orders.
The
Nasdaq Composite Index acted like a stubborn child all day, not budging from its stance in the downside. In fact, the tech-heavy index slid for most of the day, ending at its session lows. The Comp hasn't closed below 2208 since the end of 1998.
The
Dow Jones Industrial Average was a bit more frenetic today and ended the day closing in on the flatline, but just short of the upside.
Yesterday, the market saw hefty gains in the Dow and healthy gains in the Comp after both had been battered last week. The Comp more than wiped out all gains it made Monday.
There wasn't much company news out to really get the market moving today, so investors and traders were putting all their attention on the aforementioned economic news, which drove them to spend
Shrove Tuesday praying to see the
Federal Reserve jump in with an intermeeting interest rate cut.
The Consumer Confidence Index fell to 106.8 in February from 115.7 in January, its fifth consecutive decline. Conference Board officials did not characterize the figure as indicative of recession, but rather of a severe economic downturn.
On the durable goods order side, excluding the volatility in transportation orders, today's figure is about as weak as expected, meaning the underlying trend in manufacturing is still poor. Durable goods orders dropped 6% in January on a seasonally adjusted basis.
Paul Cherney, market analyst at
S&P MarketScope
, said the reaction to today's economic data indicates that the market believes the Fed is well behind the curve.
"The market is so ripe for a Fed rate cut, it will be a buy on the news," he said. "Since prices have been going down, a Fed rate cut is not priced in right now for the equity markets."
Cherney said from historical data he's gathered, if there's no rate cut this week, there's an almost nine in 10 chance the Nasdaq on Friday will hit, but not necessarily close, under 2156.29 and the S&P 500 will fall below 1215.44. He said those data are based on price and breadth information from the past four years.
With no rate cut announced today and mainly earnings warnings and negative research notes to go on, the Comp slid further away from the highs it reached last year.
Business-to-business software makers were especially under pressure.
i2 Technologies
(ITWO)
, down 22.4% to $27.56, was singled out after its customer
Nike
blamed software problems as well as too much inventory and order delays as its reasons for having to
slash third-quarter earnings projections. Nike dropped 19.5% to $39.60.
It just wasn't i2's day. The company also had its earnings estimates cut by
Goldman Sachs
.
Also on Goldman's
chopping block were software leaders
Microsoft
(MSFT) - Get Microsoft Corporation Report
,
Oracle
(ORCL) - Get Oracle Corporation Report
,
PeopleSoft
(PSFT)
,
Ariba
(ARBA)
and
Commerce One
undefined
. All ended the day in the red.
Bank of America
also got out the shears on a slew of software issues, including i2,
Siebel Systems
undefined
and
SAP
. Siebel was down 14.5% to $41.50 and SAP was off 2.8% to $38.46.
The two firms said they made the cuts because of the slowing economy and the continued weakness in tech spending.
Other sectors also got battered today, with networkers
Cisco
(CSCO) - Get Cisco Systems Inc. Report
and
Juniper
(JNPR) - Get Juniper Networks Inc. Report
, and communication chipmakers
Applied Micro Circuits
(AMCC)
and
PMC-Sierra
(PMCS)
, all hitting 52-week lows today.
Also suffering were fiber-optics related stocks
Corning
(GLW) - Get Corning Incorporated Report
and
JDS Uniphase
(JDSU)
were more participants in the 52-week-low club. The latter announced today that it will cut 3,000 jobs, or 10%, of its workforce because of slowing demand and increasing competition.
The Dow lately was about split evenly between those in the positive and those in the negative. Diversified manufacturer
3M
and defensive
Philip Morris
(MO) - Get Altria Group Inc. Report
were the Dow's biggest cheerleaders. Philip Morris was smoking, nearing a 52-week high today. It ended 3.8% higher to $48.26.
All eyes and ears will be on Fed Chairman
Alan Greenspan tomorrow who is expected to be saying something different during tomorrow's reiteration of his testimony formerly known as Humphrey-Hawkins to the House Finance Committee. While no one knows what he'll say, the market is hoping for some insight as to the Fed's point of view of the economy.
Market Internals
Back to top
Most Active Stocks
Back to top
Sector Watch
Yep, Philip Morris was fighting the good fight for the Dow, but also it and its cronies, including
RJ Reynolds
undefined
, were pushing up the
American Stock Exchange Tobacco Index
1.9%.
Investors were also jumping into insurance, (which they'll need after loading up on those cigarette stocks) with the
S&P Insurance Index
up 3%.
TheStreet.com Internet Sector
index, aka the DOT, was 6% lower. The bigger drags were such software-related components as
Ariba
(ARBA)
,
Commerce One
undefined
and
Check Point Software Technologies
(CHKP) - Get Check Point Software Technologies Ltd. Report
, which dropped 9.1% to $73.50.
Back to top
Bonds/Economy
Investors were looking at bonds to store their cash. The long-bonds were the place to be for big gains today, as the 10-year Treasury gained 21/32 to 100 11/32 with a yield of 4.956%. Both the 5-year and 30-year had big gains, too, while the shorter maturities suffered.
Back to top
International
Sometimes America helps Europe, like in most of the 20th century, when we allied with them during World War II, helped rebuild the continent and charged exorbitant rates for munitions and cash. Other times, like today, America ain't so helpful.
A gleeful European rally was sideswiped by the American open, which was decidedly negative. Then the late-morning States rally helped a bit, but didn't elevate bourses to their once-loftier highs. London's
FTSE
gained 24.4 to 5941.2 around the end of its trading day. The previous day, the index closed at a level unseen in the past 16 months. Financials, especially the banks and insurers, were up as traders speculate about a possible rate cut here in the States.
Elsewhere on the continent, Germany's
Xetra Dax
gained 31.4 to 6200.5, while Paris'
CAC
rose 22.7 to 5437.8.
The euro last traded at $0.9185, a gain from the previous day's trading. The yen traded at 116.07.
Asia wasn't nearly as lovely, especially Tokyo's
Nikkei 225
, which has performed so badly that the Comp looks good by comparison. It fell 141.3 to 13,059.9, dropping to a 28-month closing low as chipmakers slumped and banking stocks, the only real support to the index's upside movement, succumbed to profit taking. That warning from
Texas Instruments
(TXN) - Get Texas Instruments Incorporated Report
didn't help much, either.
Hong Kong's
Hang Seng
dropped 395.5 to 14,834.7.
Back to top