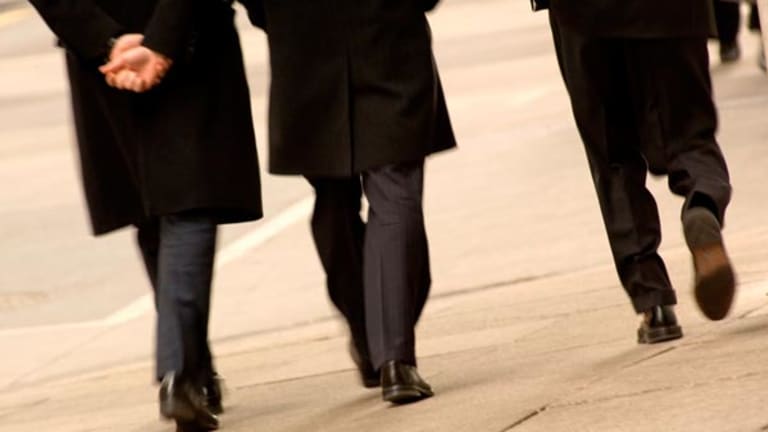 Tuesday's Market: Investors Dive Back In, Send Dow Above 10,000
Professionals aren't sure the gains can stick, but the blue-chips add 258 points to end at 10,103. The Nasdaq and S&P also dash higher.
Hoping the typhoon has passed, investors threw caution to the wind and jumped back into the stock market on Tuesday.
At the beginning of the first-quarter reporting season, some Wall Street experts were prepared to believe the worst is over.
"People are relieved that the preannouncement season has ended," said Todd Clark, head of listed trading at
W.R. Hambrecht
. "Without the backdrop of earnings warnings, they are thinking that the market might be able to perform better."
For today, at least, it did.
The
Dow Jones Industrial Average closed back above the critical 10,000 benchmark (up more than 250 points) for the first time since March 15. The blue-chip index is still 11% off its all-time high. The tech-heavy
Nasdaq Composite Index gained more than 100 points, while the broader
S&P 500 climbed about 30 points.
Jim Volk, co-director of institutional trading at
D.A. Davidson
, offered four reasons for the strength of today's gains: "Europe was strong, investors are hoping that first-quarter earnings conference calls will be good, the market is oversold, and it's Easter week."
Wall Street watchers were happy with the action they saw today. "Today's gains validated Thursday's big rally," said Jon Olesky, head of block trading at
Morgan Stanley
. "We backed off of Thursday's level on Friday, but managed to trade back above it today." According to Olesky, that kind of movement -- when stocks can climb higher than previous gains -- is a sign of stabilization. But he added: "After the selling we've been through, you just don't go into a bull-market phase."
Behind the rally on the major U.S. stock market indices was good news overseas. After British telecom-equipment maker
Marconi
(MONI)
failed to issue an earnings warning, as had been expected, telecom stocks soared, lifting the major European indices. Weakness overseas has helped dragged domestic markets lower in the past few weeks.
After the close of regular trading today,
Motorola
(MOT)
kicks off the parade of tech earnings announcements that are the focal point for many of the first-quarter earnings season. A lot of attention has been focused on Motorola since concerns about a liquidity crisis -- which the company denied -- surfaced last week. The first of the three major mobile-phone makers to report, Motorola already has lowered its earnings estimates two times for the most recent quarter.
On the heels of Marconi's news -- or lack thereof -- U.S. telecom stocks rang off the hook. Shares of Motorola jumped 13% to $13;
Nokia
(NOK)
gained 5.5% to $25.50 and
Ericsson
undefined
added 9.9% to $6.20.
Other tech stocks also bounced.
Intel
(INTC)
soared 6.8% to $24.77;
Cisco Systems
(CSCO)
rocketed 9.5% to $15.86;
Juniper Networks
(JNPR)
gained 21.9% to $40.47; and
JDS Uniphase
(JDSU)
lifted 17.4% to $17.92.
Sectors across the board rose, as chip stocks, financials and dot-coms got a lift. Bonds took a major dive south.
Traders interviewed also attributed the force of today's rally to the fact that the market was due for an up day.
"Lately, people have disregarded any positive news, because they didn't want to get burnt," said Rob Cohen, co-head of listed trading at
Credit Suisse First Boston
. "There was so much pent-up buying power."
To be sure, there's still plenty of negativity about the earnings outlook. Last night, wireless communications company
Sawtek
undefined
reported a 26% drop in revenue and forecast a 15% to 20% drop in 2001 revenue. But in the face of the news, the stock bounced 13.1% to $16.04. And today
Cypress Semiconductor
(CY)
said that first-quarter revenue and profits would fall short of expectations. Despite the forecast, the chip stock rose 6.1% to $16.34.
These stocks owe thanks to
Amazon.com
(AMZN)
, which raised its first-quarter performance targets yesterday, and PC maker
Dell
(DELL)
, which confirmed its first-quarter earnings targets last week. The good news from these two companies has some investors thinking the earnings disaster that has hit stocks of every shape and size could soon be ending. After jumping yesterday, Amazon added another 7.4% to $12.01. Dell gained 5.5% to $26.26.
Along with optimism about earnings, rumors were circulating on trading floors that the
Federal Reserve could
cut interest rates as soon as this week. The chatter began last Friday, with the release of a weak employment report for March. But among Wall Street experts, the consensus is that the economy is not weak enough for the Fed to act early. Lower rates typically give a boost to stocks because they make it cheaper for businesses and consumers to keep up their purchases.
Back to top
Market Internals
Back to top
Most Active Stocks
Back to top
International
The major European indices turned higher, helped by telecoms. The
FTSE 100
closed up 139.7, or 2.47%, to 5803. Across the channel, the Paris
CAC-40
gained 148, or 2.9%, to 5331. Frankfurt's
Xetra Dax
advanced 104, or 1.8%, to 5885.
The euro was lately trading at $0.8954.
Asian markets were mixed overnight. Japanese investors sold stocks for a second day amid continuing disappointment about a government economic aid package. Tokyo's
Nikkei 225
fell 221.5, or 1.7%, to close at 12,620.3. Hong Kong's stock market managed to scratch out an unimpressive gain, however, closing up 11.6 to 12213.7.
The dollar was trading at 124.6 yen.
Back to top