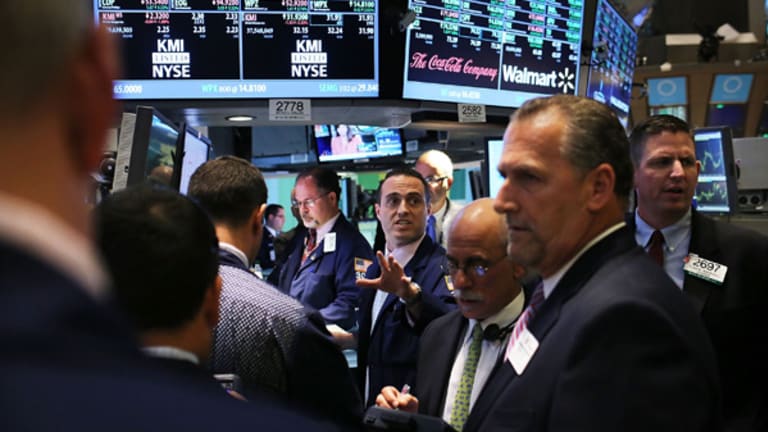 Tuesday's Market: Even Greenspan Can't Help This Market -- Stocks Reverse Early Rally and End in the Drink
Though green was the color of the morning action, big-cap tech stunk up the joint after noon.
Fed Chairman
Alan Greenspan wasn't bearing any flowers or chocolate in his speech to the
Senate Banking Committee
and the market responded like a forgotten Valentine.
During Big Al's semiannual monetary
policy report the major indices were hanging on his every word. They loved when he emphasized the
ongoing weakness in the economy, which was an indication the Fed is likely to continue cutting rates. In fact, the
Dow Jones Industrial Average hit 11,000 at one point. Alas, even the sonorous tones of the Fed boss wasn't enough.
When Greenspan's speech was over, the Dow and the
Nasdaq started on a decline. It seems the market was expecting him to say something more dire, something that would necessitate urgent action. But he didn't and investors weren't happy.
The closing bell saw a nice trim off the gains the Dow made in yesterday's action and the Comp fall to a level it hasn't visited since early January.
Jim Herrick, managing director of trading at
Robert W. Baird
, said all he had heard concerning the speech had been positive, and really the downturn probably has more to do with the typical skittish trading action of late.
He said for the long term, "we need to gain some confidence." There's still no leadership, so the market is drifting aimlessly, which was evident in today's action.
On the Nasdaq, big-caps had been making slight gains about two hours before the closing bell, trying to recover some of what was lost last week, but by the end of the day
Cisco
(CSCO)
,
JDS Uniphase
(JDSU)
,
Oracle
(ORCL)
and
Sun Microsystems
(SUNW)
, which were among the most actively traded stocks on the Comp, were all on the downside.
Brocade
(BRCD)
got whacked yesterday in reaction to the
bad news from data storage network equipment maker
Emulex
undefined
. While Emulex was trying to lick its wounds, getting back 4.7% to $42.28, Brocade continued to get killed and ended down 15.2% to $53.44.
Also,
Applied Materials
(AMAT)
, which reported after the closing bell today, fell ahead of its announcement, 6.3% lower to $41.25.
Meanwhile, despite its fall, the Dow had some support from blue-chips
Boeing
(BA)
,
3M
(MMM)
and
United Technologies
(UTX)
.
Drugmaker
Merck
(MRK)
was the Dow's biggest detractor. It was down after it halted a late-stage trial for a drug used to treat neuropathic pain. U.S. regulators were concerned over tumors in mice that had been given the drug. It fell 2.7% to $80.75.
Also, tech component and chipmaking giant Intel got knocked down 6.2% to $32.44 after being downgraded to hold from buy at
Credit Suisse First Boston
. The firm said it believes a "substantial recovery for 2001 is unlikely" for the company.
Market Internals
Back to top
Most Active Stocks
Back to top
Sector Watch
The
Philadelphia Stock Exchange Oil Service Index
was down 0.3%.
Schlumberger
(SLB)
was dragging the index down. Schlumberger was off for a second straight day after announcing its $5.2 billion bid for
Sema
undefined
. Other energy sectors weren't faring well, either, with the
American Stock Exchange Oil & Gas Index
1.1% lower.
TheStreet.com Internet Sector
index, aka the DOT, was 4% lower.
BroadVision
(BVSN)
was still smarting after
Credit Suisse First Boston
hit the stock with a cut its first-quarter EPS view yesterday. BroadVision was down 10.5% to $9.84. Other components under pressure were
Amazon.com
(AMZN)
,
Ariba
(ARBA)
and
Juniper Networks
(JNPR)
.
Back to top
Bonds/Economy
Treasury prices were lower after Greenspan's testimony before the
Senate Banking Committee
this morning. Yields have not changed much.
Money managers should be buoyed by the fact that Greenspan sounded cautious about economic recovery, even saying that its major factors are subject to more "downside risk." He also stressed that the Fed needs to react faster to the changing situation, since new technology has enabled the private sector to recognize changes in and react more quickly to slowing demand. Though Greenspan didn't outright hint of imminent interest-rate cuts, his comments did reassure investors that the central bank is watching the economy closely and ready to intervene as quickly as possible.
The benchmark 10-year
Treasury note was down 3/32 to 99 15/32, raising its yield to 5.066%.
In economic news,
retail sales
(
definition |
chart |
source
) for January came out slightly higher than expected. They rose 0.7% for the month, up sharply from the 0.1% increase recorded in December. Economists polled by
Reuters
had predicted 0.6% growth. Excluding auto sales, the number was up 0.8%, compared with expectations of 0.4%. The year-to-year moving average is up by a healthy 5%. Although this figure is much lower than last year's readings, it is greatly improved from December's average of 1.4%.
The
BTM-UBSW Weekly Chain Store Sales Index
(
definition |
chart) rose 0.8% for the week ending Feb.10, after falling 0.1% in the prior week. The 12-month moving average slipped to 3.4% from 3.7%.
Heavy sales and promotional activity contributed to the improvement in retail sales in the opening weeks of the year. With shelves now cleared of discounted items, February numbers will be a truer reflection of consumer behavior.
The
Redbook Retail Average
(
definition |
chart) indicated that sales in the first week of February were up by 2% from year-ago levels, but were down by 0.9% from January. The forecast was for a decline of 0.1% from last month.
Back to top
International
At the end of the trading day, European markets were down, even the German market, which had been higher when it headed into extended hours trading, fell.
London's
FTSE
slid 13 to 6229 as telecommunications stocks plummeted and big-name oil company
BP Amoco
(BP)
got trashed in the wake of a weak earnings release. Those stumbles were offset by a defensive movement into drugmakers, which rallied nicely following
GlaxoSmithKline
(GSK)
.
Germany's
Xetra Dax
dropped 7 to 6558, while Paris
CAC
slipped 21 to 5739.
The yen, which has been struggling lately along with the Japanese stock market, last traded at 116.87. The euro, well off historical lows, has been stuck in a pattern between 95 cents and 93 cents. It last traded at $0.9250 -- lower than in recent sessions.
And in Asia, the troubled Japanese stock market continued its wayward ways. The benchmark
Nikkei 225
dropped 148.1 to 13,274.7, as investors focused on a glut in supplies instead of the possibility that the
Bank of Japan
would further cut interest rates. As has been the case lately, the Hong Kong
Hang Seng
was a contrarian, gaining 149.6 to 15,842.72.
Back to top