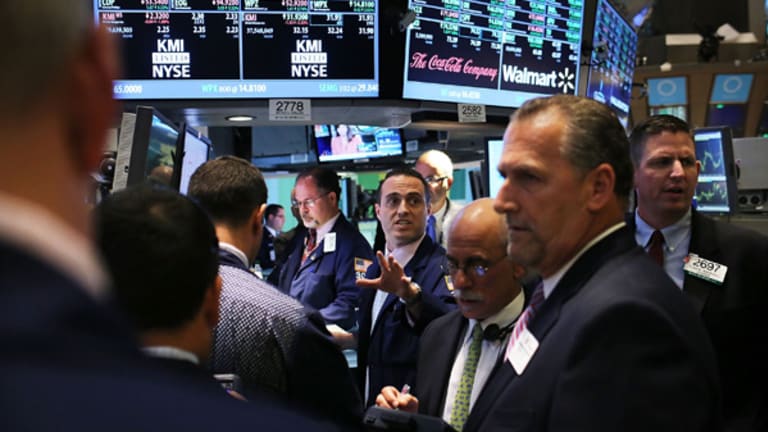 Publish date:
Tuesday's Market: Dow Forges Ahead by 260 Points; Nasdaq Also Rises
The Dow has climbed for three sessions running, but whether the rally will stick is anyone's guess.
The Dow has climbed for three sessions running, but whether the rally will stick is anyone's guess.
A little confidence went a long way today, as the
Dow Jones Industrial Average soared 260.01 points, or 2.7%, to 9947.54, on the heels of the latest
Consumer Confidence Index report. After a sharp selloff last week, the blue-chip index rallied for the third straight day. Meantime, the
Nasdaq Composite Index made a valiant effort, rising 53.8 points to 1972.2.
Released this morning, the
confidence number for March came in at 117, compared with economists' forecasts for a 104.2 result. The index has been trending lower since July, when it was at a high of 143. Today's result raises investors' hopes for a revival in consumer spending. But it also lowers expectations for an intermeeting interest rate cut by the
Federal Reserve, since the data shows relative economic strength.
Other forces at work on today's market included a good dose of window dressing, which happens when professional money managers tidy up their portfolios to post gains or clean up their list of holdings before a quarter's end. "It's the last week of the quarter, so people are marking up their portfolios," said Sam Ginzburg, senior managing director of equity trading at
Gruntal
.
Still, it seemed that, for the first time in a long while, investors were feelin' groovy. "The phones are picking up," said Ginzburg. "A little bit of the happiness has come back."
Leading today's gains,
IBM
(IBM) - Get Report
advanced 4.3% to $99.50,
Merck
(MRK) - Get Report
rose 3% to $73.61,
Procter & Gamble
(PG) - Get Report
increased 2.9% to $62.18, and
SBC Communications
(SBC)
lifted 6.4% to $43.90.
Despite today's positive action, the major stock market indices are way off their highs. Just last Thursday afternoon, the Dow was trading in bear-market territory, meaning it was down 20% from its all-time high. The industrials are now approximately 13% off their peak. Meanwhile, the Nasdaq, down 61% from its high, and the
S&P 500, behind by 23%, are on grizzly ground.
Whether or not the stock markets have hit bottom is still up for grabs. "Are people in this for the long haul or for the trade?" asked Bryan Piskorowski, market analyst at
Prudential Securities
. "The answer will unfold in the next few weeks."
On the sidelines of today's rally, blue-chip
Johnson & Johnson
(JNJ) - Get Report
fell 3.6% to $82.31, after the company confirmed yesterday's reports that it is going to buy drug manufacturer
Alza
(AZA)
for $12 billion in stock, its largest deal ever.
After dropping 5% yesterday on concerns about its outlook,
Cisco
(CSCO) - Get Report
Cisco spent most of today on the upside, but it closed down, losing 1.1% to $18.13.Many large-cap stocks were trading higher, though.
Microsoft
(MSFT) - Get Report
rose 2.9% to $58.25,
Juniper
(JNPR) - Get Report
gained 0.5% to $52.74, and
Intel
(INTC) - Get Report
climbed 2.4% to $29.38.
Heading into the second quarter, the earnings outlook could not get much worse. Shares of
Vitesse Semiconductor
(VTSS)
, for example, dropped 16% to $29.06 after it warned after the close Monday that its second-quarter revenue and earnings forecasts were, perhaps, a bit ambitious.
And
TranSwitch
(TXCC)
slid 20.3% to $15.12 after it joined the list of repeat offenders on the warning front, lowering its first-quarter earnings
guidance for the second time in a month.
Market Internals
Back to top
Most Active Stocks
Back to top
International
European markets rallied for a third straight day. London's
FTSE 100
, which hit a 29-month low last Thursday, was climbed 152 points, or 2.7%, to 5728. Across the channel, the Paris
CAC 40
gained 111, or 2.2%, to 5236 and Frankfurt's
Xetra Dax
rose 211, or 3.7%, to 5938.
The euro was lately trading at $0.8980.
Asian markets pulled back severely after recent gains. Hong Kong's
Hang Seng
index, which finally rallied back from 17-month lows Monday, gave back most of its gains overnight. The index closed down 1.9%, or 242.6 points, to 12,707.9. Tokyo's beleaguered
Nikkei 225
dropped 224.0 points, or 1.6%, to 13,638.3.
The dollar was trading at 122.9 yen.
Back to top