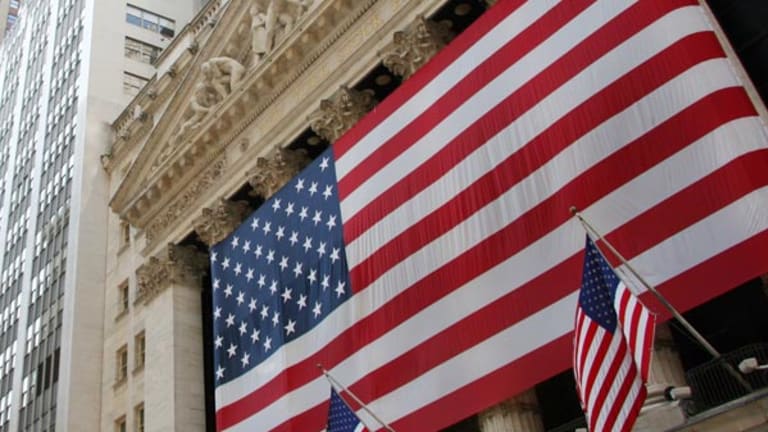 Tuesday's Market: Blue-Chips Eke Out a Gain
The Dow posts a late turnaround after languishing in negative territory all day.
Updated from 4:14 p.m. EDT
Blue-chips turned around in late trading to eke out a gain, after languishing in negative territory all day amid a weaker-than-expected consumer-confidence report.
After posting triple-digit losses during the day, the
Dow Jones Industrial Average ended up 0.9 point at 8368.94. The
Nasdaq Composite Index finished off 15.2 points, or 1.2%, at 1300.63, while the
S&P 500
slipped 8.08 points, or 0.9%, to 882.15.
Consumer confidence fell for the fifth straight month in October, coming in at 79.4, a level unseen since November 1993. That's lower than the 90.2 expected by analysts and the 93.3 mark set in September -- and another sign that the economic recovery could be stalling.
Blue-chips managed slight gains despite the bad economic news because of window dressing, said James DePorre, trader and
RealMoney
contributor. "If funds want to show investors they have the shares, they needed to get these trades done," he said. "It's definitely window dressing. Nothing is fundamentally different than it was this morning. A buy program probably kicked in, too."
"We had a disconnect recently between this straight-up rally and economic news that was not that good," said DePorre. "As so often is the case, the bulls got ahead of themselves. They wanted us to go straight up even though the fundamentals didn't warrant it. They would argue that all the bad news is already priced into this market, but there really isn't any compelling proof of that."
The negative economic news sparked a really in the Treasuries. The 10-year note gained 1 7/32, dropping its yield to 3.93%, while the two-year note jumped 8/32, yielding 1.76%.
With the disappointing confidence data on the books and speculation swirling that the Federal Reserve may cut the federal funds rate at its Nov. 6 meeting, all eyes are now on Thursday's release of third-quarter gross domestic product data and Friday's release of employment figures.
All the Fed talk is another sign that bulls have grown restless, looking for a new catalyst to spark a recovery. "The anticipated economic turn keeps getting pushed out, and every time the Fed does something it pushes it out further," said DePorre. "People really, really want to believe that we are close to the end of the worst, and I think we just don't know if that is the case or not."
Despite the near-term negativity, DePorre said he expects markets to rise over the next two months, if only because fund managers want to finish 2002 on an up note. "Funds and institutions and managers want this market to finish the year strong," he said. "But the big problem will be Iraq. That could kill us fast if it heats up more."
In corporate news,
Procter & Gamble
(PG) - Get Procter & Gamble Company Report
posted slightly better-than-expected profit on an 11% revenue jump. Meanwhile, finance company
CIT
(CIT) - Get CIT Group Inc. Report
posted lower-than-expected results due to investment losses. After dropping Monday, P&G was a notable bright spot, gaining 3.9% to $89.12, while CIT reversed earlier losses and gained 7.7% to $18.14.
In a research note Tuesday morning, Lehman Brothers lowered its outlook on the food and retailing group, cutting its rating to negative from neutral, based on high valuation levels. Lehman cut its rating on
A&P
(GAP)
and
Fleming
(FLM) - Get First Trust Global Engineering and Construction ETF Report
, two companies Lehman says were poorly positioned to deal with a consumer pullback. A&P dropped 3.9% at $6.22, while Fleming lost 1.8% to $6.49.
Elsewhere,
Campbell Soup
(CPB) - Get Campbell Soup Company Report
was cut to underperform from neutral at CSFB, which said the soup maker faces a "long winter" if business at its core soup business doesn't improve. The brokerage set a new price target of $20, which is below Monday's close of $21.63. In Tuesday's session, Campbell dropped 0.7% to $21.49.
It appears that
more trouble is ahead for beleaguered
Imclone
(IMCL)
shareholders. On Tuesday, TheStreet.com reporter Adam Feuerstein reported that Erbitux, the company's cancer fighter, may be in danger of failing its European trials after testing showed it wasn't effective in helping colon cancer patients. Imclone slid 10.4% to $7.18.
Oxford Health
(OHP)
saw its earnings tumble because of a big charge related to the settlement of suits prompted by a high-profile 1997 profit warning. Excluding the item, earnings were about a penny better than estimates. Oxford added to Monday's selloff, slipping 4.9% to $38.38.
On Tuesday morning, a report said marketing execs from Warner-Lambert, now a part of
Pfizer
(PFE) - Get Pfizer Inc. Report
, tried to promote the epilepsy drug Neurotonin for an unapproved use back in 1997 instead of ordering additional clinical trials. The whiff of a new scandal sent investors scurrying from Pfizer stock, which fell 1% to $31.25.
In research notes,
King Pharmaceuticals
(KG)
was downgraded to hold from strong buy by Wachovia.
Watson Pharmaceuticals
(WPI)
was upped to strong buy from outperform by SG Cowen, which gave it a new price target of $35. The stocks moved in opposite directions, with King down 10.8% to $15.96 and Watson up 3.7% to $27.58.
Overall, both healthcare and pharmaceutical stocks were taking a beating. The
American Stock Exchange Pharmaceutical Index
was off 1.1%, while the
Morgan Stanley/American Stock Exchange HMO Index
was off 2.1%.
Meanwhile, a published report said the talks between
Prudential Financial
(PRU) - Get Prudential Financial, Inc. Report
and
Wachovia
(WB) - Get Weibo Corp Sponsored ADR Class A Report
about combining their brokerage operations have fallen through. The nascent discussions had reportedly involved a joint venture that would've rivaled
Merrill Lynch
(MER)
in its retail scope. Prudential ended down 2.6% to $28.73, and Wachovia was unchanged at $34.68.
Another drama in the securities industries continued, however, with reports that
Citigroup
(C) - Get Citigroup Inc. Report
Chairman Sandy Weill met last week with investigators from the National Association of Securities Dealers in their probe of Wall Street business practices. The meeting followed Weill's angry denial of reports last week that he'd broken ranks with the financial services giant after being told he was personally under investigation in the probe. There was no word on what was discussed at Friday's meeting. Citigroup ended up 0.8% to $36.60.
A report said
AOL Time Warner
(AOL)
Chairman Steve Case has privately raised the possibility of spinning off the America Online unit he founded almost 20 years ago and merged with Time Warner in January 2001.
The Wall Street Journal
said Case might just be blowing off steam after becoming the lightning rod for criticism about the merger's poor performance. AOL dropped 1.6% to $14.44.
Cisco
(CSCO) - Get Cisco Systems, Inc. Report
slid 2.8% to $10.60 after being dropped to market perform from buy at CE Unterberg Towbin because of valuation and concerns that estimates will be reduced when the company reports earnings next week.
Meanwhile,
Micron Technology's
(MU) - Get Micron Technology, Inc. (MU) Report
earnings estimates were raised by Bear Stearns due to higher DRAM prices, but its stock fell 4.5% to $16.09.
Investors didn't stop with Micron, however. They sold off other rivals in the semiconductor industry as well, dropping the Philly Chipmakers 3.1%.
Intel
(INTC) - Get Intel Corporation (INTC) Report
dropped 2.4% to $16.40,
Applied Materials
(AMAT) - Get Applied Materials, Inc. Report
fell 5.1% to $14.35, while
Xilinx
(XLNX) - Get Xilinx, Inc. (XLNX) Report
dropped 5.1% to $18.09.
Overseas markets slid amid the stateside selloff. London's FTSE 100 dropped 3.8% to 3936, and Germany's Xetra DAX lost 5.5% to 3022. In Asia, Japan's Nikkei gave up 0.6% to 8709, while Hong Kong's Hang Seng fell 2.2% to 9635.
Despite a deluge of positive analyst calls, stocks fell on Monday, with the Dow losing 75 points, or 0.9%, to 8368.04, and the Nasdaq shedding 15 points, or 1.2%, to 1315.81. The one-day drop followed three weeks of gains and led some to worry the bear market was reasserting itself ahead of the GDP report later in the week and next week's Fed meeting.