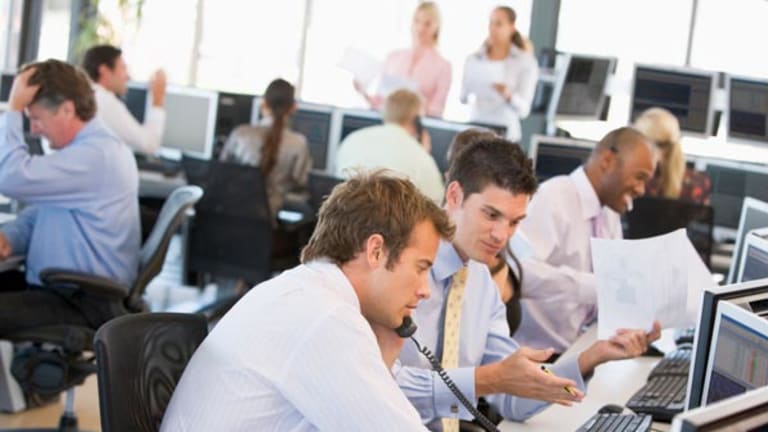 Tuesday's Market: After Monday's Rout, Stocks Close on Upbeat Note
Stocks managed to rally a day after their massive selloff, but many experts expect the reprieve to be short-lived.
Stocks managed to rally a day after their massive selloff, but many experts expect the reprieve to be short-lived.
A rally on the major stock market indices brought relief to Wall Street today. But experts doubt the reprieve will last very long.
On the heels of yesterday's 436-point loss on the
Dow Jones Industrial Average, the index -- which flip-flopped all day long -- rallied sharply into the closing bell. While the
S&P 500 index also finished up, the broader market measure is still more than 20% off its all-time high and therefore technically in bear-market territory.
"It's still a pretty dicey atmosphere," said Brian Belski, market strategist at
U.S. Bancorp Piper Jaffray
earlier in the day. "People aren't stepping in with both feet." Indeed, a lot of cash remained on the sidelines: Trading volume was light for most of the day.
Among the Dow stocks to close higher were
American Express
(AXP) - Get Report
,
J.P. Morgan Chase
(JPM) - Get Report
,
Hewlett-Packard
(HWP)
,
IBM
(IBM) - Get Report
and
General Electric
(GE) - Get Report
.
This morning, General Electric confirmed that it is comfortable with Wall Street's estimates for its fiscal first quarter; it also asserted that it will deliver double-digit growth in 2001. This news sent its stock up 6.9% to $42.33. Speculation that the company might miss analysts' forecasts brought GE's stock to a 52-week low yesterday.
As investors rotated out of certain defensive groups and into tech issues, shares of
3M
(MMM) - Get Report
,
Coca-Cola
(KO) - Get Report
and
Johnson & Johnson
(JNJ) - Get Report
became the biggest drags on the
blue-chip index.
The
Nasdaq Composite Index, which closed below 2000 yesterday for the first time since December 1998, finished up close to 5% and above the 2000 mark. Groups on the upswing included the
Philadelphia Stock Exchange Semiconductor Index
, which finished up 6.3%, the
Philadelphia Stock Exchange Computer Box Maker Index
, which gained 5.2%, and
TheStreet.com Internet Sector
index, which closed higher by 5.6%.
Beware the Bounce of March!
In the face of today's gains, market gurus advise investors to beware a sucker's rally, since there weren't any catalysts for today's bounce. "We are way oversold here, but the problem with yesterday's selloff is that there was no real volume -- not enough to convince anyone we've seen a real bottom in here," said Ray Hawkins, vice president of block trading at
J.P. Morgan Chase
earlier in the day.
As if the headlines from
Cisco
(CSCO) - Get Report
could get any worse. Just days after it set plans to slash up to 17% of its workforce, the networking giant
said it remains doubtful about its future.
"We are not seeing a turnaround," CEO John Chambers said this morning at the
Merrill Lynch
Global Investor conference in New York. Six weeks into the networking giant's fiscal third quarter, Chambers said, "We see the same slow growth we saw in January." Despite the comments, Cisco advanced 13.6% to $21.38 -- though its bad news was one of the catalysts for yesterday's plunge.
Elsewhere,
Motorola
(MOT)
said it's cutting 7,000 jobs in its cell-phone unit and taking a charge on its first- and second-quarter results. Motorola shares closed 1.6% higher at $15.20. Just yesterday, rival
Ericsson
(ERICY)
-- up 3.5% to $6.19 today -- said it would report a loss instead of a profit for its upcoming fiscal first quarter.
Still, the fact that some tech companies bounced off of bad news today gave a few Wall Street pros reason to be optimistic. "Arguably, we're closer to a bottom than we are to a top," said Art Hogan, chief market analyst at
Jefferies
. "After all, we came in to the day more than 60% off the Nasdaq's all-time-high."
In economic news, the
retail sales report for February, released this morning, confirmed that consumers curbed their spending significantly last month. The data help make the case for aggressive rate cuts to get the economy back on its feet. Indeed, the
fed fund futures contract, a good proxy for monetary policy, has fully priced in a 50 basis-point ease in the
fed funds rate at the
Federal Reserve's upcoming meeting on March 20.
On the mergers and acquisitions front, mobile-phone maker
Nokia
(NOK) - Get Report
-- ahead 2.8% to $22.05 -- announced it was selling two plants to contract manufacturer
SCI Systems
(SCI) - Get Report
. SCI ended higher by 12.4% to $18. And diversified conglomerate
Tyco
(TYC)
closed lower by 7.6% to $46.83 after it struck a deal to buy
CIT Group
(CIT) - Get Report
for about $9.2 billion. CIT ended up a whopping 36.8% to $31.13 on the news.
Market Internals
Back to top
Most Active Stocks
Back to top
International
As losses mount in the U.S., Japanese stocks are plunging to their weakest levels since 1985. The yen fell to a 20-month low against the dollar yesterday amid concerns the Japanese government will be unable to restore health to the country's sick economy. Adding to the weakness in the market, Japan's prime minister,
Yoshiro Mori
, who is widely blamed for the country's economic weakness, refused to resign as he was scheduled to do last weekend.
Asian markets were devastated again overnight, with the
Nikkei 225
sliding another 2.9% to a new 16-year low at 11,819.7, and the
Hang Seng
falling 2.06% to a new 16-month low.
European indices ended down. London's
FTSE
closed down 105.8 to 5721. Across the channel, the Paris-based
CAC
ended 55.5 lower to 5187 and the German
DAX
lost 84 to 5963.
For more on the world stock markets, check out
TheStreet.com's
global indices information.
Back to top