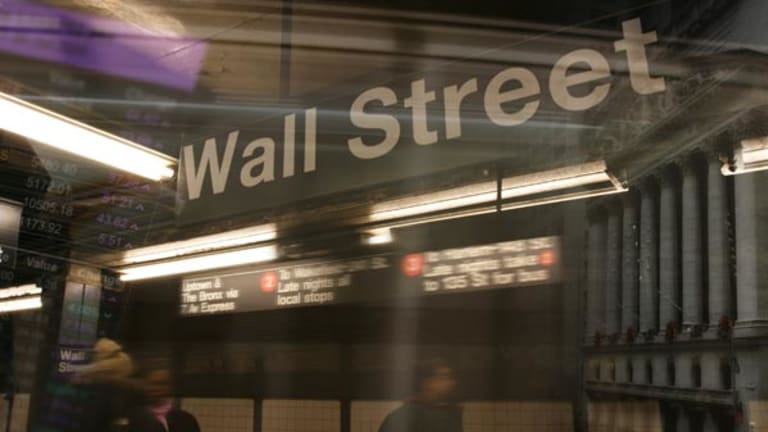 Three cheers for the market for pulling off a broadbased rally.
After a brief stint in the downside earlier in the day, the
Dow Jones Industrial Average and the
Nasdaq Composite Index spent the rest of the session on a steady incline and finished the day off session highs, but not by much.
Jay Meagrow, vice president of trading at
McDonald
, said the late-day trading action we've been seeing over the last week is a good sign for the market, especially for tech. He said instead of seeing tech stocks run up and then sell off as the day wears on, the stocks gain momentum going into the end of the day, which is showing that investors are having more faith that there's been a bottom and it's now a good time to jump back into the "riskier" stocks.
Another good sign is that investors are shrugging off some earnings news because they believe a stock's been beaten down enough or that the bad news has been written in already.
Meanwhile, the Dow had 20 of its components in positive territory, but only a few stood out, including Post-It note and Scotch-tape maker
3M
and chip-making giant
Intel
(INTC) - Get Intel Corporation (INTC) Report
.
American Express
(AXP) - Get American Express Company Report
came back after it fell on yesterday's earnings announcement that was in line with estimates, but was tempered with a warning that 2001 earnings would be at the low end of its current growth range. The stock was up 3.3% to $46.50.
Today's drag of the day for the index was pharmaceutical
Merck
(MRK) - Get Merck & Co., Inc. (MRK) Report
, which posted
fourth-quarter earnings in line with estimates, but
Merrill Lynch
came out and cut earnings forecasts and slashed its rating to accumulate from buy, saying Merck couldn't sustain the outperformance of the last two quarters. The stock dropped 3.3% to $79.56.
Its drug-making cohort
Johnson & Johnson
(JNJ) - Get Johnson & Johnson (JNJ) Report
slid 1.7% to $92.69, even though it
reported earnings that were a penny better than expected.
Elsewhere, the
New York Stock Exchange's most actively traded stock was
Texas Instruments
(TXN) - Get Texas Instruments Incorporated Report
, which in a post-close announcement yesterday announced earnings that
missed estimates by 2 cents. The stock was down 7.3% to $45.
Data storage company
EMC
(EMC)
got a well-deserved pop on word that its fourth-quarter earnings rose 49%, beating estimates. The stock was up 4% to $79.56.
On the Nasdaq, the star was
Openwave
(OPWV)
, a communications software provider, which was 24.4% higher to $66.25 after it posted a quarterly operating profit ahead of schedule and lifted its forecasts for this year's earnings. Openwave was formed through the merger of Phone.com and Software.com. It was rewarded with a stream of analyst notes raising its estimates.
Also, grabbing some of the positive investor attention was
Vitesse Semiconductor
(VTSS)
, which climbed 12.8% to $75.88, after it reported better-than-expected earnings, despite a slowdown in orders from some large customers.
And business software buddies
Ariba
(ARBA)
and
Commerce One
(CMRC)
made some nice gains today in the tech comeback. Ariba jumped 13.6% to $41.81, while Commerce One marched 19.4% higher to $31.94.
Back to top
Market Internals
Breadth was great on heavy volume.
New York Stock Exchange: 1,973 advancers, 881 decliners, 1.226 billion shares. 134 new 52-week highs, 4 new lows.
Nasdaq Stock Market: 2,393 advancers, 1,456 decliners, 2.24 billion shares. 91 new highs, 18 new lows.
Back to top
Most Active Stocks
NYSE Most Actives
Texas Instruments: 30.7 million shares. Lucent (LU) : 28.2 million shares. AOL Time Warner (AOL) : 25.1 million shares.
Nasdaq Most Actives
Back to top
Sector Watch
Merrill Lynch
(MER)
posted fourth-quarter earnings that
beat estimates. It rose 6.5% to $80 on the news, in turn it lifted the
American Stock Exchange Brokers/Dealers Index
1.9%.
The
Philadelphia Stock Exchange Computer Box Maker Index
was up 1.1% after it got socked yesterday by
Dell's
(DELL) - Get Dell Technologies Inc Class C Report
warning that it would miss fourth-quarter estimates. Dell's news hit its fellow components, but today they were being nursed back to recovery. Dell moved up 3.4% to $26.38.
Energy stocks bounced today. The
Philadelphia Stock Exchange Oil Service Index
rose 2.1%. The
American Stock Exchange Natural Gas Index
was up 2.8%, and the
American Stock Exchange Oil & Gas Index
inched up 0.7%.
Back to top
Bonds/Economy
Treasuries failed to rally for a second-straight day after rumors surfaced that the Fed was still contemplating a 25-basis point cut, not the 50 that Wall Street is banking on. In the last couple of weeks, all this Fed speculation has shifted about wildly. The February
fed funds futures contract, traded on the Chicago Board of Trade, factors in an 86% chance that the Fed cuts rates by 50 basis points at the end of the month. That's a slip of nearly 10 percentage points from earlier this morning. Last week, that percentage was as low as 50%.
Institutional investors await critical economic developments due later this week. The increase in note and bond prices this morning, which broke a trend of the last two business days, is primarily due to adjustment of overbought positions and trading 'within the range'. The markets will have more to react to in a couple of days when employment data and the latest comments by
Federal Reserve chairman
Alan Greenspan become public. Bond prices were also lifted a bit after the Bank of Canada lowered interest rates by 25 basis points. The yield curve remains steep, with the difference between the 2-year note and the long bond yields about .8%.
The benchmark 10-year
Treasury note lately was down 14/32 to 103 14/32, lowering its yield to 5.287%.
In economic news, the
BTM-UBSW Weekly Chain Store Sales Index
(
definition |
chart ) fell 0.7% in the week ending Jan. 20, after a 0.3% drop in the prior period. The loss is attributed to adverse weather on Saturday, considered the week's strongest shopping day, as well as to people staying home to watch the presidential inauguration. The year-to-year sales average is healthier with a 3.1% growth, though it is lower than the 4.9% recorded twelve months ago.
The
Redbook Retail Average
(
definition |
chart ) found January sales running 2.4% ahead of December, narrowly exceeding a target of 2.3%. They were also 3.4% ahead of the previous January. However, this is the month when stores clear inventories, so most of the current sales will probably result in low profit margins. A more accurate reading of consumer spending will be obtained by the second quarter of this year, after the proposed tax cuts, interest rate corrections and rounds of mortgage refinancing have been completed.
Back to top
International
European markets were mixed at the end of trading. London's
FTSE
fell 17 to 6215. On the continent, Paris'
CAC
dropped 43 to 5840, while Germany's
Xetra Dax
jumped 47 points to 6722.
The euro last crossed the tape at $0.9351, while the yen traded at 116.60.
Fukushiro Nukaga, Japan's Economics Minister, resigned his office this morning after a bribery scandal. But Japanese markets were more interested with tech earnings and American markets. And so Japan ended softer, with the benchmark
Nikkei 225
slipping 47.76 to 13,984.66. Yesterday's weakness in technology in the wake of the
Dell
(DELL) - Get Dell Technologies Inc Class C Report
warning helped sink the Nikkei for much of the trading day. And when the news of Texas Instruments' earnings miss hit, the day was guaranteed to be a loser.
The Hong Kong
Hang Seng
dropped 55.06 to 16044.21.
Back to top