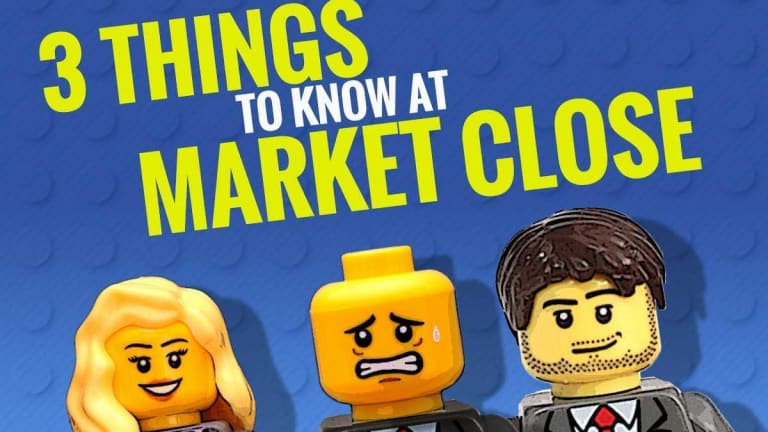 Tuesday Turnaround: Fed Up With the Fed Yet?
The Fed, China and Oracle are a couple of the hot topics on TheStreet.
Is it Friday yet?
Here's what you're missing on TheStreet. 
Stocks ended in positive territory after a volatile Tuesday trading session that saw the Dow rise and fall by hundreds of points. The turbulence came after Monday's sharp selloff, as investors battled with slowing economic growth and rising political uncertainty.
The Dow Jones Industrial Average rose 278 points, or 1.18%, to 23,871, only to later give up its hard-fought gains and fall into the red. The Dow later battled back to end the day up 82 points, or .35%. The S&P 500 surrendered earlier gains and escaped falling into the red by less than a quarter of a point, while the Nasdaq rose 30 points, or 0.45%.
Investors on Tuesday were looking to this week's Federal Reserve meeting to help steady nerves amid one of the worst Decembers on record for U.S. equities. President Donald Trump, in a tweet Tuesday, implored the Fed again not to raise interest rates for the fourth time this year.
Jim Cramer's Take on the Fed
Cramer wrote about the economic slowdown in his afternoon column for Real Money. 
He posed a question ahead of the Fed's decision on rate hikes, which will be announced Wednesday, Dec. 19: Who is more at fault for the slowdown in the U.S? Is it President Trump for his policies or is it the Fed for its rate hike policies? 
"This question is being debated now and, while I am not dismissive of it, I do have to point out that the president's major accomplishment to date is to cut corporate taxes and that has unleashed a solid amount of growth, so solid that it has allowed him to fight back against the Chinese who have systematically been stealing our jobs and our intellectual property and even our military secrets," wrote Cramer.
"It's a bit of a quid pro quo with the president. He's made lots of companies and execs richer so now they have to pay the price of both sovereignty and hegemony. I think you have to recognize that there has been a major power shift with China becoming a powerful force globally and China is, in the end, a Communist dictatorship that has crushed dissent and routinely imprisons those who have spoken out against the government," he continued. They are not a friend of our nation yet our imports have financed their egregious methods and it is time that someone stood up to them."
Curious about what else Cramer has to say? You can find his columns on Real Money.
The Takeaways From Oracle 
TheStreet'sEric Jhonsa covered the Oracle (ORCL) - Get Report earnings and brought his takeaways to the table.
After the bell on Monday, Oracle reported November quarter (fiscal second-quarter) revenue of $9.56 billion (flat annually and up 2% in constant currency) and non-GAAP EPS of $0.80. Revenue was slightly above a $9.52 billion consensus; EPS, benefiting from stock buybacks and a slightly better-than-expected tax rate, topped a $0.78 consensus.
On the earnings call, co-CEO Safra Catz guided for February quarter revenue to rise 2% to 4% in constant currency (CC), with forex acting as a 4% headwind. That implies revenue will be flat to down 2% in dollars, compared with a consensus for roughly 1% growth. EPS is expected to be in a range of $0.83 to $0.85, which is in-line with an $0.84 consensus.
Oracle also reiterated that its expects its fiscal 2019 (ends in May 2019) EPS to grow by a double-digit percentage in CC, and that its CC-based fiscal 2019 revenue growth will exceed fiscal 2018 growth of 3%.
Oracle isReal Money's stock of the day. 
Jhonsa lists out five takeaways that he had from the company's earnings report. One of his takeaways was Oracle's eagerness to buy back stock. 
A quarter after spending $10 billion to buy back 212 million shares, Oracle spent another $10 billion to buy back 203 million shares. Catz noted that Oracle's buybacks have lowered its share count by over 12% during the last 12 months.
China's Regulatory Stance on Autos Has Changed
TheStreetcontributor Bret Kenwell takes a look at China's regulatory stance on autos. 
As auto sales continue to slump in China, the country is starting to overhaul its regulatory stance.
China's auto market has been in an unrivaled growth phase, experiencing two decades worth of growth. Sales were doing OK earlier in the year, but have really accelerated lower in the second half of 2018. Like in the U.S., SUVs tend to be a strong spot for Chinese auto sales. However, they fell 10.9% in September, slightly better than the overall 11.6% drop in new vehicle sales. 
In October, total vehicle sales in China decelerated even more, falling 13% before plunging 19% in November.
Tesla (TSLA) - Get Report was quick to cut prices in China in response to the country's move. Perhaps an influx of auto imports will help repair some of the drop in sales. However, China isn't stopping there. Even amid this slowdown, the country is not allowing new independent enterprises that only make traditional combustion engines to set up shop. Instead, it's pushing for companies that embrace new energy vehicles. For instance, look at China's Nio (NIO) - Get Report , which began production of its all-electric car earlier this year and went public on the NYSE in September.
The country has also agreed to a more relaxed approach to joint venture partnerships in the automotive space.
Previously, a 50/50 ownership deal was required for an automaker to set up operation in China. Companies like GM and Ford operate under this arrangement, but others are looking for more. BMW plans to increase its JV ownership stake from 50% to 75% in 2022, when foreign ownership caps lift.
For electric vehicle makers, though, China is lifting those requirements next year. This allows a company like Tesla to pursue its factory in Shanghai without having to find and work with a joint venture partner. It could also lure in other automakers focusing on increasing their electric vehicle market share. On Jan. 10, the country will implement its simplified approval process regarding joint venture arrangements.
'Till tomorrow.