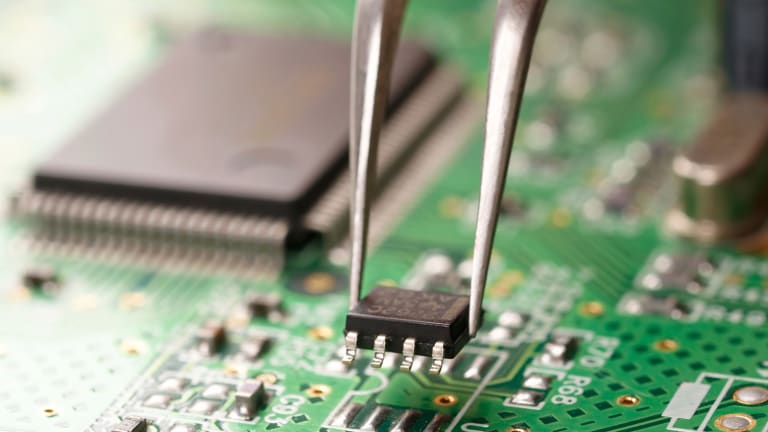 TSMC Trims Full Year Sales Forecast as Crypto Mining, Smartphone Demand Wanes
TSMC cuts its 2018 sales forecast for the second time this year amid slowing demand for its crypto currency mining chips and the ongoing slump in global smartphone sales.
Taiwan Semiconductor Mfg. Co. Ltd., (TSM) the world's biggest contract chipmaker and a leader supplier for Apple Inc. (AAPL) iPhones, trimmed its full year revenue forecasts Thursday, citing a slowdown in cryptocurrency mining and waning smartphone demand.
TSMC said it sees full year sales rising in the low single-digit rage, following a previous forecast of 10% and a January estimate of as much as 15%, as digital currency miners reduce the purchase of new chips amid a broader regulatory crackdown on cryptocurrency trading. TSMC also noted that the proportion of its $7.85 billion in second quarter sales to smartphone manufacturers fell by 10 percentage points to 48%. 
"Our second quarter business was mainly impacted by the mobile product seasonality, while the continuing strong demand from cryptocurrency mining and a more favorable currency exchange rate moderated the mobile softness," said TSMC CFO Lora Ho. "Moving into third quarter 2018, we anticipate our business will benefit from new product launches using TSMC 7-nanometer technology while cryptocurrency mining demand will decrease from second quarter."
TSMC still manged to book a 9% rise in profits for the three months ending in June, as sales rose 11%, but the softer full-year outlook adds to some mixed signals for the global tech industry.
Yesterday, for example, ASML Holding NV (AMAT) , a Dutch chipmaker who's components find their way into tech products all over the world and is widely considered a key benchmark for sector demand, posted stronger-than-expected second quarter earnings and boosted it full year outlook. 
ASML also said it's on track to ship 20 of its extreme ultraviolet lithography system, or EUV, machines which design complex chips used by, among others, Samsung Electronics and Taiwan Semiconductor. ASML said its current backlog for EUV machines, which sell for around €30 million each, should allow it to deliver around 30 units next year.
Earlier this month, Samsung Electronics (SSNLF) forecast its slowest profit growth in a least a year as global smartphone demand slows and competition from low-cost rivals intensifies, suggesting the Apple rival may miss full year sales targets.
Strategy Analytics, a closely-watched industry benchmark, sees global handset sales only rising by 1.4% by the end of the year to 1.49 billion units, although 5-G network rollouts in 2019 and beyond should reignite appetite in the near-term.
Apple will publish its fiscal third quarter earnings on July 31, with investors looking for the Cupertino, Calif.-based group to meet or beat its $51.5 billion to $53.5 billion revenue guidance with a gross margin of between 38% and 38.5%. Apple shifted 52.2 million handsets in it previous quarter, a figure which translated into $61.1 billion in revenue and a $728.30 average selling price.