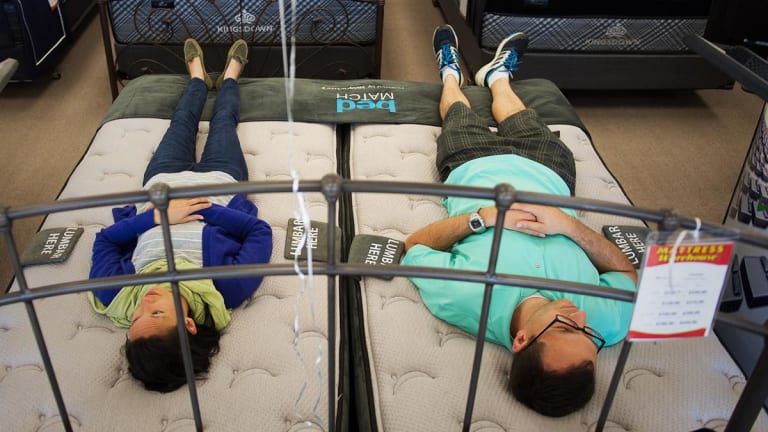 Trump's Trade War With China Is Starting to Hit Consumers - in the Bedroom
A new report from the Labor Department shows that consumer prices for goods and services rose by 2.2% over the past year, in an indication that businesses are starting to pass along higher costs from tight labor markets and trade tariffs imposed on Chinese imports. Some of the biggest price increases have come from furniture and bedding products.
Better take this lying down: President Donald Trump's trade war with China is pushing up U.S. bedding prices. 
A government report Tuesday showed that prices for U.S. consumer goods and services, excluding food and energy items, rose 2.2% over the past year, the fastest pace in eight months.  
The price increases were partly a result of the unusually tight U.S. labor market, according to Pantheon Macroeconomics, a forecasting firm. With the national unemployment rate at 3.7%, close to its lowest in a half century, businesses are having to increase wages to hire and keep qualified workers, and they're in turn raising prices on consumers to recover the added costs.
But, according to economists at Goldman Sachs, the latest report indicates that shoppers are also starting to feel the impact of Trump's efforts to shrink the U.S. trade deficit with China, including tariffs and other duties that are getting passed along by importers in the form of higher end prices.
Some of the fastest increases over the past year have come from the furniture and bedding industries, where consumer prices have jumped 3.9% as the Commerce Department imposed anti-dumping duties on Chinese-made mattress imports. 
"The tariffs are pushing up inflation a little bit, and it's more likely than in past instances that this will prove durable," Eric Winograd, senior economist at the $581 billion money manager Alliance Bernstein, said in a phone interview.
Trump, who is running for re-election president in 2020, saids his efforts to reduce the U.S. trade deficit with China will benefit domestic manufacturers, helping to stimulate the economy and create jobs. But the recent indications of rising inflation highlight the risks for the president, since some of his administration's new duties might end up socking U.S. voters with a higher cost of living. 
Indeed, U.S. stocks jumped Tuesday after the office of U.S. Trade Representative Robert Lighthizer announced that the White House will delay tariffs on some of the $300 billion of Chinese imports that haven't already been tagged. Trump had threatened via tweet earlier this month to impose duties on all of the remaining imports from China, as soon as Sept. 1.
Perhaps most notably, tariffs were delayed until Dec. 15 on cell phones, laptops, video game consoles, toys, computer monitors and certain items of footwear and clothing -- leaving retailers time to stock shelves for the busy end-of-year shopping season. 
The move will "keep price hikes of some popular consumer items down before the holidays," said Scott Anderson, chief economist at San Francisco-based Bank of the West, a unit of the French bank BNP Paribas.
According to the U.S. Bureau of Labor Statistics, which produced the latest inflation data, the July consumer-price increases were "broad-based," with increases in shelter, medical care, airline fares, household furnishings and operations, apparel and personal care.
Ian Shepherdson, Patheon's chief U.S. economist, wrote Tuesday in a report that the surge in furniture and bedding prices, along with a 6% gain over the past year in floor coverings, "are tariff effects, and offer a taste of what would happen if the administration imposes tariffs on a wide range of imported Chinese consumer goods next month."
A study earlier this year by the Federal Reserve Bank of New York found that Trump's initial wave of tariff increases on China last year imposed about $419 of elevated annual costs on the average U.S. household, due to higher prices for imported goods and services. Additional tariff increases were estimated to cost another $831 a year.
So far, the pace of inflation remains low by historical standards, so the recent uptick isn't likely to derail the Federal Reserve from further interest-rate cuts later this year, said Ben Ayers, senior economist for Nationwide, the insurance company.
Typically, the Fed cuts interest rates to provide stimulus when the economy is sagging and inflation is subdued, and it raises rates when activity is heating up and consumer prices are creeping higher. Fed officials have cited low inflation as a reason for cutting interest rates, even though the U.S. economy still appears to be on a solid footing.  
"The tariff thing might have more of a short-term impact" on inflation, Ayers said in a phone interview, "whereas the normal tightening of the labor market might be more of a sustained thing that would push us up from here."
Among the Trump administration's crackdown on trade with China, the Commerce Department in May imposed preliminary anti-dumping duties on Chinese mattress imports, after complaints were brought by U.S. competitors including Carthage, Missouri-based Leggett & Platt (LEG) - Get Free Report .
Duties range from 69% to 1,732%, which should "allow domestic mattress producers to compete on a more level playing field," Karl Glassman, Leggett & Platt's CEO, told investors on a July 30 conference call.
Ryan Trainer, president of the International Sleep Products Association, a trade group representing the mattress industry, said any upward price pressures from the duties are likely to be blunted by competition, since some U.S. manufacturers have spare production capacity, while many importers are already shifting to alternative suppliers in places like Malaysia or Vietnam.
"It's not like we've built a wall around the United States and now everyone can jack up prices," Trainer said in a phone interview. 
Plus, he said, it's unlikely that higher mattress prices would have much of an impact on consumer wallets on a day-to-day basis: The average replacement cost is about nine years.
Prices could look a lot different by then.