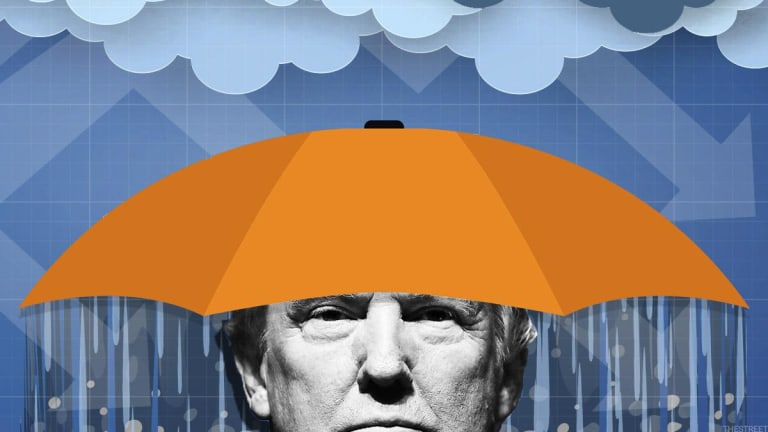 Trump's Trade War Escalation Rattled Individual Investors, Wells Fargo Says
A survey of individual investors with more than $10,000 in stocks, bonds or mutual funds shows optimism plunged early this month by the most in three years. The primary driver was a drop in U.S. stocks, triggered by President Donald Trump's escalating trade war with China and a recession warning from the bond market.
President Donald Trump's escalation of his trade war with China and recent price drops in the U.S. stock market have rattled confidence among individual investors, dropping optimism levels to the lowest point since his surprise election in late 2016, a new report showed. 
Wells Fargo, the San Francisco-based bank, said Thursday that its Investor and Retirement Optimism Index fell to a third-quarter reading of 72, down by 15 points from the second quarter, the biggest drop in more than three years. The index is now well below the peak of 117 reached in the fourth quarter of 2017, when Trump succeeded in pushing through his $1.5 trillion tax-cut plan.
Investor sentiment could prove crucial as Trump tries to stem a projected slowdown in the U.S. economy, especially with the presidential election looming next year. Recent surveys have shown that the trade war already has dampened sentiment among business executives and consumers alike.
Economists say that low confidence in the economic outlook can become a self-fulfilling prophecy -- potentially leading to a drop in the pace of business investment, consumer spending or stock-market enthusiasm. 
The survey of 2,091 investors, who all had at least $10,000 in stocks, bonds or mutual funds, was conducted Aug. 5-11, so it offers a glimpse of the change in sentiment in the days after Trump ratcheted up his China trade war with threats of new tariffs and days later labeling the Asian country as a currency manipulator.
On Aug. 5, the Dow Jones Industrial Average of blue-chip stocks tumbled by 767 points, at that point the most in nearly 10 months. On Aug. 14, the index registered an even bigger drop, of 800 points, and it's now 4.4% off the record high reached in July.  
"Investors were rattled by the market decline at the start of the month, including a nearly 800-point drop in the Dow at the start of the survey period," Andy Byer, head of Client Service and Advice for Wells Fargo Advisors, said in a press release from the San Francisco-based bank. 
According to Wells Fargo, the index was set with a baseline score of 100 when it was established in October 1996. The index peaked at 152 in January 2000 amid the dot-com boom and hit a low of minus 81 in February 2009, after the financial crisis.
The survey could provide clues on how dramatically the developments on the trade front may have changed the calculus at the Federal Reserve as policymakers led by Chair Jerome Powell debate whether to cut interest rates next month to stimulate the economy. 
Minutes released Wednesday from the Fed's July 30-31 meeting -- just before Trump's renewed threats and the ensuing market volatility -- showed that officials viewed investors at the time as feeling upbeat, despite signs of an imminent global economic slowdown.
Officials noted "somewhat reduced concern among market participants about important risks to the global outlook," the minutes read. And investor sentiment was "bolstered" by news that Trump and Congress had reached a budget agreement that "if passed, would remove another source of risk later this year."
Powell is scheduled to deliver a speech Friday on monetary policy "challenges," part of a multi-day annual Federal Reserve symposium held in a national-park building near Jackson, Wyoming. The public appearance will be his first since his July 31 press conference.  
Trump, who is running for reelection in 2020, has repeatedly criticized the Fed and Powell specifically for setting interest rates too high and "holding us back." On Wednesday the president added that he was "the chosen one" to tackle the U.S. trade deficit with China since previous administrations had ignored the problem. 
"You know what?" Trump told reporters, according to CNBC.com. "We're winning."
Based on the latest survey results, though, a growing number of investors don't see it that way.