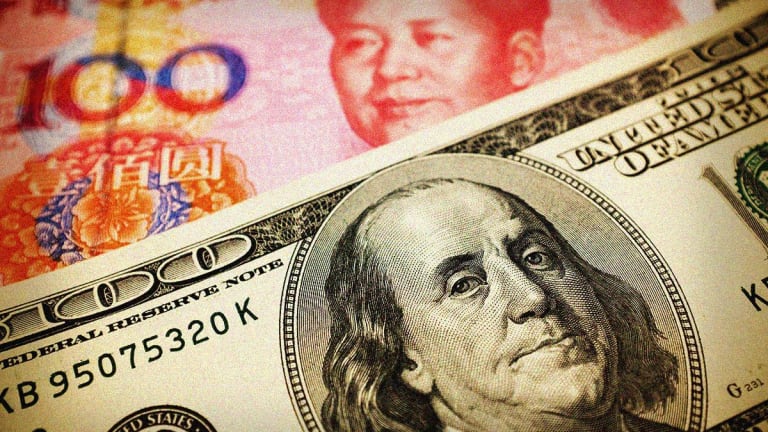 Trump's New China Tariffs Costing U.S. Families $831 a Year, New York Fed Says
President Donald Trump has escalated his trade war with China over allegedly unfair practices. But guess what else is escalating? American consumers' costs for goods imported from China.
Tighten up the belts! President Donald Trump's China tariffs are coming!
The Trump administration's new duties on Chinese imports -- part of an effort to combat China's allegedly unfair trade practices -- are expected to ricochet back onto American consumers, according to a new study from the Federal Reserve Bank of New York's research department.
The researchers estimated that importers will simply raise their end prices to recoup the extra tariff payments, boosting annual costs for the average U.S. household by $831 a year.
The estimate incorporates the tariffs imposed by the Trump administration last year as well as additional duties announced earlier this month, when talks stalled between the U.S. and Chinese negotiators trying to resolve the trade dispute.    
"These higher tariffs are likely to create large economic distortions," the researchers wrote on the New York Fed's website. The estimates were prepared by Mary Amiti, an assistant vice president in the bank's research department, along with Stephen Redding, an economics professor at Princeton University, and David Weinstein, an economics professor at Columbia University.
Economists are scrambling to analyze the potential effect of Trump's trade war on U.S. consumers, especially since the president has touted them as a way of raising new revenue for the Treasury Department.
Stock markets reeled earlier this month when Trump announced the plan to increase the tariff rate on some $200 billion of Chinese imports to 25% from 10%.
According to the New York Fed post, Trump's initial wave of tariff increases on China last year imposed about $419 of elevated annual costs on the average U.S. household due to higher prices for imported goods and services. So Trump's latest round of tariffs roughly would double that amount. 
The higher costs in 2019 could essentially wipe out the benefit many American households received from Trump's late-2017 tax cuts. According to the bipartisan Tax Policy Center, middle-income households paid about $800 less in taxes due to the legislation. 
And the costs to consumers could go even higher if Trump follows through with threats to impose additional tariffs on Chinese imports if the trade talks don't advance to the administration's satisfaction.  
A separate study from the research firm Trade Partnership Worldwide showed recently that an average U.S. family of four's elevated costs could increase to roughly $2,300 if Trump follows through with his threat to impose a 25% tariff on all remaining imports from China. 
That study was funded by a consortium of farmers and industry groups representing big retailers like Walmart (WMT) - Get Walmart Inc. Report and Macy's (M) - Get Macy's, Inc. Report ; the farmers are worried about retaliation from China, while the retailers fret over a profit squeeze.
For what it's worth, according to the New York Fed-led study, the recently imposed tariff increase could actually reduce the amount of extra payments going into the Treasury Department. 
Based on last year's tariffs, there was an extra $36 billion annually going into the Treasury, the researchers wrote. But that amount will likely fall to about $27 billion because the higher tariffs will push importers to instead eschew Chinese exports in favor of goods from other countries like Vietnam, which isn't a target of the Trump tariffs, according to the study.
Of course, the numbers are essentially rounding errors in U.S. government finances, where annual budget deficits are pushing $1 trillion a year, ballooning the national debt past an already lofty $22 trillion.