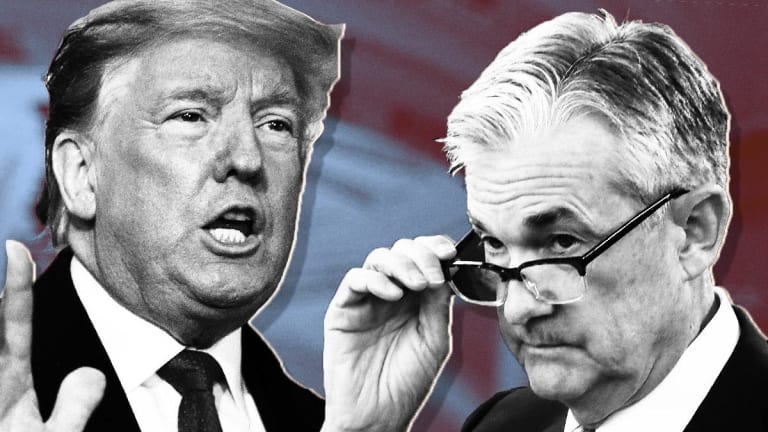 Trump's Call for Federal Reserve Stimulus Undermined by Strength of Own Economy
President Donald Trump has repeatedly criticized his own Federal Reserve chair, Jerome Powell, for keeping U.S. interest rates too high, despite a projected slowing in the economy. Yet a Labor Department report Friday showed that U.S. jobs growth continued at a strong pace in June, prompting some economists to assert that drastic monetary stimulus isn't warranted.
President Donald Trump's economy continues to be a jobs-creating machine. And that's why a growing number of economists are pushing back against the president's call for steep interest-rate cuts by the Federal Reserve.
The Labor Department on Friday reported that the economy created 224,000 new jobs in June, triple the rate in May and far exceeding economists' forecast for an increase of 160,000 jobs.
And while average monthly U.S. jobs growth has slipped to about 172,000 this year, from about 200,000 during the first two years of Trump's presidency, the pace is still considered sufficient to keep U.S. unemployment rate close to a half-century low. As of June, the unemployment rate stood at 3.7%, down from 4.7% in January 2017 when Trump took office. 
U.S. growth in gross domestic product is projected to slow to 2.5% this year, from 2.9% in 2018. But the economy, despite being in expansion mode for more than a decade, the longest such stretch in U.S. history, is still nowhere near slipping into a recession -- the dreaded scenario that has prompted a growing number of investors to call for a proactive interest-rate cut by the Federal Reserve.
Chris Gaffney, president of world markets at TIAA Bank, said in e-mailed comments on Friday that the strong jobs report should reduce pressure on the Fed to move aggressively. Typically, the Fed cuts rates to stimulate growth when there's a danger of a recession, while increasing them or holding them steady when the economy appears on a firm footing.  
Trading in futures contracts on Federal Reserve funds implies a near-certainty among investors that the central bank will cut rates by at least 0.25 percentage point at their next meeting, scheduled for July 30-31. Yet some investors had expected an even deeper reduction, with a 27% chance of a 0.5 percentage-point cut.
"The strong June payroll number took the possibility of a 0.5 percentage-point cut off the table," Gaffney wrote in e-mailed comments. "There is definitely less urgency for the Fed now that May's poor jobs report was shown to be a blip and not a trend."
Economists at Bank of America wrote Friday in a report that they don't believe the Fed will cut rates at all at its meeting later this month -- a remarkable out-of-consensus call by the second-biggest U.S. bank.
They argued that Powell could use his semiannual testimony before U.S. Congress, scheduled for next week, to bolster the case for keeping the official U.S. interest rate in their current level of 2.25% to 2.5%.  
"If the data does not warrant a cut, how can Powell still justify easing?" the Bank of America economists wrote. "If Powell wants to push back against market pricing, he can make the case that the data have been better than expected."
Indeed, the Standard & Poor's 500 Index slipped 0.4% on Friday, as traders pared their expectations for lower interest rates. Higher borrowing costs usually reduce corporate profits, pressuring stock prices.
And shares of U.S. banks like JPMorgan Chase (JPM) , Bank of America and Goldman Sachs (GS) , which had fallen about 4% over the past month as speculation mounted that the Fed would cut interest rates steeply, rallied on Friday. Lower interest rates tend to reduce banks' lending profits, since they can't charge as much for loans.
The dollar strengthened Friday against major global currencies, since higher-than-expected interest rates should spur greater demand for Treasury bonds and other assets denominated in the U.S. currency.
Trump has extended the current economic expansion, which started following the 2008 financial crisis and ensuing recession, by pushing through a $1.5 trillion tax-cut package in late 2017 and rolling back regulations on banks and other industries. 
The president promised to create "millions and millions" of jobs, and he's delivered on that promise: The number of employed people in the U.S. has increased by about five million since the end of 2016 to 157 million, Labor Department data show. 
Yet Trump's trade war with China has rattled investors, who worry that retaliatory tariffs could stymie oversees sales by big U.S. exporters such as bulldozer-maker Caterpillar (CAT) while driving up costs for retailers like Walmart (WMT) that rely heavily on Chinese imports.
According to a recent slew of economic reports, the uncertainty caused by the trade war has also prompted many businesses to delay or cancel planned investments in factories, equipment, technology and personnel.   
Trump and other administration officials, including Treasury Secretary Steven Mnuchin, had argued in 2017 that the tax cuts would spur annual long-term growth of 3% or higher. Yet such promises have failed to materialize.   
So despite the respectable strength of the economy, Trump has blamed the Federal Reserve for failing to deliver interest rate cuts that might lead to even faster growth.
The president argues that the U.S. economy could be expanding at a 5% rate if interest rates were lower.
In recent months, Trump has repeatedly called for the Fed to cut rates steeply, writing in a June 24 tweet that the Federal Reserve "doesn't know what it is doing." The president told Fox Business Network in an interview last month that he "made" Powell by appointing him to lead the Federal Reserve in early 2018, but that the central bank "doesn't do anything for us." 
Powell, for his part, has said in press conferences and interviews that the Fed, under its Congressional mandate, is independent of political pressure. Even so, he and colleagues have signaled a willingness recently to cut rates or even take the drastic step of printing more money to prevent the U.S. from slipping into recession.  
Yet Trump's economy, as evidenced by the latest data on jobs creation, appears strong enough to avoid the need for steep rate cuts, according to Oliver Blackbourn, a portfolio manager at the $357 billion money manager Janus Henderson (JHG) . 
In e-mailed comments following the jobs report on Friday, Blackbourn wrote that investors "all but price out the probability of a double interest rate cut from the Federal Reserve in July." 
"Recession risks may start to look overpriced," Blackbourn wrote. "We have been through this a couple of times in this cycle already, and each time the U.S. consumer, which forms the backbone of the economy, has held up."
Save 57% with our July 4th Sale. Join Jim Cramer's Action Alerts PLUS investment club to become a smarter investor! Click here to sign up!
JPMorgan Chase, Goldman Sachs and Caterpillar are holdings in Jim Cramer'sAction Alerts PLUS Charitable Trust Portfolio. Want to be alerted before Cramer buys or sells these stocks? Learn more now.