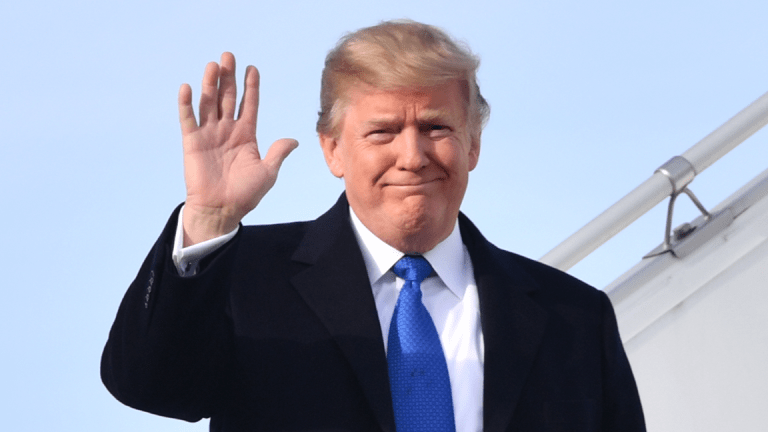 Trump: U.S. Economy Can Grow 'Much Higher' Than 3%
President Trump tells CNBC that the U.S. economy can grow 'much higher' than 3% and insisted that cutting regulations was 'every bit as important' as his $1.5 trillion tax overhaul.
President Donald Trump said the U.S. economy could grow "much higher" than its current rate and that cutting regulations has allowed as much as $4 trillion in new overseas investment.
Speaking during an interview with CNBC television at the World Economic Forum in Davos, Trump responded to comments from JPMorgan & Chase Co. (JPM) - Get Report CEO Jamie Dimon and Goldman Sachs Group Inc.  (GS) - Get Report CEO Lloyd Blankfein that suggested a 3% GDP growth rate for the U.S. economy was possible this year.
"Jamie's become very positive," Trump said. "I think it'll be much higher than that. Let's see what happens, because as you know, we're getting a report very soon, so we're going to see what that is."
Trump also listed what he said were a series of achievements over his first year in office, including the repeal of the individual mandate in healthcare and his $1.5 trillion tax overhaul.
"So on top of the biggest tax cuts, great reform and the money is coming in," he said. "I mean, the money is pouring in. We probably take in $4 trillion from overseas that would never have been able to be here because of regulation."
Trump said it was "impossible" to do business prior to his cutting of regulations, which he did not specify, and insisted the companies were accelerating investment into the United States as a result.
"I think it's a big factor for us. But I also want these great companies that are coming in - Toyota's now coming in. We talked already about Apple. Apple's coming in with a very big presence.
"We had many companies -- Chrysler's coming in, leaving Mexico and coming back to Michigan. I mean, how good is that? When was the last time you heard that?," he asked. "And without me being here and without what we've been doing including regulation, by the way, because I happen to think that regulation is as big as the tax cuts, OK?"
"The cutting of the regulations was every bit as important as what we did with the tax cuts," Trump said. "But you put them both together and we have a dynamic country again."
More of What's Trending on TheStreet: